Dungeness crab catch is good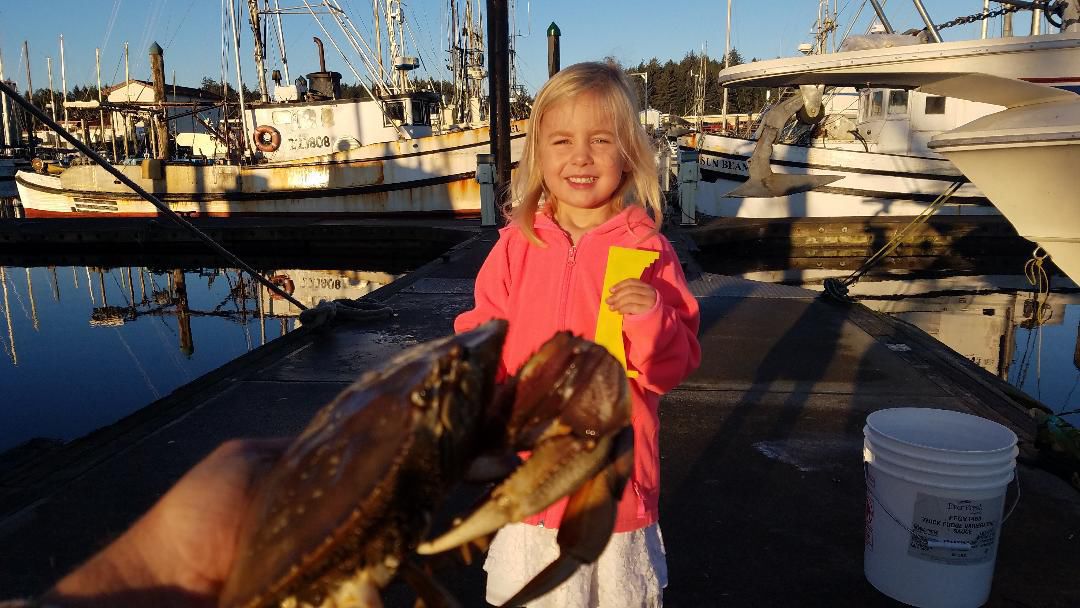 The rains keep holding off and the sun keeps shining so we're trying to soak up as much of it as we can. We of course know that rockfishing is closed in the ocean inside of 40 fathoms. We have been doing some experimenting with the long leader fishery we are allowed to engage in but at this time it's pretty impractical and pretty far out; we're having to go out 10 miles to make it pay off.
Inside, the salmon fishing remains slow with a few caught here and there, we are seeing a ton of coho but we are not allowed to keep any unless they are fin-clipped and those are pretty rare. But while all this sounds like doom and gloom do not despair as crabbing is some of the best we have ever seen.
I personally have been running a three trap spread off of D-dock most days and I have now stopped for a while as I am kind of sick of eating crab, yes I said "sick of eating crab." Whether it's off the docks, in the bay or in the ocean crabbing is the best we've ever seen. Things are so crabby around here we will make it todays topic, the Dungeness crab to be specific.
Dungeness crab live to about a maximum of 10 years and take their first four years to reach sport and commercial harvest size. Starting their lives in the winter as tiny larval "Zoea" the Dungeness crab is at the mercy of tides and currents spending their early lives pelagically, suspended in the water and not venturing near bottom or shore.
By the time these little fellas reach the next stage in their lives, the "megalope" stage, the spring ocean currents bring them in to nearshore areas and bays and estuaries where they play an important part in the food chain, and pretty close to the bottom of it at that. These tiny Dungeness crab will fall prey to everything from whales to salmon.
If the Dungeness crab lives past this point they graduate to the juvenile stage of their lives and will remain juveniles until about their second birthday living their day to day lives in shallow estuaries among eel grass and other structure. Often when I am out clamming I will uncover a young crab that quickly scurries away and buries himself back in the sand without wasting any time.
During this stage of life the Dungeness will molt up to six times a year to accommodate its rapid growth, slowing down to once a year after its second year of life. In its third year the Dungeness crab is an adult and will make its home anywhere from the shallow estuaries of its youth to ocean depths of up to 2000 feet. Here in Oregon we are only allowed to keep male crab of legal size (5 ¾" for sports crab) while some states like California allow their sport crabbers to keep males or females of legal size. The trade off is that in California sport crabbing shuts down for a portion of the year while here in Oregon we get to go out and crab year round in our bays with only a brief shut down of the ocean season. I think I like our way better.
This week as my seven-year-old daughter and I were pulling up crab traps she was as excited as, well, as excited as a seven year old girl pulling up crab traps. With each drop of a legal crab into the bucket she would encourage me with a resounding "good job daddy" and with each throw-back she would holler out in her best crab voice "yaaaaa I get to live my life!" It doesn't get any better, c'mon down and share in the fun.
Rob Gensorek is the owner of Basin Tackle www.basintackle.com in the Charleston Marina and can be reached by phone at 541-888-FISH, by Facebook at Basin Tackle Charleston, or email at basin_tackle@yahoo.com. Robs fishing reports can be heard daily at 6:20 a.m. and 4:20 p.m. on KRSB Best Country 103 out of Roseburg and his Basin Tackle Outdoor Show can be heard Wednesdays at 3 p.m. and Saturdays at 6 a.m. at kwro.com. In addition to all this he sometimes actually gets out and catches a fish or two.