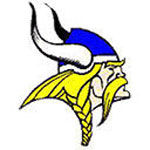 FLORENCE — The proud football tradition at Siuslaw High School includes a pair of state titles, the most recent coming in 2006.
Tim Dodson, who coached that squad (and quarterbacked the co-champion team in 1981), is still leading the Vikings.
Two other links to the 2006 team will be on the field this season. Seniors Preston Mitchell and Kenneth Thrall were ball boys for that squad, watching older brothers lead Siuslaw to the crown.
"That was a good time," said Thrall, whose brothers Kody and Cameron were on the champion team. "It drives me a lot this year to be like my brothers."
Mitchell's older brother, Jacob, was quarterback for Siuslaw's 2006 squad. Another older brother, Aaron, also held the position, which is Preston's this fall.
"It's pretty special," Preston said. "My brothers left a pretty big legacy — big shoes to fill."
Thrall and Mitchell would like nothing better than to lead Siuslaw on another championship run this year.
"Ever since I was a ball boy, this is what I've dreamed to do," Mitchell said. "I'm psyched."
Siuslaw has one big challenge to overcome, a relative lack of numbers.
The Vikings started fall camp with only about 20 varsity players.
Dodson said what the Vikings lack in quantity, they balance with quality.
"There's not very many, but it is what it is," he said. "They're great kids, the ones we have.
"Our seniors have done a great job."
Thrall said the Vikings who are out had a good summer.
"This is a committed group we have," he said.
Mitchell agreed, adding that despite fewer players, the upside for the team is good compared to the squad that finished a disappointing fourth in the Far West League last fall.
"A lot of it is work ethic," he said, explaining his optimism. "Every one of us is stepping up.
"As long as we keep bringing it every day, we all have the right attitude."
The Vikings also have the benefit of continuity, since the team continues to run the veer offense that has been its staple since the days when Dodson was the quarterback.
"The offense just works," said senior Dylan Jennings, one of the anchors for the line. "It's a really good scheme."
It helps that the Vikings have a veteran running the attack. Mitchell is familiar with the quarterback role as the backup the past two years, seeing some duty each season.
You have free articles remaining.
Register for more free articles
Stay logged in to skip the surveys
"He's a playmaker," said Thrall, who returns at running back.
In the veer, the quarterback has to make quick decisions and be a threat to run and pass. In terms of the latter, Mitchell has the benefit of senior teammate Scott Gordon being back at receiver.
"He's a huge target," Mitchell said.
Several others could have a role as receivers in the passing game, including seniors Caleb Paredes and Ryan Denning and junior Brogan Cornish.
Siuslaw also might feature the tight end more than in the past, with Trent Reavis a big target at that position.
Thrall will be joined in the backfield by juniors Cade Clawson and Nick Steinman.
They should have a solid line clearing the way.
"We have one of the larger average sizes we've had," Jennings said. "I'm excited. We could be really physical."
Senior Michael Mason and junior Kainan Lane join Jennings as returning starters and juniors Robert Fleming and Michael Larson join them in the lineup.
"The offense will be good," Thrall said. "The defense will be good, too."
That's where Thrall expects the biggest improvement.
Six starters return on that side of the ball, including Jennings, Mason and Lane up front, Thrall and senior Marshall Teter at linebacker and Gordon in the backfield.
Reavis will join Mason as defensive ends and Fleming and Larson also are in the mix on the line.
Mitchell will be a key player at safety.
"Preston will be good over the top," Thrall said. "Preston is a good athlete."
Cornish and Clawson also will be in the backfield.
The Vikings hope it's enough to put them back in contention after close losses to both Marshfield and South Umpqua left them in fourth place in the league standings before they avenged the defeat to the Pirates in the Class 4A play-in round and lost to Mazama.
"We're working harder than we have my three years on varsity," Jennings said. "We've really stepped up. We want to be as good as we can."
Mitchell would love to add to the Vikings' legacy like his older brothers.
"It would feel really good to end on a good note," he said. "At the same time, I love playing football.
"I'm going to enjoy every minute out here."