LANGLOIS — Last winter, Pacific's boys basketball team traveled across the state to Baker City for the Class 1A state tournament. The only problem was the Pirates weren't playing, after losing in the Skyline League playoffs.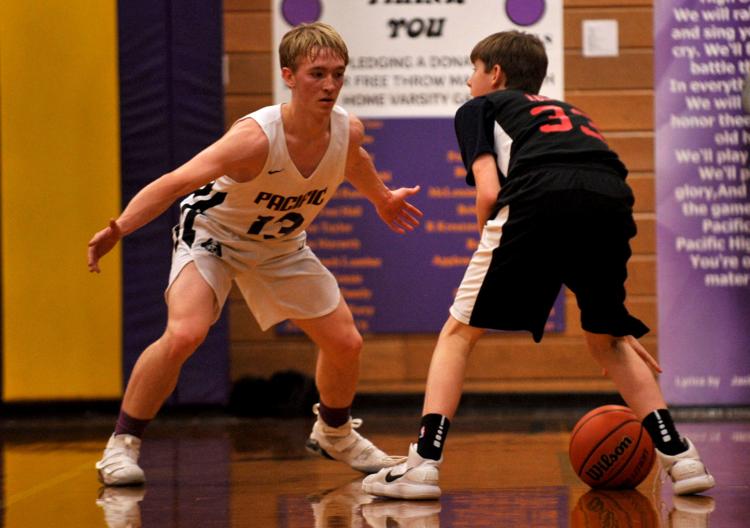 "It wasn't very fun," Pacific senior Justin Hall said. "It was fun to watch, but I wish we would have played in it.
"I think it made us more hungry. That was a kind of low point for us."
Fed by that hunger, Pacific entered this season with a renewed fire and the result has been a march to the top spot in the Oregon School Activities Association power rankings, a Skyline League title and, after Saturday's playoff win against Lowell, Pacific's own spot in the state tournament.
The Pirates face Hosanna Christian in the quarterfinals at 1:30 p.m. Thursday.
Pacific coach Ben Stallard has been hoping to get this group to the state tournament since the current seniors were in eighth grade, coached by Wayne Everest.
"You could see the potential was there," Stallard said. "We've been talking about it a long time."
Halll and fellow seniors John Morrill-Keeler and Josh Engdahl have been starters since their freshman year. This year, they added Jack Lehnherr, who transferred from Powers, where he, too, had been a three-year starter.
"I'm really excited," said Lehnherr. "It took four years."
Last year was supposed to be the year for both the Cruisers and Pirates, but in a tough league that also included Days Creek and North Douglas, both came up short. Pacific didn't even reach the playoffs and Powers was eliminated before the state tournament.
Stallard brought his group to Baker City anyway, so they could see the tournament.
"Going there and watching teams that we beat … definitely made us hungry," he said.
Pacific had beaten both third-place finisher Perrydale and fourth-place finisher North Douglas during the season.
"It was motivating," Stallard said.
Engdahl said it was a turning point.
"I knew we were going to be special (this year)," he said. "Especially after our loss at the district tournament last year against Powers and North Douglas."
The Pirates had a rough start, losing their first game against Western Mennonite, the top team in Class 2A, as Lehnherr got his first game experience in the new system.
"I felt we really stepped up after that game," Morrill-Keeler said. "We made a pact that we wouldn't lose again."
Pacific got on a roll, with the only other loss a two-point setback at Cascade Christian — a team playing in this week's Class 3A tournament in the Bay Area — during the Challengers' holiday tournament. The Pirates avenged that loss on their home court at the end of January.
"When we beat them, I was thinking, 'Man, we can do this, we can compete at the highest level,'" Hall said.
The Pirates have thrived with a stingy press and an efficient offense.
The offense is led by Morrill-Keeler, the team's 6-9 center, and the explosive Lehnherr. They feed off each other, looking to share the ball with each other and the rest of the teammates who become open when they take the ball to the hoop.
"Me and John just have a connection," Lehnherr said. "We know where we are without even looking."
The two formed a bond, along with John's younger brother, Colton, during the daily drives to Coquille in the fall to play football with the Red Devils as part of the cooperative agreement between the schools.
"I don't think I would have got to know Jack as I do now if we hadn't driven to Coquille every day," Morrill-Keeler said.
They form a key part of the offense, along with Hall, Engdahl and junior Steven White, a strong outside shooter who is the third player at the front of the press with Engdahl and Hall.
The defense and the fast breaks it creates make up the rest of the offensive attack.
Stallard credits the method of the press to his uncle, Marty, who used it at Myrtle Point to lead the Bobcats to a pair of state titles.
But it's the players who make it work, led by Engdahl and Hall who led the Pirates to the state track title last spring.
"The match-up zone with those kind of athletes can be super effective," he said.
Hall said the press gives Pacific a spark.
"That really helps us set the pace of our games," he said. "Because we're so athletic … people have to speed up to our level. It gives us an advantage."
Engdahl is the spearhead for that press and also for the team's work ethic, Stallard said.
"There was not a day I ever had to question Josh's work ethic in four years," he said. "He never missed practice. He always worked hard."
And the rest of the team bought in, especially this year.
"One thing I thought last year at the end of the year, we weren't mentally as tough as we could have been," Stallard said. "Our one team rule (this year) has been to compete. We try to compete every practice drill, every shooting drill, we are trying to compete. Obviously, that leads to success."
Hall said the competition can get heated.
"We just play hard in practice," he said. "We're friends, and we get on the court and play 3-on-2 and we're enemies. We're going as hard as we can to try to win. We're competing always. That helps us with our conditioning. It makes us ready."
Stallard said though the Pirates can be fierce in those drills, it doesn't go any further.
"I'm super blessed," he said. "Not just the athleticism. I've dealt with zero attitude issues, grade issues. That just doesn't happen.
And it's something Pacific has shared with the entire community, which includes Langlois and Port Orford, the two towns the school sits between.
"We have been supported tremendously," he said. "One of the biggest things we've pushed as a team is it's not about you. You can't be selfish. You can't hang your head.
"The community has supported us. Our school has supported us."
While none of Pacific's players have been in the state tournament, Stallard made it three times as a player for Powers, helping the Cruisers win the title as a senior 19 years ago.
Now he's excited to share that experience with them.
"It's super rewarding," Stallard said.