COOS BAY — At the beginning of the month, the Marshfield volleyball team hit a low point. It was a five-set road loss to a struggling Marist Catholic side that saw Marshfield commit 96 unforced errors and move to 1-3 in Sky-Em league play.
But since that loss, the Pirates have righted the ship recording four league wins in the five matches. This positive run of play continued on Tuesday night at home as Marshfield (11-8, 5-4 Sky-Em) swept Marist Catholic (3-12, 3-6) 25-12, 25-22, 25-18.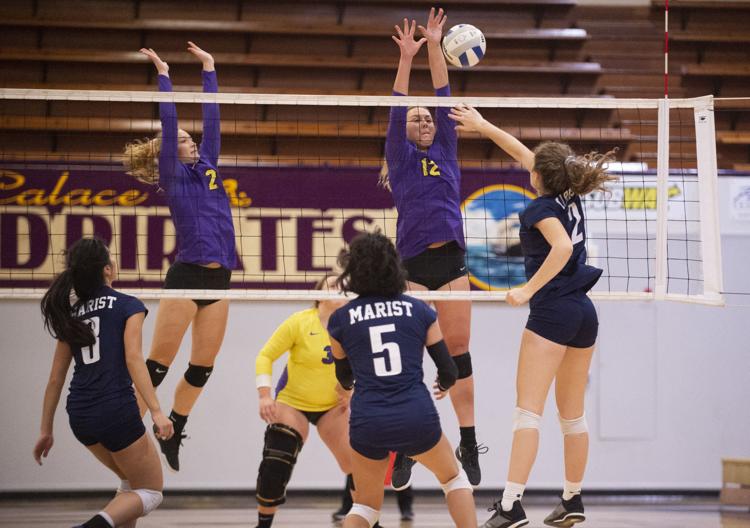 Now with one league game left on the schedule — Elmira (4-11, 0-8) next Tuesday at home — Marshfield has a chance to finish as high as second place in the Sky-Em.
"I'm glad that it's coming together. It took a little longer than I wanted but now that we're going toward play-ins, playoff games, this is where we need to be mentally and physically," said Marshfield senior Taylor Londo. Londo was active for the Pirates on Tuesday recording 20 assists, six kills and two blocks on the night.
Londo was part of potent attacking trio that was led by Cedar Ward with 12 kills and included seven kills from Jamie Foster. Marshfield got offensive production from across the board as Raegan Rhodes recorded four kills while Carmen Samuels and Kate Miles each had three.
"A lot of the time we push one player hitting and in this game we definitely spread it out and that gives the team more confidence and it makes us work better together," said Londo. "It takes pressure off that one hitter to make errors and so I think that's why we had less hitting errors all together because ... everyone had a chance to hit."
With this team-oriented attack, the Pirates jumped out to an 8-1 lead in the first set. Marshfield overwhelmed Marist with a relentless attack that prominently involved Ward, Londo and Foster at every turn — an improvement from earlier in the year.
You have free articles remaining.
"In the beginning of the season teams were blocking the heck out of us because we were high outside, high right side — that was the only thing we did," said Marshfield head coach Tammie Montiel. "It's nice to have that balance across the plate with things so that other teams have to guess where we're going and you can't just stack on us."
In the second set the Pirates only trailed the Spartans after the first point. From then on, Marshfield was in control but less dominant. Hitting errors began to rise, including five straight to help spark an 8-2 run from Marist, and Marist was able to utilize the six-foot Heidi Knebel. The center of Marist's scoring attack, Knebel had 15 kills to go with three blocks and three digs.
Leading 23-22, Marshfield was able to close out the set behind kills from Foster and Ward. The Spartans led by as many as two in the third set but the Pirates, now going deeper into the bench, were not to be stopped on the way to a 10-3 run to close out the set and match.
"We had a couple JV kids up with us and it's nice to give them that court time experience. You never know when somebody is going to get hurt, somebody is going to have a bad game or be sick or whatever," said Montiel. "Kate Miles has been playing in a game or two for us over the last three or four matches and she was just stone cold, nothing rattles her for a freshmen. Just goes out there and does her job."
Before the final home game of the regular season next Tuesday, the Pirates will host the 11th playing of the Marshfield Invitational Tournament. With top Class 4A teams coming to town, in addition to some cross-classification competition, Montiel wants to see her team continue its growth as the Pirates look beyond the regular season.
"We're trying to speed things up a bit, so it will be nice to have that day of play to be able to do that and then stepping into Elmira and hope things go our way there and that we can put ourselves in position for a playoff spot," said Montiel.
A Marshfield win on Tuesday combined with a Marist victory over Cottage Grove — the Lions defeated the Spartans in five-sets last time the teams faced each other — would mean Marshfield and Cottage Grove would tie for second place in Sky-Em. If this was the case, the teams would then play a playoff to determine who finishes second in league. 
A second place league finish automatically puts the team into OSAA's 16-team bracket. The third place team would then hope to have a high enough ranking to play in a play-in game to get to the round of 16. As of this printing, Marshfield is ranked 14th while Cottage Grove is 11th.