FOREST GROVE — Champions!
Marshfield's girls basketball team affirmed its spot atop the Class 4A rankings Saturday afternoon, holding off Cascade in a physical game for a 48-41 win and the first state title for the program in school history.
"I feel pretty amazing," said Marshfield junior Hailey Browning, who hit a go-ahead 3-pointer with 3 minutes and 30 seconds to go after Cascade had erased a Marshfield lead that had been as high as 13 points in the first half.
Other teammates expressed similar thoughts, and a lack of a way to explain them.
"I don't even know what to say," Marshfield junior Tess Garrett said. "We've been talking about this ever since we started playing club basketball together in fourth grade.
"It's awesome."
Added fellow junior Alex Locati, "I knew we could do it. To have it actually happen — I don't know what to say."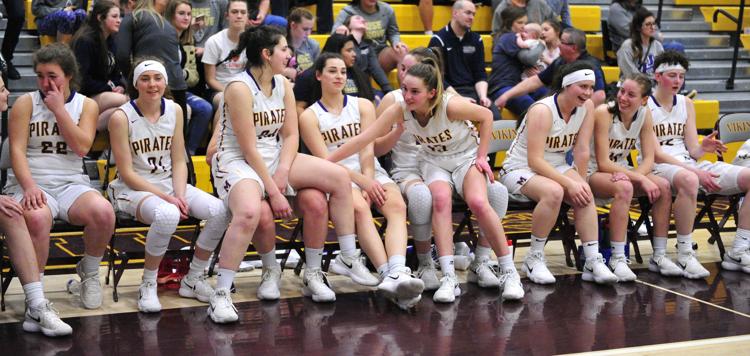 The Pirates won by building a big first half lead and then maintaining their composure in the second half as Cascade rallied in what became a foul-plagued contest.
"That was a war that we survived," Marshfield coach Bruce Bryant said. "The composure — even though it seemed it was unravelling — the composure they maintained was impressive."
By the end of the game, the officials had whistled 47 fouls — three players on each team fouled out — and the teams had shot a combined 58 free throws.
Those foul shots were one of the huge differences in the game. Marshfield finished 17-for-30 from the line and Cascade was just 12-for-28, and four of those misses were on the front ends of one-and-one chances.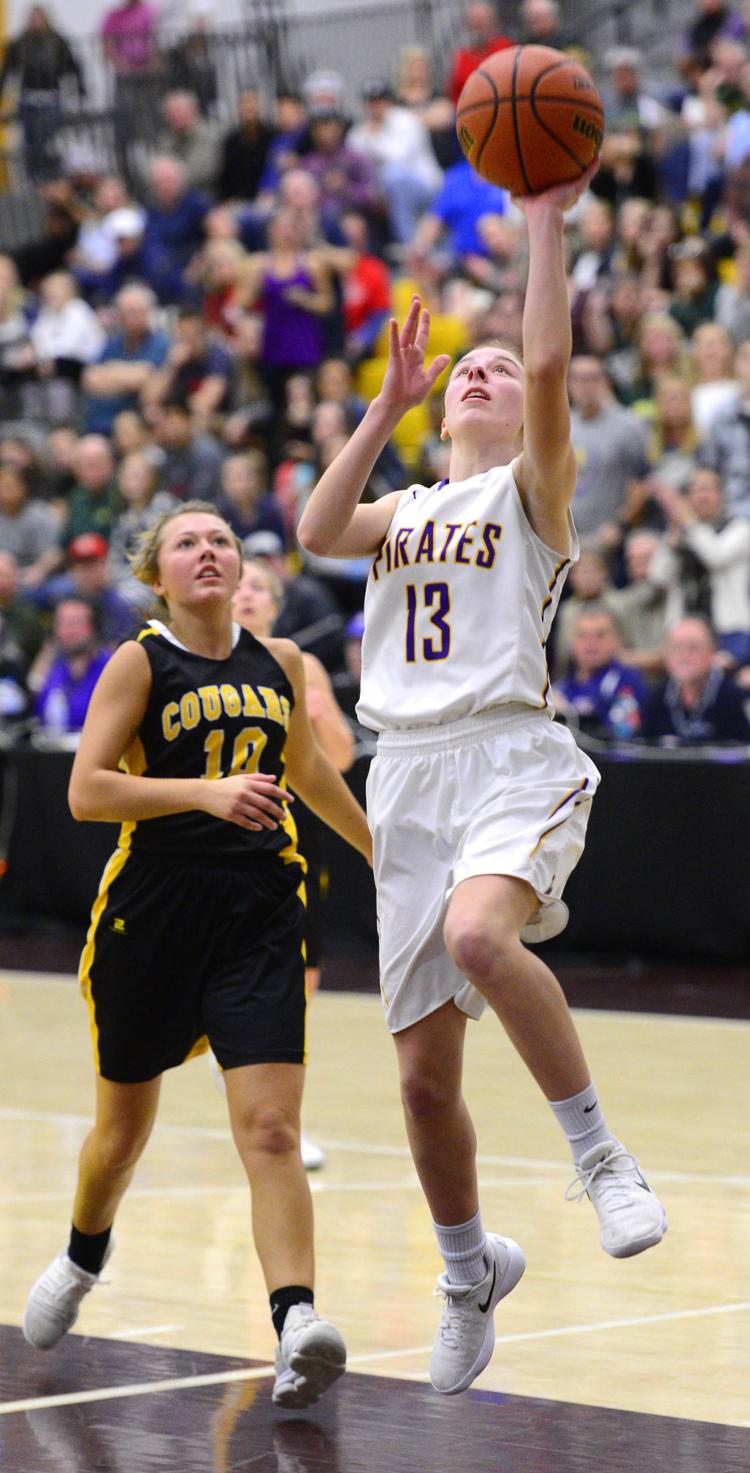 But the Cougars still battled back from the big deficit with defense and offensive rebounding, led by Halle' Wright, who had a sensational game with 27 points and 17 rebounds despite playing the final 10 minutes with four fouls.
"We gave it everything we had," Wright said through tears, explaining that the Cascade comeback "was all heart — heart and defense."
It was Wright's rebound basket with 4:30 to go that tied the score at 38, with momentum purely in Cascade's favor.
The Cougars even had opportunities to take the lead, but missed before Browning hit her go-ahead 3-pointer.
"Our coaches told us not to rush anything and let the ballgame come to us," Browning said.
She found herself alone on the wing and, despite missing most of her second-half shots, put the ball up with confidence.
"As soon as I released it, I knew it was going in," she said.
"That gave us a sigh of relief," Bryant said of the shot. "And getting free throws down the stretch helped."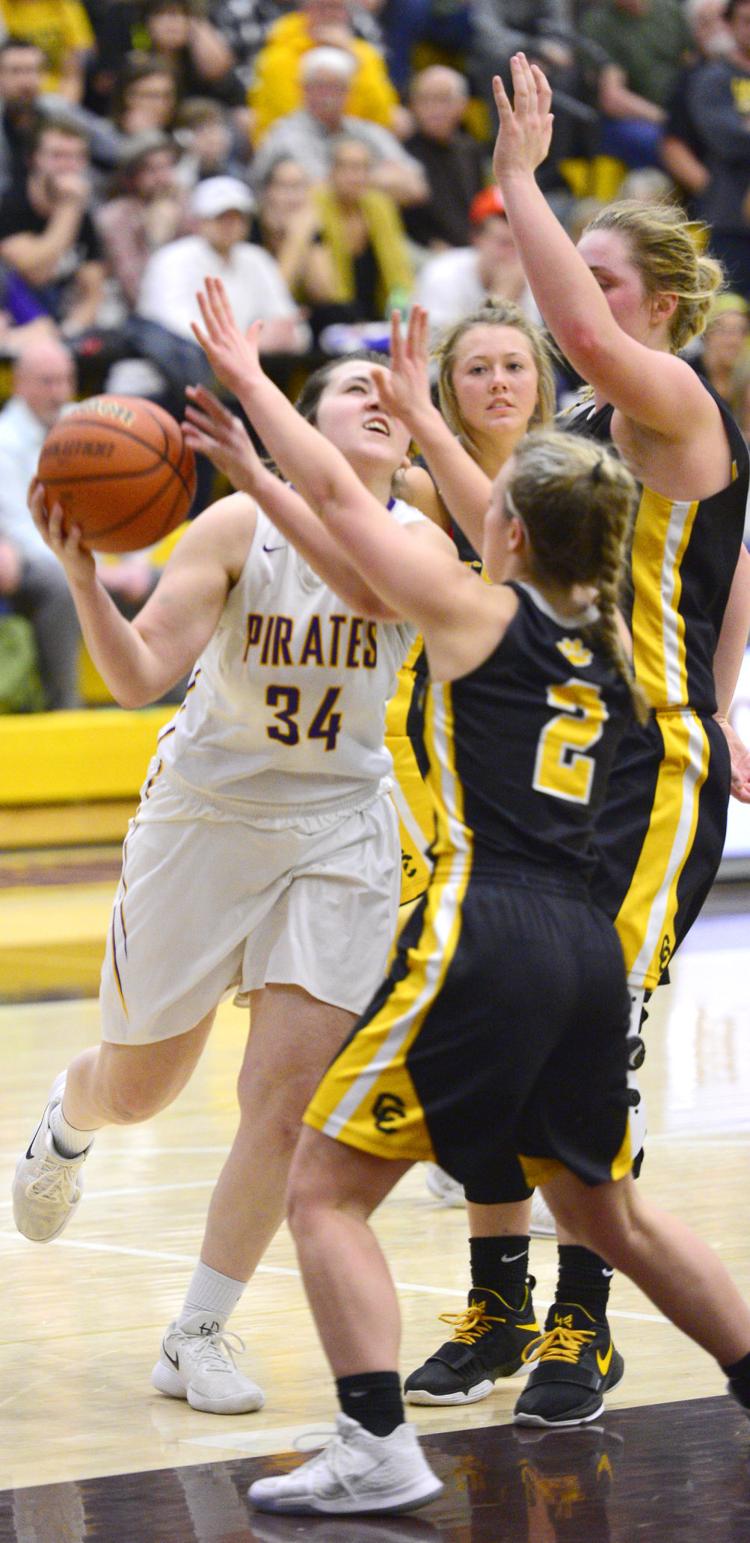 Marissa Erickson, one of only two seniors on Marshfield's roster, scored her only basket on the Pirates' next possession to stretch the lead to five points and Cascade scored just one more free throw before Wright had a basket at the buzzer.
Marshfield had built its lead with an aggressive approach in the first half, trying to push the pace and tire out Cascade, which had played two close games in the quarterfinals and semifinals.
But the Cougars stayed with the Pirates early, the teams trading mini-runs until McKayla Myrand hit a 3-pointer to give Marshfield a 14-12 lead through one quarter.
Cascade never led again as Myrand scored all 16 of her points in the first half and the lead grew as high as 13 points.
Myrand said Cascade's coach had come up to her before the game and complimented her on her shooting the first two days of the tournament.
"I thought I would show him I was doing well," she said, explaining that she was looking for her shot.
Wright pulled Cascade within 10 points by halftime and then the Cougars made their charge, which didn't surprise Bryant.
"That's the hardest-fought game we've had all year," he said. "Credit to them, without a doubt."
The Cougars started crashing the boards and forcing Marshfield turnovers with their defense in the third quarter, which helped them climb back into the contest.
"They are very well-coached and just as determined as we are," Bryant said.
And he had nothing but praise for Wright, and for the defense of Marshfield's post players, two of whom fouled out trying to guard her.
"It was definitely a group effort," Bryant said. "Against great players, you have to throw everything and the kitchen sink at them."
That was the case each game at the tournament for Marshfield. The all-tournament first team included Myrand and Garrett for the Pirates and the stars of Marshfield's three tournament foes: Wright, Valley Catholic's Noelle Mannen and Aspen Slifka of Banks, a unanimous selection whom the Pirates were happy to limit to 26 points in the semifinals.
"I'm proud of our girls," Bryant said. "Every team we played had a special player who tried to put her team on her back."
Wright was the only Cascade player with more than six points while the Pirates had relatively balanced scoring for the third straight day.
In addition to Myrand's 16 points, Garrett had 14 and Browning 11. Locati didn't score, but she did grab seven rebounds, block three shots, grab two steals and pass out two assists.
Jazmin Chavez had a big steal and hoop at the start of the fourth quarter for her only hoop and all the players — Browning, Garrett, Chavez and Myrand outside and Locati, Erickson and Gracie Brugnoli inside, took turns trying to slow Wright in various aspects of her game. Mallory Heyer and Kaylin Dea also saw valuable minutes with teammates in foul trouble.
"It's not always the Xs and Os (that wins games)," Bryant said. "It's the blocking out. It's the grit."
"We didn't give up," Garrett said. "Our coaches have been talking about how you never know who is going to need to step up. That's really important."
With a bunch of juniors returning, Marshfield will look ahead to next year with high expectations.
"Now that we've done it, I want to defend it," Myrand said.