COOS BAY — For a self-described introvert, Blake Crane made a positive impact on bunches of people.
The Marshfield High School junior, who was developing into a standout on the baseball field, cherished being a band geek and loved reading much more than studying, died early Monday morning from influenza B. He was remembered in a moment of silence on campus Wednesday and with a memorial tribute on the fence overlooking the baseball field.
A memorial for Blake Crane organized the moms of a couple of his teammates overlooks the baseball field at Marshfield High School on Wednesday. 
Condolences poured in to the family and the school from members of the community and from the broader baseball and school communities around the southern part of the state, touching his parents Tony and Becky as they deal with the grief of their loss.
"I'm a firm believer in the philosophy that it takes a village (to raise a child) and this village is phenomenal," Tony said. "I've seen first-hand what this community does. I never wanted to be the object of it, but I recognize the power. I am overwhelmed by the support, sometimes even astonished."
After news of Blake's death broke, a meal train was quickly started to support his parents. People have already signed up to bring the family dinners through the end of March, many people the family doesn't know well or perhaps at all.
"That's the kind of people that live here," Tony said.
Becky said she is embracing the support.
"We've had 50 people around us almost the whole time," she said. "It's just crazy."
She also was deeply touched by the people who tried to save Blake.
"The Bay Area Hospital staff and EMTs on scene were wonderful," she said. "They fought hard. Each of these staff members cried with us in the end. They each hugged us. When I snuck back in to say one more goodbye as we were leaving, I found two just sitting with Blake's remains.
"They've reached out to ask our permission to attend services."
It's not just the direct support to the family that has impressed her, though.
The staff at Madison Elementary School organized for a food truck to provide lunch for all the staff at Millicoma, where Becky is a teacher.
When it came down for a basketball game at Marshfield on Tuesday, Elmira High School brought flowers in memory of Blake. The leadership team at North Bend High School sent flowers to the leadership team at Marshfield.
Meanwhile, students from the baseball community and school in general have been reaching out to Tony and Becky.
"It's humbling," she said. "It's hard to be on the receiving side. I'm 100 percent grateful."
A memorial service will be held for Blake on Saturday, Feb. 29. Weather permitting, it will be on the baseball field he loved. If it's raining, it will be moved indoors to the Harding gymnasium adjacent to the field.
Blake Crane smiles as he looks in his new truck last August, his first vehicle after getting his license as a 16-year-old. 
Blake loved the outdoors, hunting and fishing, camping in Powers, riding his bicycle and swimming in the river, Tony said.
But for six months of every year, his life was consumed by baseball, a sport he shared with his dad from when he first started T-ball as a 5-year-old.
"It was my life with my son," Tony said. "It's what we did."
Blake worked his way up through the various age groups of the Coos Bay Coast League, where Tony became one of the organization's leaders, to Babe Ruth and the American Legion program.
At nearly every level, he was a pitcher, which didn't surprise Tony.
"The first time I handed him a ball, he threw it against the wall," Tony said. "He was about 1."
Blake played primarily on Marshfield's junior varsity team last year, but that was only because Marshfield head coach Floyd Montiel knew he needed a pitcher who could pitch a lot of innings at that level and that he wouldn't get as much time pitching on the varsity team.
But he thrived for the Pirates' varsity squad late in the season and then developed more for South Coos during the American Legion season.
"He just blossomed," Montiel said. "He had a great summer."
Montiel had coached Blake for most of the past decade at various levels of baseball.
"He always (pitched) and he just got better," Montiel said.
The coach was looking forward to having Blake as his opening-day pitcher this season, but also playing first base, third base or in the outfield. After a growth spurt, he was developing into a better athlete.
"He was going to be good this year," Tony said. "He was going to be even better next year. It was going to be fun to watch."
Blake was a huge fan of former San Francisco Giants pitcher Tim Lincecum, and had Lincecum's number, 55, at lower levels of baseball. Though Marshfield didn't have that number among its baseball uniforms, it's what Blake was known for.
And like Lincecum, he had a quirky delivery, able to pitch from several delivery points, sometimes sidearm, other times over the top.
"You would never know where his next pitch would be," Montiel said. "He would adjust his motion, adjust his windup."
Blake wasn't a terribly fast pitcher, but he was extremely efficient, working the corners of the plate with a variety of pitches and enticing a lot of opposing batters to hit ground balls that turned into easy outs, Montiel said.
A pair of picture collages of Blake Crane form part of the memorial for the former Marshfield baseball player Wednesday. 
Blake also was a great teammate who worked well helping younger players, Montiel said.
Off the field, he had a group of close friends he grew up playing baseball with and also had developed a close group of friends in the trumpet section of the band.
"He didn't act like an athlete," Becky said. "He was a band geek."
His parents also said he was introverted.
"He was not social at all," Becky said. "Tony and I struggled realizing for a while that he was OK with that. He wasn't sad because he was home."
His parents described him as a smart young man, but not a student.
"He's probably read more books than me, and I'm a reader," Tony said. "We would tell teachers, 'If he has a book in class, take it.'
"He wasn't a great student, but his teachers loved him."
And he had a quirky personality.
"He was Blake," Tony said. "He didn't care to be like anybody else. He did what he did. He was goofy sometimes. He was nice to everybody."
Tony and Becky realized Blake's impact on the school over the past few days.
Tony heard from one of Blake's former classmates who was a troubled student with a rough life and wasn't widely liked in school.
"My son was nice enough to him that that kid felt compelled to send me a message."
That was typical of Blake's personality.
"He was always kind," Becky said. "He always thought of others before himself."
She preached to Blake the importance of random acts of kindness, giving candy to gas station attendants or sending an extra bag of candy with him on Valentine's Day to share with other kids.
"I always taught him to be a giver," Becky said. "He knew that's what made me proud. He was good at it."
On Wednesday his parents were recipients of that concept.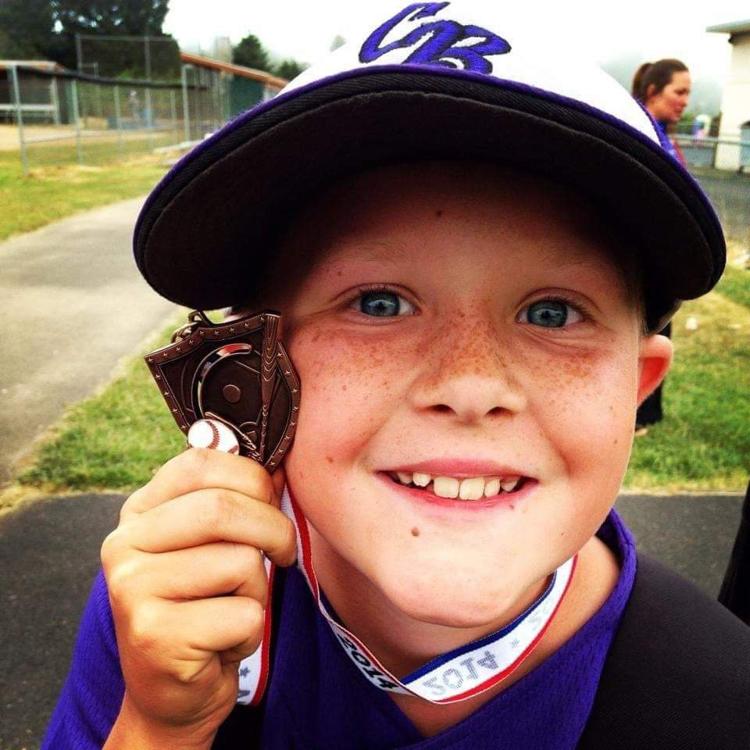 Tony and Becky drove by the school to, they thought, quickly look at the fence memorial Wednesday. But they picked the wrong time, overwhelmed by students just getting out of school.
"We hugged a bunch of kids today," Becky said. "We didn't mean for that to happen, but it was beautiful."
They also were deeply touched by the words of Liam Webster, a teammate of Blake's who addressed the students during the gathering earlier Wednesday.
"Blake Crane was one who was never afraid to be himself," Liam said. "He was never pretending. He was always just straight up Blake, a goofy, quirky, kind-hearted, intelligent kid, and that's a trait that should never be taken for granted.
"We get one chance at life. I think Blake would tell us all now, don't live our lives pretending, live it in full. Moving forward, I make a promise to carry Blake's spirits on and encourage all of us to be ourselves. Take time to cry and mourn, it's important, but also take time to remember the happiness you felt around Blake Crane."
"I told Liam that he told Blake's legacy," Becky said. "It was eloquent and perfect."
Since a 16-year-old Marshfield High School student passed away from complications of Influenza B earlier this week, the community has risen to help.