One of our earliest spring flowers, this shrub isn't easily overlooked.
Gently drooping clusters of dark pink, tubular flowers that erupt just ahead of the wide-oval, bluntly-notched leaves are the hallmarks of red-flowering currant (Ribes sanguineum). And in the right spot, red-flowering currants can grow up to 10 feet high.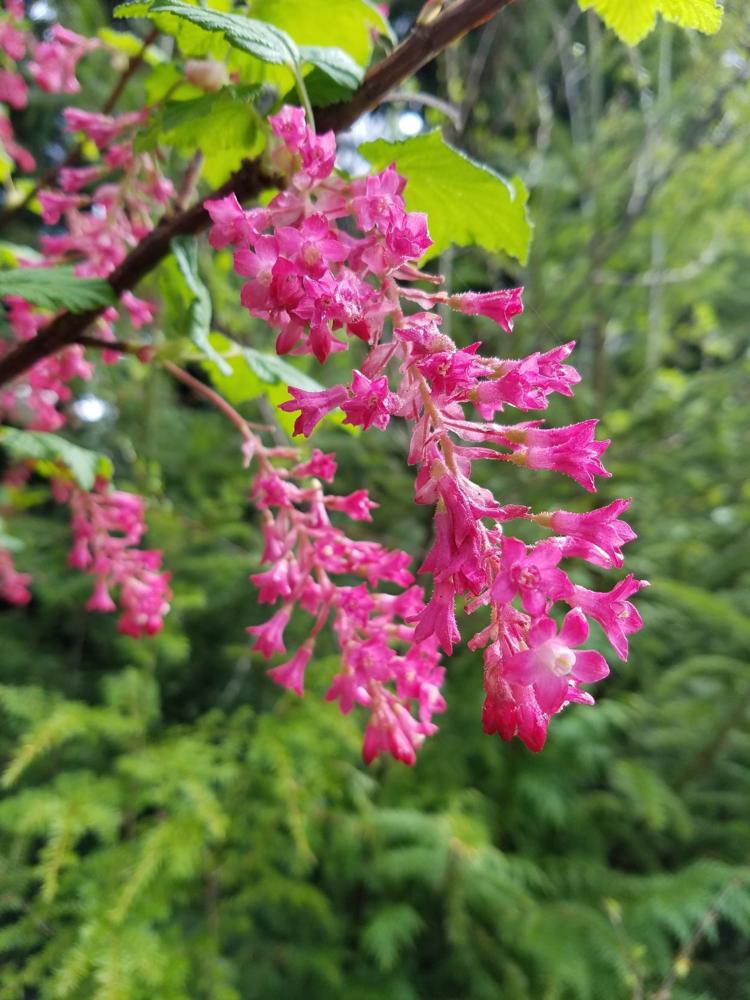 A timely food source, these showy flowers are pollinated by hummingbirds and butterflies, offering early spring meals to both.
The nearly-spherical fruits will develop and ripen later in the summer, eventually turning dark blue. Each berry's skin is dotted with tiny, coarse bumps, and the remains of the flower forms a dry tuft at the far end of the berry.
Currants and gooseberries are in the same genus (Ribes) and are therefore closely related. All have five-petaled, cup- or tube-shaped flowers; all are deciduous and have single, lobed leaves that are arranged alternatively along the stem. The fruits of many members of this group are good edibles, though most people find the berries of red-flowering currant to be not good-tasting. Birds and other wildlife relish them, however, spreading the seeds afar.
In fall, after the blue berries are eaten, red-flowering currant leaves turn a warm orange before dropping for the winter.
There are many other currants and gooseberries in the Pacific Northwest: Hansen's Northwest Native Plant Database lists nearly 30 species of Ribes and almost 20 subspecies and varieties for the region.
You have free articles remaining.
Red-flowering currant prefers sunny sites that are somewhat dry.
Up to 10' tall, showy red-flowering currants stand out at the forest edge.  
Another common Oregon Coast currant, "stink currant" (Ribes bracteosum) frequents much wetter places and can tolerate more shade. Stink currant has smaller, white flowers -- not tubular -- in a looser cluster, and larger, more maple-like leaves; their berries usually have a whitish, powdery coating, and sometimes have good flavor. And, as you might guess, stink currant has a strong scent when broken or rubbed.
A third often-encountered Oregon Coast member of this group, trailing black currant (Ribes laxiflorum), prefers moist forests and clearings. Trailing black currant also has a strong odor when the leaves or stems are bruised, but this plant is more spreading and trailing, sometimes even climbing, almost vine-like. This currant's flowers are greenish to reddish-purple and are nearly flat; the berries for this native currant are purplish-black, and – again -- not good-tasting to people, but savored by wildlife.
Bearing pink flowers, blue berries, and orange leaves, and being a robust wildlife food source, red-flowering currant is a popular native shrub for Pacific Northwest gardens.
Red-flowering currant is well-liked in gardens elsewhere, too. According to the Oregon State University's "landscape plants" webpage, the red-flowering currants that famous Scottish explorer David Douglas sent back to England in 1825 were so prized that the plants were said to be "sufficient justification for the cost, some £400, of [Douglas'] entire three year expedition (Coats, 1992)."
And, of course, one of the fun aspects of the red-flowering currant is that at this time of year you can say "the red-flowering currant is currently flowering red."