NORTH BEND — In the 1980s, environmental lawsuits and a changing global marketplace led to the shutdown of many local mills that depended on a supply of old-growth timber. But on the North Spit of Coos Bay, just across from North Bend, Southport Lumber's high-tech mill is not only surviving but thriving in an era of smaller trees.
In 1998, Jason Smith was cruising timber for a consulting forester and watching small logs being harvested for chipping. He saw an opportunity for a sawmill that could extract lumber out of those small logs.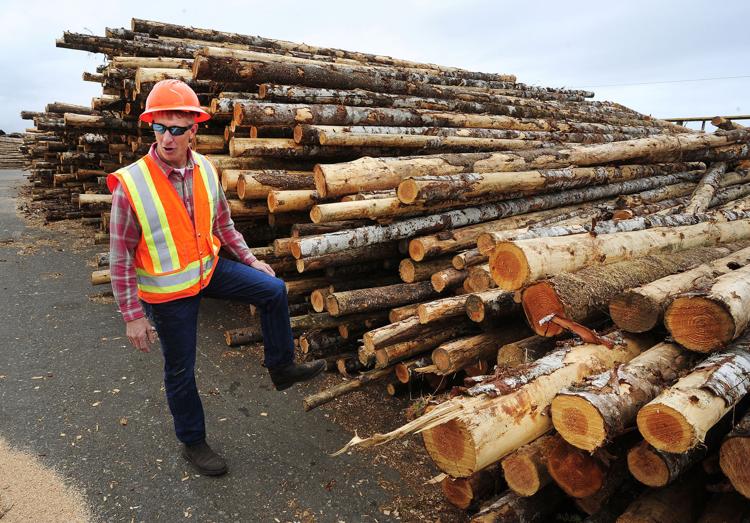 A mutual acquaintance introduced him to Jim Lyons, who was, at the time, running his family's shipping facility, Ocean Terminals, in North Bend. Neither Smith nor Lyons had any experience in sawmills, but their enthusiasm for making lumber out of pulp logs was contagious.
Smith and Lyons partnered with the Arriola brothers, longtime timbermen with logging and chipping interests, and also got help from Lyons' family. They worked with a consulting engineer with expertise in small-log processing and located used machinery. Then came the challenge of securing financing.
"Most of the banks just laughed at us, because as a group, none of us had any practical experience sawmilling," Smith said. "They said, 'You don't have any experience,' or, 'Forest products is a high-risk field that we're not interested in loaning money for at this time.' But eventually we were able to convince Western Bank to loan us some money, and we built the little mill and got it operational."
The first Southport Forest Products mill opened in Southport, on U.S. Highway 101 south of Millington, in 1999.
"It was a pretty bumpy road there for the first year or so," Smith said. "We didn't have a lot of experience, but we worked through the issues and got the mill running. It was a manual process, not very sophisticated.
"After that first year, we enjoyed some successes and got it operational. We found some good markets and actually made a little money and improved the mill, upgraded it a little bit and got it running quite nicely.
"Our competitive advantage then, and it still is today, is that we focus on extracting value out of a low-cost raw material. Many people don't want to deal with those small logs. We've just focused our attention on being as efficient as we can in processing those small logs that nobody else wants to mess with." 
A generation older than Smith and Lyons, the Arriolas were ready to take their investment out of the business after two or three years, so the younger men bought their partners out. By that time, the business was starting to outgrow its 15-acre site in Southport.
"It was a poor location for a sawmill," Smith said. "It didn't give us any opportunity to expand. It didn't have access to rail infrastructure or barging capacity, and we were utilizing both of those resources then. We were trucking our lumber to Thomas and Sons in Coos Bay, where they were loading it on rail cars for us and shipping it to our customers. We were bringing logs out of Canada even back then, and we were offloading them at Knutson or Ocean Terminals and paying them to process those logs and truck them to our terminals.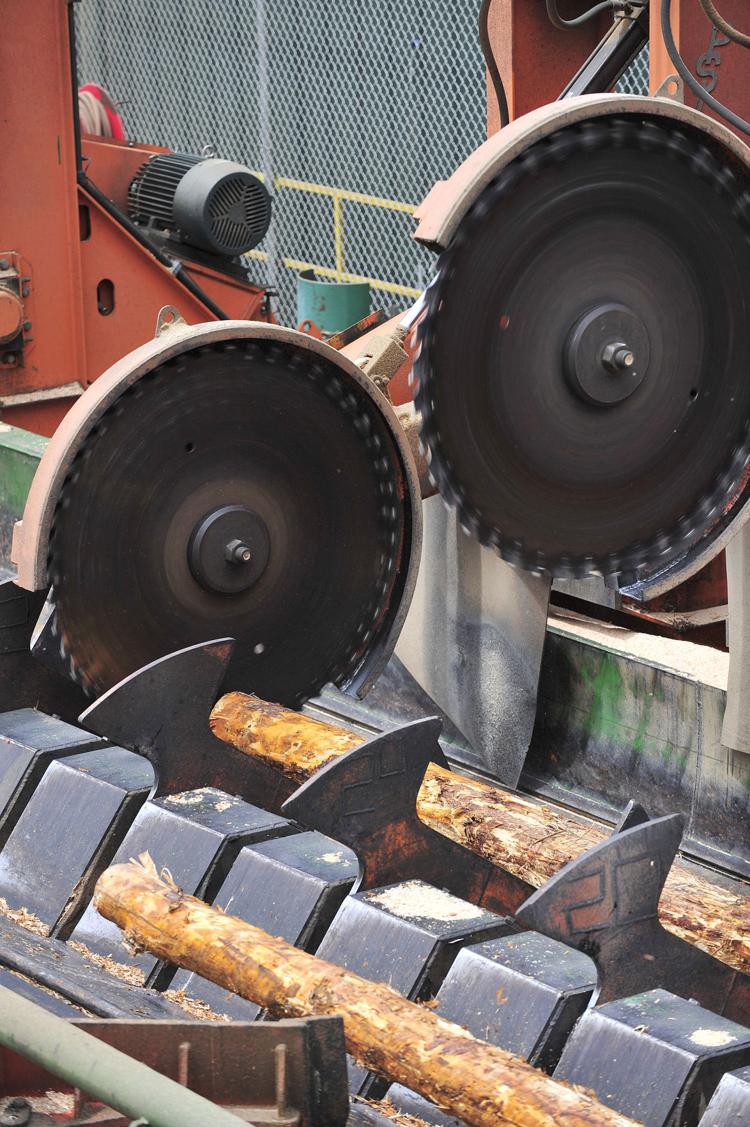 "We decided that if we wanted to be successful, we would need to invest in our business and find a new spot to build our mill."
They started looking around the county for a larger site with rail access and water access and industrial zoning, finding little available. They struck a deal with the Port of Coos Bay to buy a parcel with a barge slip on the North Spit. There was no rail service, but the port extended the line to the site in exchange for the opportunity to gain Southport as an "anchor tenant" that would attract other tenants.
After visiting more than 60 sawmills, Smith and his colleagues picked out new machinery to create a sawmill optimized for processing logs under 16 inches in diameter. The new mill became operational in the fall of 2005.
Few mills like Southport's exist. Vaagen Brothers, based in Colville, Wash., Goshen Forest Products, based in Eugene, and Western Cascade Lumber in Toledo are other companies that specialize in milling small logs. "There's just not a lot of companies that want to take the time and energy to process these small logs," Smith said. "You don't hit the production records; it's not glamorous."
But Southport has found success in that niche, avoiding competing with the local mills of Roseburg Forest Products and Georgia-Pacific for the small supply of larger logs.
The company originally dealt only in green Douglas fir lumber. In 2004, natural gas came to the coast via Coos County's 12-inch pipeline, and in 2011, Southport built kilns and expanded into the larger, less volatile market for kiln-dried lumber.
Southport's markets change with exchange rates. Smith said he currently has customers in all the lower 48 states. "Our lumber gets sold to small lumberyards, large retailers, contractor service yards and wholesalers," he said. Locally, it's at BJ's Metal and Lumber Products, Coos Head Builders Supply and ProBuild, and some contractors buy it directly.
In addition, customers in Mexico buy green Douglas fir for crating and palleting. When the dollar was weaker, Southport sold to customers in Taiwan, China and India.
"Those were all vibrant markets for us at one time, and I'm sure they will be in the future when the currency exchange rates and other markets dictate that that's a good market for us," he said.
Southport is constantly looking for logs. "Our primary source of logs is from industrial timberland companies in Coos, Curry and Douglas counties," Smith said. "Our largest supplier is Weyerhaeuser. We will start acquiring logs from Rayonier (which recently collaborated with Forest Investment Associates on the purchase of Menasha Forest Products Corporation), as well as any number of small- and medium-size landowners, from a farmer with 40 acres who might log 10 acres to companies such as Moore Mill and Al Peirce Lumber Company that have various-sized tracts of land."
Smith also buys logs from other timber companies and trades Southport's too-big logs for their too-small logs.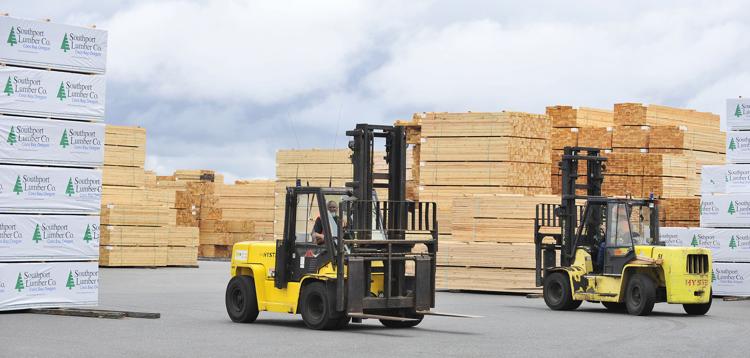 Southport buys timber sales from the Bureau of Land Management, the Forest Service and the state of Oregon and logs them itself with its own cable-thinning crews, or hires contractors to do it. Depending on market prices, Southport also buys logs from Canada; about a third of their logs currently come from there, Smith said.
Like other timbermen, Smith views BLM's proposed new resource management plan with alarm. Designed to allow logging while conserving habitat, the plan would shift timber production away from the southwestern corner of the state. Districts near Salem and Eugene would see a 24 percent increase in harvest, while the harvest in southern and coastal districts would decline 52 percent. The Coos Bay district's annual volume would fall from 68 million board feet to 30 million board feet.
"We're hoping the proposed plan isn't implemented and there's some kind of a compromise," he said.
Nevertheless, this spring, the company increased its capacity by adding additional processing equipment geared to smaller logs. Southport currently consumes between 80 and 100 loads of logs a day to produce 140 million board feet of lumber a year. Including all the company's operations — logging, trucking and the chip yard and log sorting operation at the old Southport site — the company employs about 125 people.
The timber industry still offers opportunities for entrepreneurs, Smith said.
"Cross-laminated timber is an evolving product that holds huge possibilities in the future. Getting it through the building code agencies, authorizing what are acceptable products and what aren't, working with engineers and architects — that's a huge process to get all that and bring it all together. But there's a lot of momentum behind this concept and it's working elsewhere. We're watching it with great interest. It's wonderful."
What lies ahead? "Some of the unknowns are the availability of raw materials," Smith said. "We're all aware of the status of the federal timber lands, and there's potential for increased regulations from the Oregon Department of Forestry regulating streamside buffers and water runoff from logging roads. There's always those question marks out there.
"But we feel as an industry we'll work through those issues and as long as we're a top-tier manufacturer, very efficient, there's still going to be an opportunity for us here. Some of the other unknowns are the market for lumber and chips. We all assume that there's a future market for lumber and wood chips, but things can change. Alternative products could be made available.
"We've gambled on our future and we've invested in growing the business, feeling that there's a future for us."