COOS BAY — Eighty years ago, there were three brothers who had nothing but a river tug, a "heck of a lot of drive," entrepreneurial spirit and just the right amount of fortitude to build a better life for their family.
What began as a small idea turned into what is now known as Sause Bros., which operates a fleet of ocean towing tugs. Vice president of government and public affairs Caitlin Sause said the company, now in its fourth generation and still family-owned, has grown from that one small tug to over 60 vessels and 450 employees. It's also finishing what engineers predict will be the world's fastest barge: the Namakani.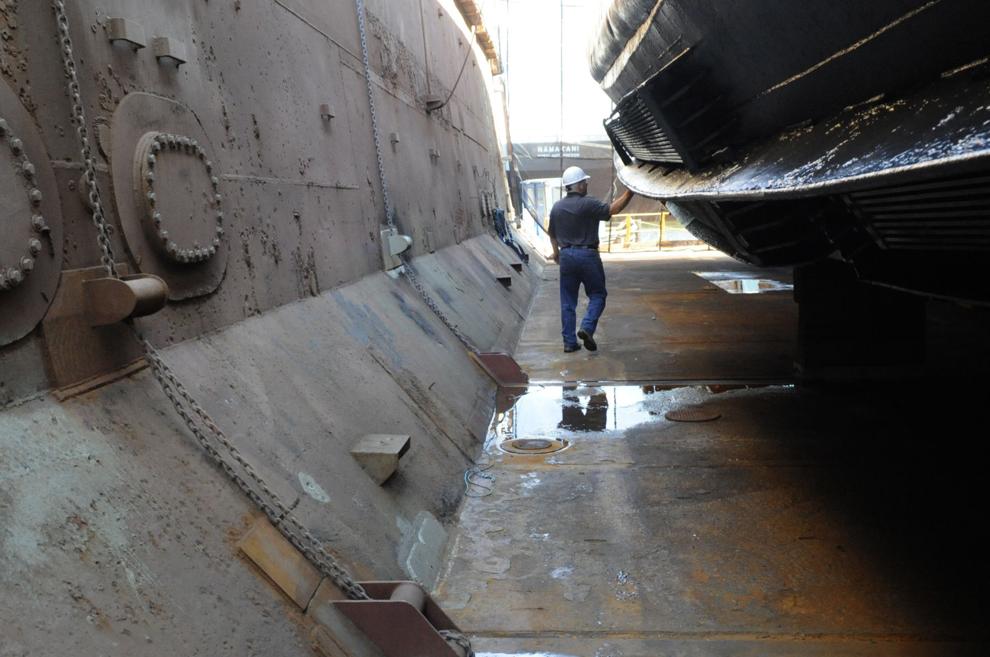 The company is also celebrating its 50th year of continuous service to Hawaii this year, offering services in coastal petroleum, chemical transportation, cargo handling operations, equipment transportation services, and their shipyard in Coos Bay.
"Our growth came from what my grandfather and his brothers started in the 1930s, to my father who led us into a new era of thinking, especially in terms of what we can accomplish as a company if we focus on innovation," Sause said. "It hasn't just been that innovation, but the great people with amazing work ethic that work for this business."
Sause explained that no matter how successful the company becomes, it will always remain a family- and community-driven business. 
"Maritime as an industry, in general, has a huge family presence," she said. "Whether mariners pass their skills and knowledge to future generations like myself, or teach their children the ropes of the business, we see that continuity generation after generation."
She said that just this month, there was an employee who celebrated his 44th anniversary with his boss, which she found incredible.
"That kind of commitment has a direct impact on what we do with the company," Sause said. "I don't know how to even put into words how great it makes me feel to wake up every day to something my family worked so tirelessly to build, and it makes me extremely proud when I look out at a tug or see a barge come in and think about where we started, how this formed, and where we are now."
Though the Coos Bay area is fairly isolated, the Sause brothers had a passion for the Oregon coast and envisioned a vibrant community. After they built the start of an booming business, new generations took over. Then the recession hit.
"It is isolated in Coos Bay," Sause said, "but we are connected by water, and our company connects industry by water. That's what we do. So we continued to see where opportunities were along the West Coast, and my father's forward thinking led us in those other directions."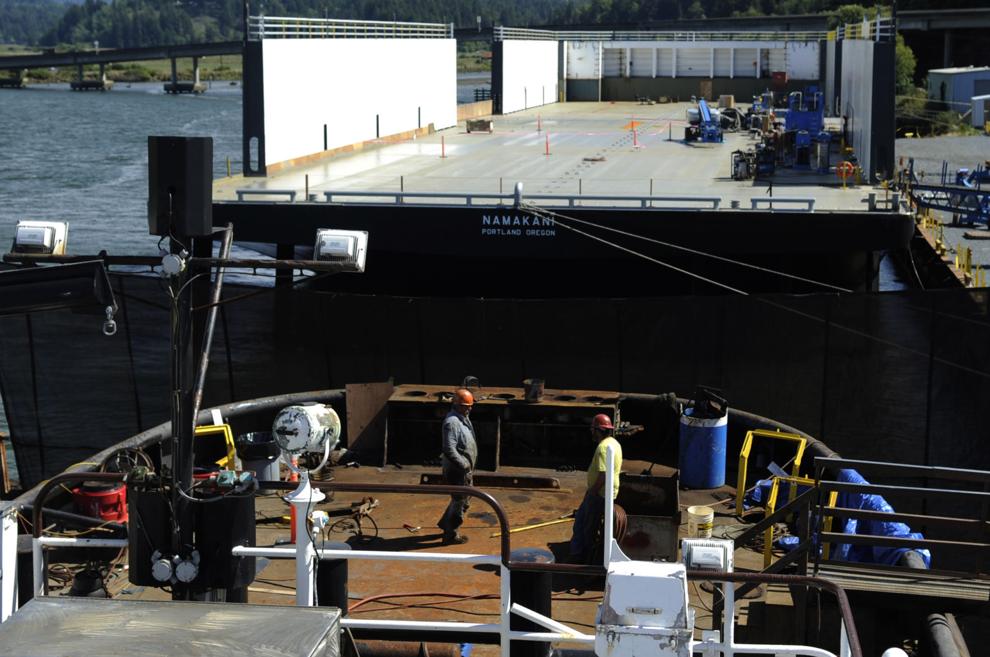 The company had established a presence in Rainier, Portland, Long Beach, and Honolulu, and people there fought to keep businesses going just as much as they did.
"There are no ifs, ands, ors or buts about it," Sause said. "It was a difficult time for every company. There were sleepless nights, times in which it was very difficult, but we persevered and found new opportunities and we weathered the storms. There have been several times when we encountered hardship, but my father never gave up, the people of Coos Bay, Portland, Rainier, Long Beach, Honolulu, none of them ever gave up."
Sause explained that every generation has faced its own difficulties, and that is how each generations learns how to build something new, gets the passion to innovate and grow.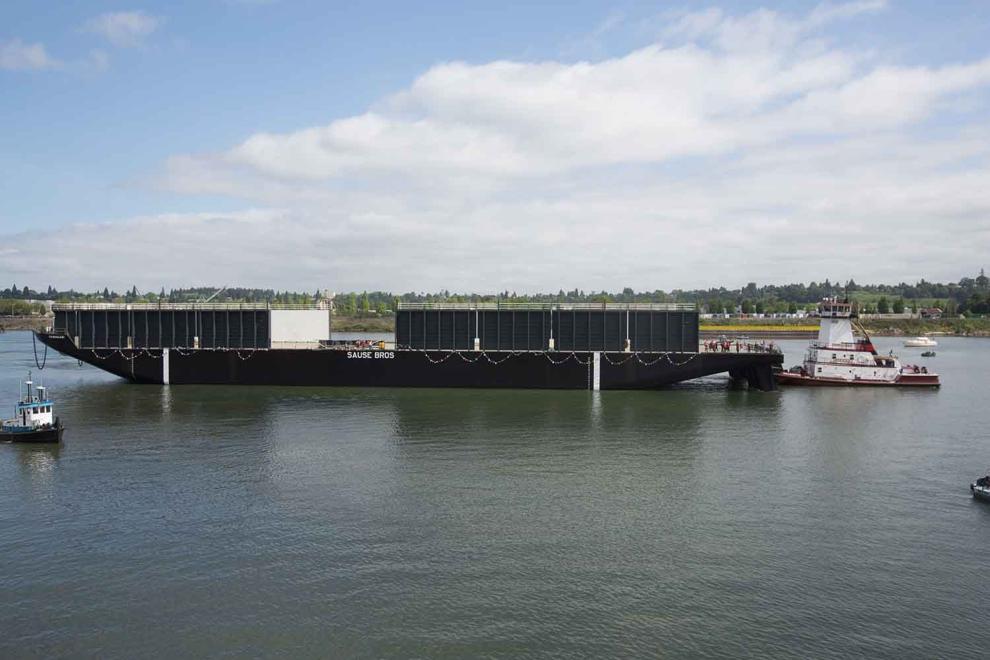 "No one wants to take a step back," she said. "It is that drive and work ethic, of not just my family, but our employees, that brought us here. It's the fact that we've had employees working for us for 44 years, employees who have been here longer than I've been alive, that brings us to be more and more successful."
As for how the company is doing today, Sause said launching a new barge is no small undertaking. It has shown that Sause Bros. is committed to the industry, maritime world, and Coos Bay. The new barge is going to ship more than 3,000 tons of cargo annually.
Sause Brothers has also applied for a Connect Oregon grant to allow them to hire 40 new employees by creating 40 new positions, all of which will be retained, by building and working on a new dry dock critical to the Oregon coast.
"These new jobs that are being formed, these new positions, have great economic benefits to Coos Bay and Oregon," Sause said. "I think it is a great hope, a great sign that this industry is not dying but growing and ideally thriving. We wouldn't be making these investments if we weren't confident we had the community support and economic benefits behind us. Forty new jobs in a shipyard is not a small number."
She said with the addition of the new barge and new capacity in a dry dock within the next year, add up to being signs that the company is moving forward and continuing in its innovation.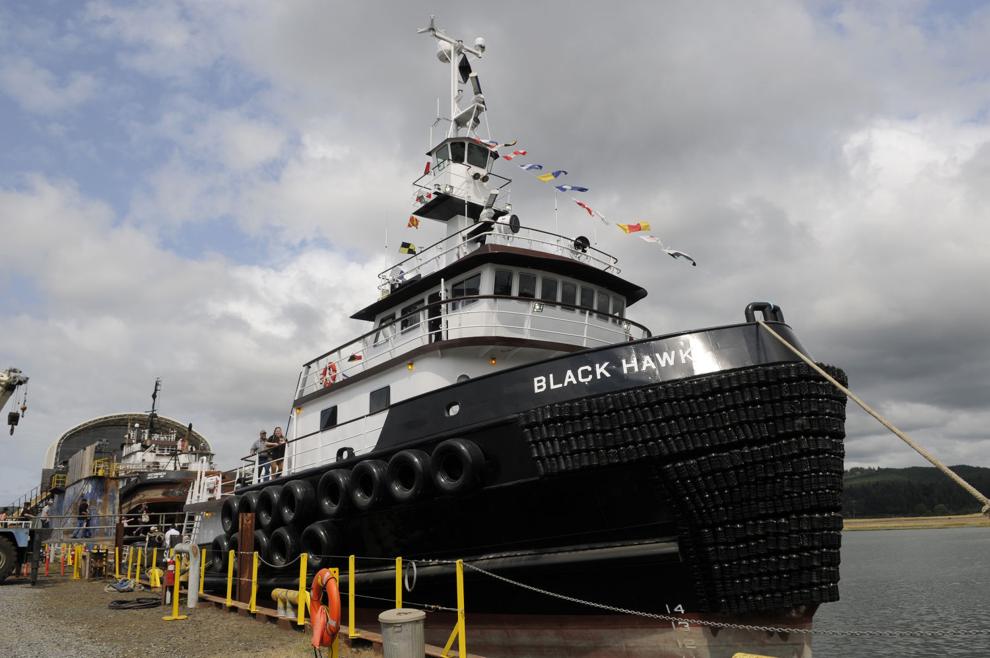 The Namakani means "belonging to the wind" in Hawaiian, and the barge will make its maiden voyage in September to Hawaii to mark the company's 50th anniversary there. The engineering behind it came from thinking outside the box, as Sause put it, and using new fluid dynamics developed in Germany to advance barge technology. The Namakani be fast because it will slip through the water with less resistance and more efficiency. Will it be the fastest barge in the world? That won't be known until it makes its trip in the next two months.
"We are focused on the future and what will move us forward," Sause said. "We are looking at what will make us better in how we serve our customers, the United States, and folks that want to ship products. We want to be leaders in the industry. We aren't going to rest on our laurels. We will continue to look for ways to be better. We look forward to the next 80 years, and continuing what the pioneers ahead of us accomplished."