COOS BAY — It's a soggy Tuesday morning and Casey Skelton is hard at work, barely stopping to take a breath.
With shreds and dots of paper stuck to his red pullover and goggles, even attaching themselves to his bald head, Skelton continues to push around blue bin after blue bin of recycled paper before loading them into the baler behind Star of Hope.
It's hard work, definitely not for everyone, but a job that Skelton loves to be apart of.
"I love it," Skelton said. "It's the only job I can do."
In what started as two employees when the sustainable jobs program first began in 2012, the program provides people with developmental disabilities like Skelton an opportunity not only to work, but gain vocational training as well.
"We started about four years ago and Star of Hope has always thought about funding for folks with disabilities and this is one way," deputy director LouAnn Dewater said.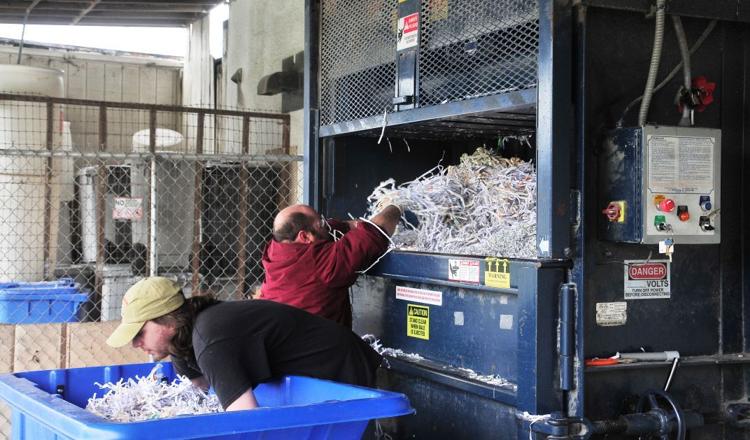 You have free articles remaining.
Register for more free articles
Stay logged in to skip the surveys
With additional funding from grants over the years, like the $5,000 grant from program recently received from the Coquille Indian Tribe, the program can now support a greater work load from purchasing more recycling bins and more employees.
Those jobs in turn are able to generate more revenue, which making Star of Hope less dependent on state and federal money, while also helping to fund the organization's other programs.
"We have about four or five employees right now and about seven to nine in the vocational jobs program," vocational department manager Robert Morris said. "This here is confidential shredding, and it's about 1,500 pounds. International Paper will buy it and turn it back into paper, but the important thing is this helps pay for not only these jobs, but the other vocational jobs and helps contribute towards other Star of Hope programs."
For employees in the program, the training and skills they learn and continue to gather can also lead to community-based employment.
Recently, McKay's hired one of Star of Hope's sustainable jobs employees for a position he learned while at the organization.
"The possibles are there for people in the community to get jobs, there is no ceiling," Dewater said. "The hope was that some work in the recycling field while gaining skills and a paycheck.
"That's a big deal because we were training someone to be a baler and McKay's had an opening looking for someone with baler experience and they got the job. It's transferable skills, which is what we're hopeful of."