BANDON – In a society where families are scattered around the world, sisters June Korenko and Barbara Dodrill are a rarity. The two have spent almost their entire lives within minutes of each other, and still see each other several times a week. At ages 89 and 88, respectively, the two admit that's a lot of years to be sisters – and friends.
Since childhood, the two sisters have moved together, worked together, sung together and attended church together. Both were married and had two children – a son and a daughter each. They now have several grandchildren and great-grandchildren. They are both widowed now, but big family gatherings are still the norm for special occasions.
While there are some physical similarities, one wouldn't guess at first glance that the two are sisters. Their personalities are different, too. Dodrill could be described as the "Energizer Bunny," who has an opinion about most things that she doesn't mind sharing. Korenko is quieter, with a more reserved resolve. 
Born in Montana, the sisters remember growing up during the Great Depression. Their parents provided as well as they could, but when their father died when they were ages 5 and 4, their mother Frances worked hard to keep her two daughters together.
"Growing up, we always had food," Dodrill said. "My mother could stretch a meal and make three out of it. She was very frugal."
Following the death of their father, their mother moved the family into a resort hotel where she worked as a housekeeper. The two sisters remember that resort burning to the ground and as they were being evacuated, their mother quickly wrapping their valuables to take with them – but forgetting her jewelry, something Dodrill remembers to this day.
The family then moved into their grandparents' house, and their mother found work as a janitor. That's when Frances met Russ Sommers, a schoolteacher, and the two were soon married. 
Korenko met her husband Bill while still in Montana. Dodrill met and married Don Dodrill when the family moved to Morton, Wash. The Dodrills moved to Bandon in 1948 to work for a gyppo logging operation run by Bill Donohue.
"A whole bunch came from Washington and set up a mill," Dodrill said. "Don worked as a sawyer, then Bill (Korenko) became unemployed and they moved here too."
Bill Donohue eventually became Bandon's city manager and hired Don Dodrill to run the city's sewer and water plants, which he did single-handedly until retirement. Bill Korenko went to work for Moore Mill.
"Bill could fix anything, so he became a millwright," Dodrill said. "He could fix something with rubber bands," Korenko chimed in.
The couples purchased wartime tract housing that came down on a truck from Portland dismantled. They purchased property off Dew Valley and put the houses back together there, next door to one another.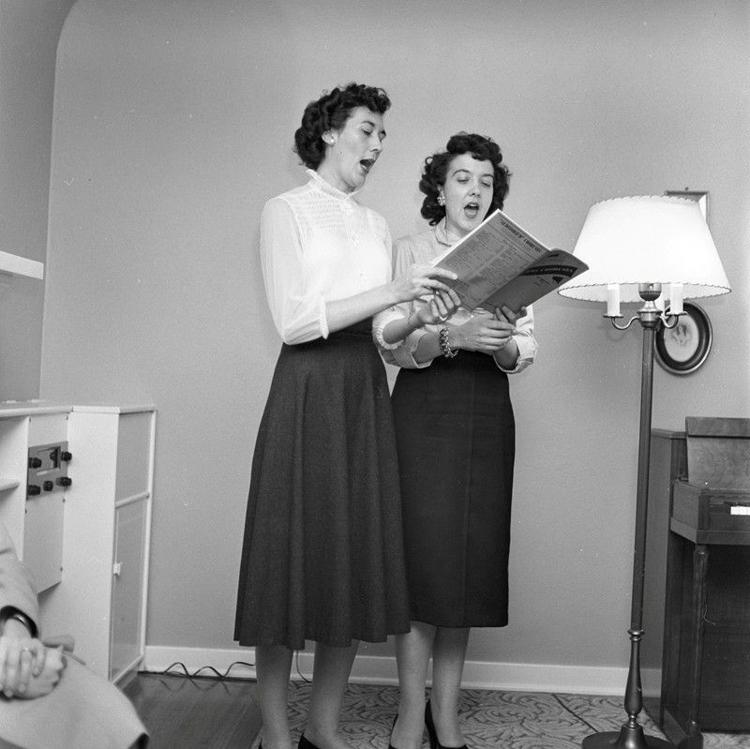 Barbara Dodrill worked several jobs -- as a telegrapher for the railroad in Washington, in the office at Bandon's Moore Mill, then for the Bandon School District, working up to business manager. When her children were in high school, she decided she would earn a degree in education. Her first teaching job was at Pacific High School, then in the early 1970s she went to work at Southwestern Oregon Community College, teaching finance. She worked there until retirement.
You have free articles remaining.
Dodrill also ran for state representative, helped build houses in third-world countries with Habitat for Humanity, and, at age 75, earned her real estate license and worked as a realtor. She now volunteers two days a week at Dr. Gail McClave's office.
Korenko, meanwhile, worked selling Avon when her youngest was little, then worked for Kronenberg and Waldrop Insurance for 14 years. She later got a job as secretary at Bandon High School and, finally, retired.
She and Dodrill also taught Sunday School at the First Presbyterian Church for many years, and Korenko led the choir for 20 years.
"We used to sing together a lot," Dodrill said. "We'd sing duets at weddings and funerals."
Russ and Frances Sommers moved to Bandon at the urging of their daughters, and both became regular church members too. Russ became involved in the Lions Club and was named Lion of the Year in 1989. At church and the library, Russ was known for his storytelling and love of children. The City Park playground is named after him, with a sign placed near the parking lot.
Though slowing down some, the two sisters are still active in church and local events and try to stay active. Dodrill works out five days a week at Fast & Fit. Korenko, who lives at Pacific View Assisted Living, walks each day.
"I think keeping busy is paramount and not letting yourself sit and mope about stuff," Dodrill said of aging. "It's also important to keep learning."
Korenko agrees it's good to keep busy, and she focuses on helping others at Pacific View.
"Do what you can and help each other," she said.
With so many shared memories and activities, Korenko and Dodrill have a special bond, which may be another secret to staying young.
"I think we're close because when we were young, it was just the two of us and that's all we had," Korenko said.
"I think for so long we had to depend on each other because mother had to work," Dodrill added. "We moved a lot and counted on each other for friendship. June always took care of me, she's always been my big sister. I remember one time, June told off some people while I held the door. She was the tough one and I was the weenie."
Korenko and Dodrill are both grateful for their extended families, their many blessings – and for each other.
"My sis really helps me and I really appreciate her," Korenko said.