From an epic snowball fight with the police to a new dog-matching app, here's a look at the stranger and sometimes light-hearted side of news from the past week.
New app lets dog lovers swipe right for perfect pet match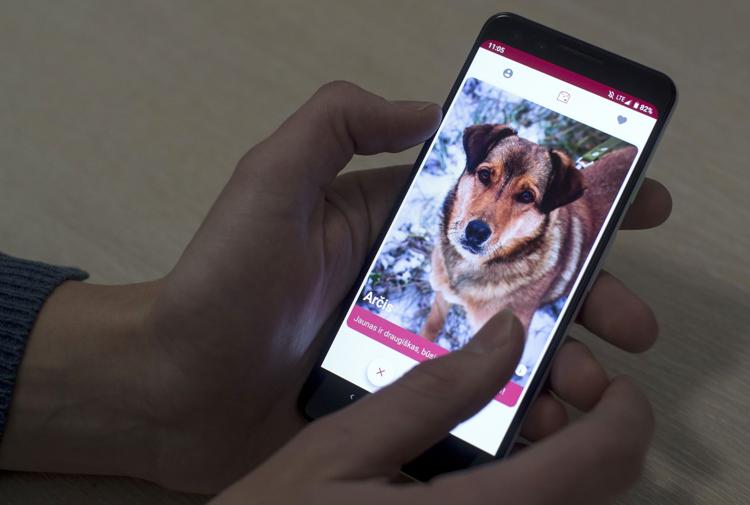 VILNIUS, Lithuania (AP) — If the pooch melts your heart, swipe right.
Animal lovers in Lithuania have created a mobile application inspired by the popular dating app Tinder to match up dogs in local shelters with new owners.
Called GetPet, the app was launched last month and is getting hundreds of new users daily and already has made a few matches. It joins a growing market of apps for people looking to adopt a pet, including PawsLikeMe and BarkBuddy.
"It is like Tinder, but with dogs," said Vaidas Gecevicius, one of app's creators. "You can arrange a meeting with the dog — a date."
GetPet features profiles of furry four-legged creatures looking up with soft, yearning eyes. Scrolling down reveals more information about the pup, and those interested can then swipe right.
But there are limits to the Tinder comparison. It's a one-sided situation and the dogs don't get to have a swiping experience. If you swipe left, another dog profile appears.
Gecevicius said the idea came to creators when they saw a stray dog on the street through the window during a computer workshop.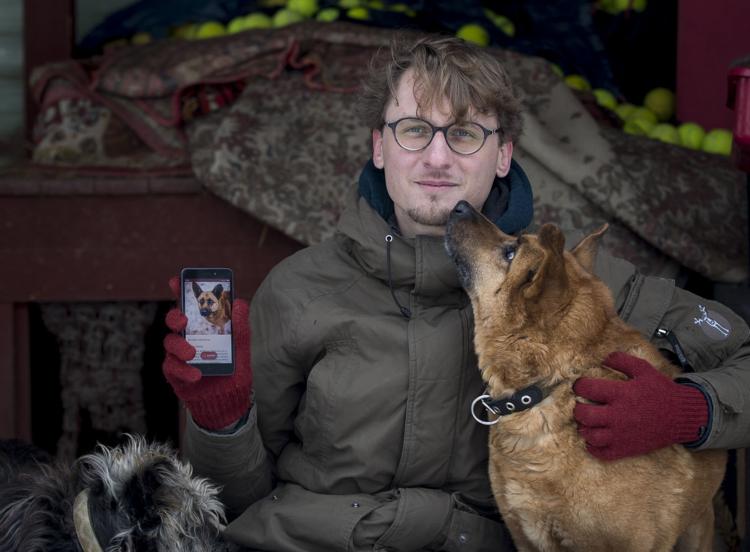 The app only features dogs for now but the plan is to eventually include cats and other animals.
Two friends, Emily and Elena, recently scanned the app and then visited the SOS Gyvunai shelter in Vilnius to meet Piff, a medium black-and-gray mongrel. They took him for a walk in a snow-covered park and said they would return soon to take him home.
"I think it's actually a very great idea because in Lithuania we have a lot of stray dogs and a lot of people who want to adopt," 24-year-old Elena said as dogs nearby ran around in outdoor cages barking.
Ilona Reklaityte, the shelter's founder, said she is very happy about the innovative approach to an old problem.
"I really welcome this new app as it gives us more chances to find our pets new owners and a new home, and that means we can then help other dogs still on the streets," Reklaityte said.
"We have 140 dogs right now. Sometimes we give away one or two of them every day, but now we receive (many) more calls and people are coming more often."
— By LIUDAS DAPKUS, Associated Press
Police get in snowball fight with kids during snowstorm
DUVALL, Wash. (AP) — Police grabbed a tactical shield and engaged in some fun as a major winter storm blanketed parts of Washington state.
Members of the Duvall Police Department posted a Facebook video Monday of officers responding to a report of suspicious characters in a park. Police said a group of "local hostiles" were armed with "improvised projectiles made out of fluffy snow."
Officers proclaimed there would be "no mercy" as they advanced behind the shield, but they were no match for a group of youngsters who hurled snowballs at them.
The officers retreated, but one got left behind to feel the full barrage.
Tip leads to cocaine stashed in jailed man's prosthetic leg
STAFFORD, Va. (AP) — The discovery of cocaine inside a Virginia inmate's prosthetic leg has led to an investigation into a suspected drug distribution operation at that jail.
The Free Lance-Star reports officers acting on a tip about drugs stashed in a Rappahannock Regional Jail cell located the 3 to 7 grams of cocaine inside the prosthesis last month. The search warrant affidavit lists the name of the leg's owner, but the newspaper isn't printing it because he hasn't been charged in the case.
He was already jailed on marijuana possession charges.
The affidavit says his girlfriend collected drug payments from other inmates via the Cash App mobile service. It's still not clear how the drugs got into the jail.
The girlfriend is currently jailed on unrelated drug charges. Her name hasn't been released.
Officers recognize, arrest woman who barked at police dog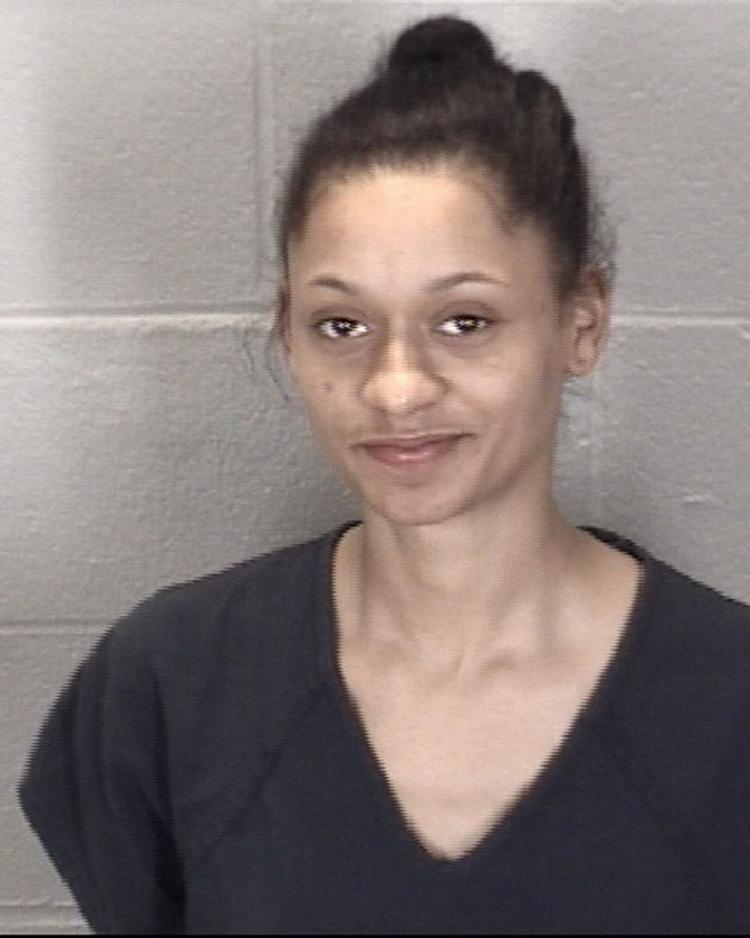 LAFAYETTE, Ind. (AP) — An Indiana woman who barked at a police dog attracted the attention of officers, who arrested her on outstanding warrants.
Lafayette police say officers were conducting a traffic stop Monday when 20-year-old Kiana Champagne Fletcher, who was standing in front of her home, began barking at a police dog sniffing the stopped car.
Police say Fletcher ran inside her house, but officers arrested her after obtaining a search warrant.
Fletcher remains jailed on warrants for conversion, which is a form of theft, and operating a vehicle without a license. She also faces preliminary charges of possessing methamphetamine and drug paraphernalia after police say they found drugs in her home.
Online court records don't list an attorney who might speak on Fletcher's behalf.
Fake dough: Man accused of using movie cash to buy doughnuts
MYRTLE BEACH, S.C. (AP) — Authorities in South Carolina are searching for a man accused of using a fake $100 bill to buy doughnuts at a shop in Myrtle Beach.
The Sun News reports police say the man ordered six doughnuts in the Donut Man drive-thru and handed the cashier a bill that read "for motion picture use only." A police report says the man fled without his change when the cashier turned away to inspect the cash.
Police say there are no surveillance cameras in the drive-thru area. Officers were told the man fled in a white Nissan Altima that had a state license plate and a broken trunk that flapped open and closed as he sped off.
Police: Man fails to open register, steals chicken instead
NEW ORLEANS (AP) — New Orleans police say a man entered a fast-food restaurant and tried to swipe some cash but couldn't open the register so he made off with some fried chicken instead.
NOLA.com/The Times-Picayune reports the man entered the Popeyes in eastern New Orleans on Monday morning and tried to steal money from the register. But police say the register wouldn't budge so he grabbed some fried chicken and fled.
Police arrested 27-year-old Phillip Lee a short time later in the area. He faces charges of simple robbery and simple battery.
Magistrate Judge Brigid Collins set his bond at $13,500. It was unknown if he's represented by an attorney who could comment on his case.