PORT ORFORD — When tragedy descends on a town the size of Port Orford, almost everyone feels the pain and shares the grief. And this town has had its share of grief lately.
A local and well-known fisherman, Darrell Cobb, died from cancer in September, a young man died in December, and a beloved hardware store manager, photographer and Port Orford native, Lois Miller, succumbed to cancer earlier this month.
Tuesday, Jan. 19, at about 8:30 p.m., another tragedy struck when the Port Orford commercial fishing vessel Eagle III was hit by a rogue wave at the entrance to Coos Bay after fishing for crab. The captain of the vessel, Glenn A. Burkhow, 52, made it off and was able to walk out to help. U.S. Coast Guard Sector North Bend personnel located a second crew member, Blaine Steinmetz, 52, whose body was found on the rocks of the jetty about 1 a.m. Wednesday, Jan. 20. Two other crew members, 31-year-old Josh Paulus and 37-year-old Danny Matlock, are still missing. 
Coast Guard Petty Officer 3rd Class Amanda Norcross said neither of the two missing crew members were wearing a flotation device, and an inflatable life raft was on the vessel but not deployed.
Coos County sheriff deputies and search and rescue members searched all day Wednesday for the two, to no avail. The Coast Guard suspended its search at 2 p.m. Wednesday. Though Coast Guard personnel have said the investigation is closed, sheriff deputies continue to travel their patrol area from the north jetty to Ten Mile at the north Coos County line in search of the two missing crew members. The Sheriff's Office reported that the debris field of the vessel, which broke in half after capsizing, has been from inside the mouth of the jetty and north up the North Spit.
The Eagle III is one of the older boats on the Port Orford dock, said Port of Port Orford manager Steve Courtier. It's a 40-foot fishing vessel, built in 1978.
"It's a shame when something like this happens. It deeply affects everyone because we're so small and sends shock waves throughout the community," Courtier said. "It makes you realize the dangers these guys face to go out and make a living for their families."
Weather on scene at the time of the incident was reported as 31 mph winds and 8- to 10-foot seas.
As captain, Burkhow is living a hellish nightmare. The only known survivor out of a crew of four, his heart is heavy and his body is battered — but he still has hope that the two missing men will be found. 
Burkhow said the waters were fishable when the Eagle III headed to sea to fish, and that about 10 other crabbing boats were going out at the same time and others had already headed out earlier that day. They had only crabbed for about three-quarters of the day, and were "just getting started," he said.
"I feel like I've been thoroughly beat up and stomped and kicked," said Burkhow from Port Orford, where he has lived with his wife Brenda and their two daughters, Mandi and Tiffany, and son Glenn Jr. for the past 12 years. For 11 of those, he was captain of the Eagle III, owned by Leesa Cobb of Port Orford. The boat belonged to her late husband Darrell.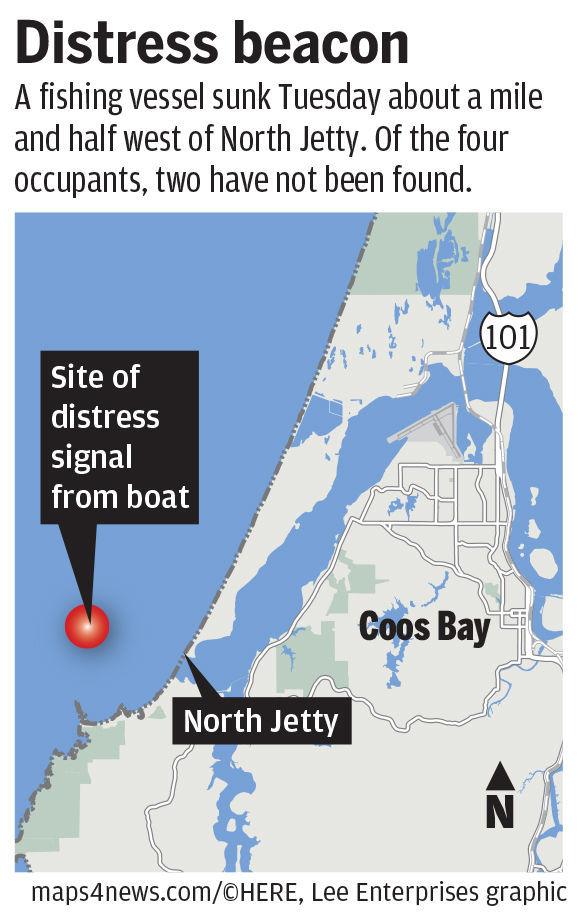 Burkhow has been a fisherman for more than 38 years, starting in the trade during high school in Brookings, where he grew up. He's fished the waters from Alaska to Morro Bay, Calif.
"I've never been involved in any accident on the ocean except one time when one of my bosses had a heart attack at sea and didn't make it," Burkhow said. "I've taken a lot of pride in that people say they wouldn't work for anyone else but me."
Burkhow's daughter Mandi agreed.
"I've had people tell me they'd trust their lives in his hands any day," she said.
After being tossed onto the jetty from the water, Burkhow, who wasn't wearing a flotation device, said he walked about 30 minutes until he could find help. He was finally picked up and taken to the North Bend Air Station, where he received treatment from a group of paramedics. After being checked for injuries and treated for hypothermia, Burkhow went back to help search for his missing crew members.
"The Coast Guard is amazing, they did everything they could to search for these men and they couldn't have done more," he said. "And lots of community members and fishermen helped with the search, too."
Port Orford residents and other fishing communities along the South Coast are rallying for the families who have lost not only their loved ones, but also their incomes. Two GoFundMe accounts have been set up as well as an account at any branch of Rogue Credit Union. A rummage sale fundraiser is being organized for Feb. 6 by a group of Coos Bay fishermen's wives, and donations are being accepted.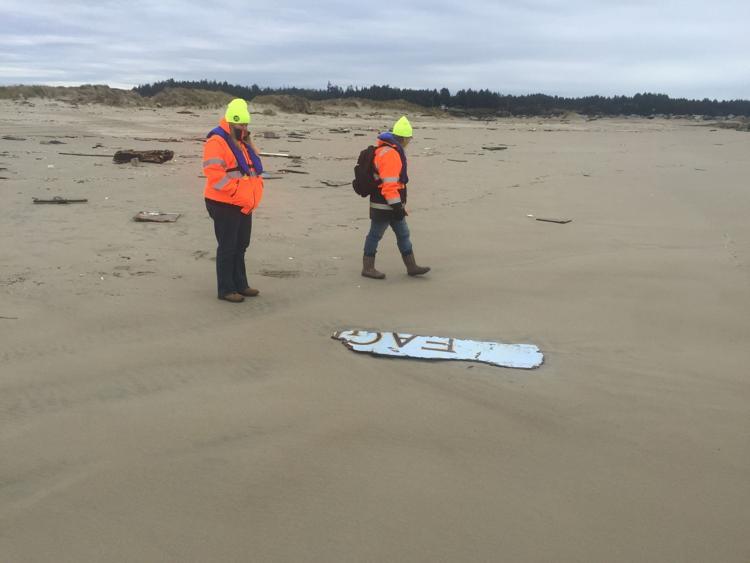 "Whether you know the people involved or not, you feel sadness and want to help in any way you can," said Katie King, owner of Tasty Kate's in Port Orford. "Fishing is the main industry we have left here and our port is the heart of our community."
"In our town, it's like everybody's connected or related somehow to someone," said Priscilla Lang, owner of Dad's Coins & Collectibles. "Fishermen have to love what they do in order to risk their lives each time they go out."
"Something like this ripples through the community, it's just so sad," King added.
Burkhow said he was not able to talk about the details of the accident just yet, but his entire family is in shock and grieving. Paulus, one of the missing crew members, is the father of his toddler-aged granddaughter, whose mother Tiffany is Burkhow's youngest daughter.
"We're just grieving for the families and praying by some miracle of God that the people will be found," Burkhow said. "It's quite a tragedy and I wouldn't wish it on anyone. But I can't think there's anything I'd change. If I had to do it over again, it would be the same scenarios, except without the casualties."
"It's really surreal right now," Brenda said. "We're just kind of hoping we'll wake up from this nightmare."