SOUTH COAST — More earthquakes have hit off the Southern Oregon Coast recently.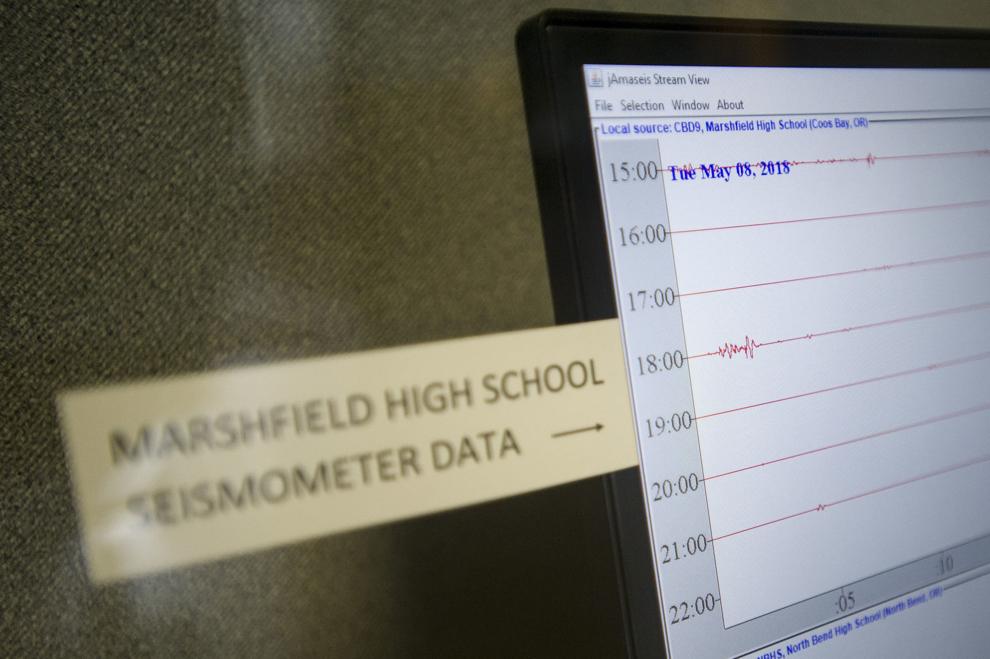 Earthquake
A Slinky seismometer at Marshfield High School monitors earthquake activity.
Though quakes on the Blanco Fracture Zone are normal, the recent activity is happening just offshore of the Cascadia subduction zone near the trench. If that goes off, the well-warned Cascadia quake will shake apart neighborhoods and sink buildings.
"That Cascadia quake will range between 8 to 9.5 magnitudes," said Ron Metzger, geologist professor at Southwestern Oregon Community College.
One of these recent tremors happened on April 26 at 1:44 a.m. The 3.6 magnitude quake shook just 90 miles away from Coos Bay on the Juan de Fuca plate, where the Cascadia subduction zone rests. Not long after, the south coast saw a 4.0 quake go off on April 30 about 120 miles away from Bandon.
Since then, Eureka, Calif., has seen a 4.5-magnitude earthquake this week, as well as earlier this month. In January this year, Eureka saw a 5.8-magnitude quake.
Coos County Emergency Manager Mike Murphy pointed to three recent quakes in Southern California, some close enough to be felt by locals.
"People think the little quakes are a good thing, that they release pressure, but that's not the case," Metzger said. "Sooner or later, Cascadia will release and there is no way for us to predict when it will happen."
Native American tribes all along the Northern Pacific coastline passed down oral histories of earthquakes and tsunamis which have survived to present day.
"That in itself is amazing to have lasted so long considering what happened to the language," Metzger said. "Stories of tying canoes to the tops of the tallest trees to prepare for tsunamis is one example."
The last time there was activity was January 26, 1700 at 9 p.m.
With volcanic activity in Hawaii right now, Murphy touched base with the Cascade volcanos, listing a few such as Mt. Baker, Crater Lake, Mt. Hood, Mr. Rainier, and of course Mt. St. Helens.
"All of that is part of the Cascade volcanoes and related to our Cascade subduction zone," he said. "They are considered active and could go off at any time, but the volcano activity won't happen without plenty of warning. They are all monitored."
When they go off, he said the worst the South Coast would see is if the wind changes and brings ash.
"When Mt. St. Helens went off, we did get a dusting," he said.
With the plate activity, both Murphy and Metzger encourage the public to be ready.
"The main thing we try to stress is for people to have supplies to take care of themselves," Murphy said. "Oregon Emergency Management calls it 'two-weeks ready,' and now FEMA does too, but I say prepare for longer. Start with a few items and gradually build up. Don't break the bank."
He suggested that people put kits together for their home, workplace and car because when it happens, all local transportation routes will be gone. Infrastructure and power will be impacted.
"We need to be on our own and take of ourselves before we get help," Murphy said. "What we saw in Puerto Rico . . . that will be like that here. It is up to people to do it for themselves."
One phrase often thrown around when talking about Cascadia is "inundation zone." That is where water will fill an area very fast, as in an incoming tsunami. Another term is "liquefaction zone." This is where the soils are saturated with water, meaning there is no bedrock below but rather fill dirt.
For example, downtown Coos Bay is a liquefaction zone. According to Metzger, most of that fill dirt in Coos Bay is actually sawdust.
"Once it is shaken, it loses cohesiveness so everything above will sink," Murphy said. "Buildings will sink. When you're downtown in Coos Bay and a big truck passes, you feel the ground shake. That is because of fill dirt and when Cascadia happens, it will be much, much worse and will go on for longer.
"If you're on good, solid ground, don't worry. In an area with fill or high water tables – move."
In addition to that, the Southwest Oregon Regional Airport is likewise built on fill. According to Murphy, one runway is even built on dread soil.
"We do have the Cape Blanco airport in Curry County that is on bedrock," Murphy said. "Some things will still work, but we suspect most will break and if it does we will fix it."
In the meantime, he urges people to know where the inundation and liquefaction zones are between home, work, church or school.
"Know your routes and where you will need to go because there will be no warning," he said. "Get to high ground because water will be coming soon. If you're in your car, stop. You won't be able to drive because the ground will be buckling. Stay in your car to protect yourself until shaking subsides. I tell people not to sit in your car after waiting for traffic to clear. Get out and run. Water is coming."
A group at the University of Oregon is looking into early warning possibilities for earthquakes, hopefully to give people 30 seconds or even a minute to prepare. Metzger believes this will be developed eventually into a phone app, but it isn't there just yet.
"Be prepared folks," Murphy warned. "It's coming. Have the mindset of preparation."