NORTH BEND — The Wings of Freedom Tour stopped by Southwest Oregon Regional Airport in North Bend Tuesday offering visitors not only the chance to view restored World War II aircrafts up close and personal, but the opportunity to join pilots during a flight.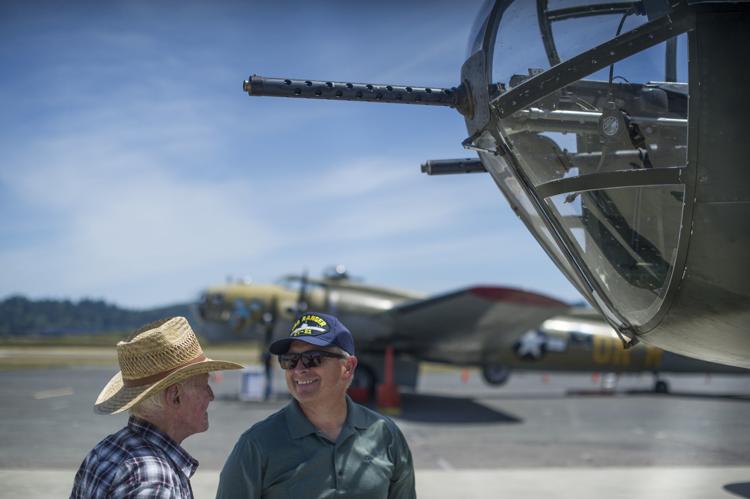 As part of their immersion tour, The Collings Foundation, a non-profit, educational organization, travels across the country visiting over 100 cities in about 40 states displaying four distinctive World War II aircrafts. Tuesday's event featured a B-17 Flying Fortress, a B-24 Liberator, a B-25 Mitchell and a P-51 Mustang.
Jamie Mitchell, the tour's coordinator, said the foundation has been hosting the tour for about 30 years and is comprised of mostly volunteers from pilots to on-the-ground crew members. The experience is a rare, opportunity for people around America to be able to interact with these planes so closely, said Mitchell.
"It's important to have these out here and not just sitting in a museum," said Mitchell. "It makes a huge difference when you can walk over here and touch the planes and talk to World War II vets or the pilots who fly them."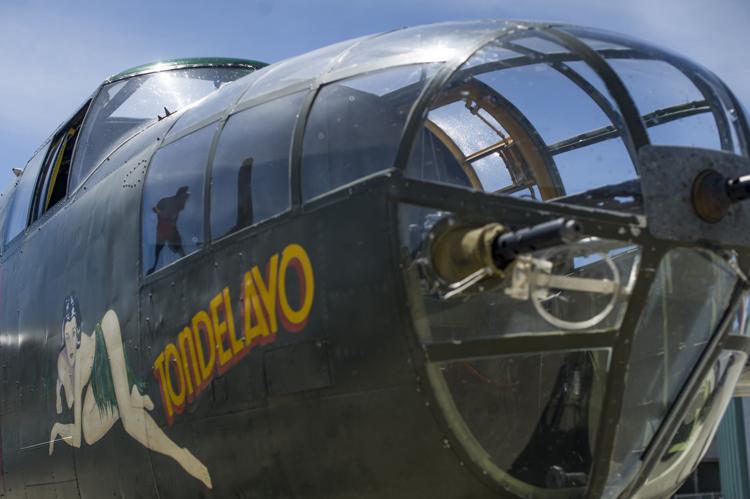 Since its inception, the tour has expanded to include in flight experiences and new aircrafts. One of which is an A-1E Skyraider, which will be featured in Corvallis on June 13. The flights include taking visitors onto any one of the three bomber-type planes as well as the P-51 Mustang, a fighter-type plane. The cost to join a flight ranges from $400 to $3,200 and can last from 30 minutes to an hour.
One of the P-51 Mustang pilot's Bill Eberhardt said he's been flying with the foundation for little over a year and enjoys being able to take people out on flight.
"I do this just out of the love and passion I have for aviation," said Eberhardt. "I encourage everybody who comes to fly, it's worth every penny."
Eberhardt, a former U.S. Air Force pilot, said he grew up around planes and remembers going out to air racing events with his family and father, who also flew World War II planes.
"I've learned to appreciate these planes and the military history behind them," said Eberhardt. "The sound, the smell and the feeling you get it's just so hard to describe."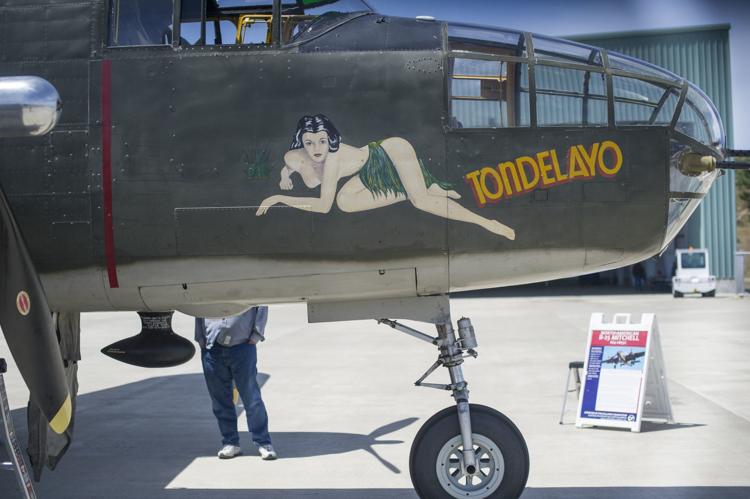 Mitchell said the goal of the tour is always the same; to honor the sacrifices made by veterans and educate visitors on the history behind the planes.
The Central Oregon Coast Military Vehicle group was also in attendance to display its vehicles originally used during World War II and the Vietnam War. Former president and Vietnam veteran Jim Shipp said collecting military style vehicles has been a passion of his for as long as he could remember.
The Wings of Freedom Tour stopped by Southwest Oregon Regional Airport in North Bend Tuesday offering visitors not only the chance to view res…
"I got about 26 acres of land with 10 really nice cars," said Shipp. "It's important to do these events so we don't lose our history."
According to the Collings Foundation's website, the tour will continue on into November and tour stops will be posted online.