COOS BAY -- Students in Marshfield High School's Disaster Science class got a hands-on lesson in emergency preparedness from the Community Emergency Response Team on Friday, when the students ran through an emergency simulation in the school's locker room.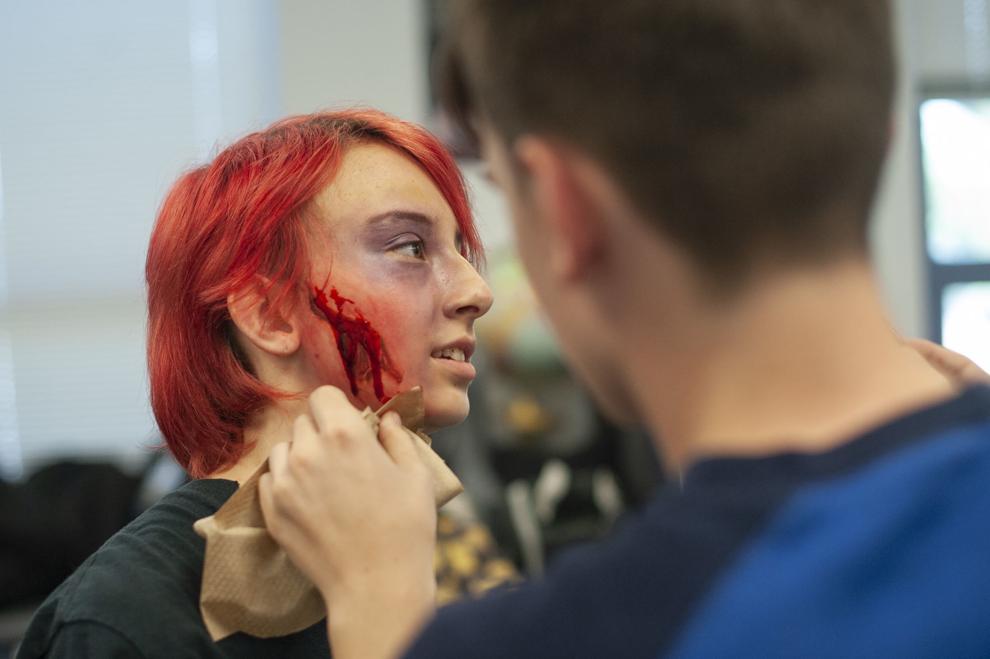 Marshfield High School Disaster Science Class
Trace Janes applies makeup to Alexis Crawford's face Friday as students in a Disaster Science class prepare for a hands-on lesson from the Com…
Disaster Science students stepped boldly into the pitch black locker room to the tune of dozens of simulated cries for help. Bodies were strewn about the locker room and covered in fake blood. The students put into practice the many things they've learned about emergency response over the course of the semester while participating in the simulation.
"You want to make it as realistic as possible, so you're prepared if you're ever called to action. Marshfield teacher and CERT instructor Lynda Sanders said. "It's all about being prepared for yourself, your family, and your community."
A number of students outside of the Disaster Science class volunteered to participate in the simulation as victims.
"We have drama students that volunteer to be victims, and some of them volunteer because they hear about it and think it sounds like fun. Several of the students that are going through the training this time played victims in the last training, and they thought it was so cool that they decided to take the class.
After the simulation all of the students who participated are eligible to be CERT certified.
"Once the students turn 18 they're eligible to register with the county for CERT," Sanders said.
Members of Coos County CERT hung around the simulation to assist students with procedures and help guide them through.
"Our primary goal is education. We educate the public on what the biggest dangers are in their area," Wright said. "Our main concern here would be the earthquake, because it would be so devastating to such a large area … These kids here are amazing. They're willing to step up and in the event of an emergency."
One of the most important thing that CERT tries to convey to students is to keep themselves safe while trying to help out in emergency situations.
"We have some traps set up. Sometimes your reaction to something takes over and we try to drill into them that your safety comes first. If you become a victim, now you're part of the problem and we're down resources," Sanders said.
Students running through the simulation were marking simulated victims with green, red, and yellow tape in order to determine which injuries are most severe and who needs to be helped first. Red tape signifies the most urgent injuries.
"There are what we call the three killers, and those are blocked airways, bleeding, and shock. Any of those three would categorize you as red," Sanders said.
Aside from being eligible to join CERT aft their disaster science class, students who took the course are also prepared to test for CPR certification, Saunders said.
This is the second year that Marshfield has hosted the emergency simulation. CERT training originated at Marshfield as an emergency preparedness club. Last year Sanders and fellow teacher Jonathan Hill developed a course to incorporate CERT training and the science behind disasters.