COOS BAY — Students at Marshfield High School on Wednesday morning honored veterans in their special way by hosting the school's ninth annual Memorial Day assembly for a crowd of veterans and fellow students.
Each year, groups of students work together to research and feature a different war. This year, World War I was the conflict of focus, as this year is the 100th anniversary of the end of the war.
"I believe we put on one of the best Memorial Day assemblies in the entire state. It focuses on our local history and former MHS community members and their commitments to helping preserve freedom all over the world," Marshfield teacher Debbie Brown said.
Brown's history class participated in the assembly by giving background on WWI and sharing researched stories of Coos County veterans who lost their lives in the First World War.
Thirty-eight young men from Coos County, including the first principal of Marshfield High School, lost their lives in WWI.
It was also mentioned how valuable Coos County's natural resources were to the war effort. One of the stories shared was that of 27-year-old Eric Anderson of Empire, who used his civilian experience as a logger to help build ships for the military.
"In a very respectful way were able to give a little bit of a history lesson, and a way to honor those who have given their lives for our country," Brown said.
Accompanied with the stories were era-appropriate performances by the Marshfield band. The history behind most of the songs was also provided including classic military songs like "Over There" by George Cohan.
You have free articles remaining.
The flag ceremony was performed by the U.S. Naval Sea Cadets. Following the flag ceremony and Pledge of Allegiance, the Marshfield choir group New Horizons sang the national anthem.
After the assembly, Vietnam War veterans were honored with commemorative pins that were handed out by the Sea Cadets.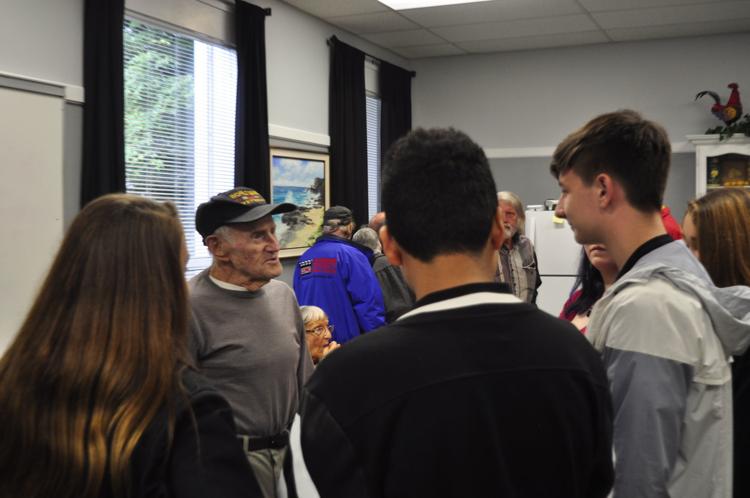 "It's good that they have this. We don't expect a lot, but it's nice that people volunteer to do it. It's great for the school kids," Korean War veteran Ray Coburn said.
Local historian Cricket Soules advises the assembly each year, conducting the various student groups that take part in the entire production.
"Students did a lot of the original research and now we're supplementing that with additional research from past students that have put this together," Soules said.
The eighth and ninth grade leadership team helped host the event by putting up decorations and making sure the program ran smoothly. They also helped with refreshments offered to veterans and guests after the assembly.
"There are a lot mixed feelings. It was a terrible thing we had to do
… I know we had to do that though," World War II veteran Jim Curran said.