NORTH BEND — Republican candidates for state office outlined their plans for undoing the legislature's minimum wage hike and bringing logging back to public lands at a Saturday candidate forum sponsored by the Coos County Republican Women.
In a vacant store at Pony Village Mall, about 30 people sat at tables while the candidates moved from table to table, outlining their positions on state issues and answering a few questions in the 10 minutes they got to spend with each group.
Today we look at the candidates for governor, secretary of state and treasurer who were present. Tomorrow we'll report on the candidates for the state legislature.
Governor
In the May primary, four Republicans (to say nothing of two Democrats and an independent) will vie for the opportunity to challenge Democratic incumbent Kate Brown. Two of them — Bud Pierce of Salem and Bruce Cuff of Mehama — were at Saturday's event.
Pierce, a Salem oncologist seeking office for the first time, said much of the benefit of raising the minimum wage would be eaten up by income taxes and by making people ineligible for the federal Earned Income Tax Credit.
Instead, he suggested removing state income tax on the lowest-paid workers (currently, everyone pays at least 5 percent, and people making taxable income between $8,400 and $125,000 are taxed at 9 percent) and having Oregon raise its Earned Income Tax Credit. increasing the income of the poorest people at a comparatively small loss of revenue to the state.
He said it's better to log public lands in Oregon, where there are environmental protections, than to ban logging here and allow logging in South America, where there are none. Encouraging novel uses of timber such as cross-laminated lumber would help reduce carbon emissions.
He suggested enlisting foreign investors to help develop Coos Bay as a port, retaining a 51 percent domestic interest in the assets. "It won't be a sleepy Coos Bay any more, but you've got to get bigger or die."
Bruce Cuff, a real estate salesman, cast himself as the candidate best positioned to ride "this conservative wave coming across after the presidential elections."
Cuff painted a picture of an all-Republican State Land Board (governor, treasurer and secretary of state). "We start logging, we start mining, we start using our resources in Oregon for our counties."
"But we're not going to do that with some of these other guys that are taking money from big timber that don't want the forests opened up." he said. "There's a bunch of timber companies that own their own land. When the public lands burn, they get excited, because it's supply and demand. If we open up the timber again, a lot of these smaller mills will come back that they used to have."
Cuff said fish would be better off if sea lions were controlled, and gay people would be better off if they weren't gay.
"You guys are trying to crucify us and make everything we do illegal because we don't celebrate (your lifestyle)," he said. He pointed out that Oregon voted to define marriage as involving one man and one woman. Instead of gay marriage, he favors civil unions to secure the sharing of property or benefits between family members, gay partners or anyone else who needs them.
Secretary of State
Sid Leiken, a Lane County commissioner, criticized the legislature's decision to raise the minimum wage, saying the geographic tiers lump Eugene and Oakridge together, for example, and would raise teen unemployment.
"It's no longer minimum wage, but enough money to raise a family — that's been the narrative the Democrats have been using," he said. "I've said back to them, 'So, you aspire for people to make $13.50 an hour? Great. I'd like to see family wage jobs.'"
He said that as secretary of state, he wouldn't be able to do anything about the minimum wage, but he said Lane County is considering joining a lawsuit proposed by Linn County, which is contemplating legal action against the state government on the grounds that for the counties, the wage hike and sick leave requirements are an unfunded mandate in violation of the state's constitution. Linn County has already sued the state for not managing state lands in such a manner as to maximize payments to the county.
Leiken said the state needs a "balanced approach" to logging on public lands that would help sustain the schools, because Oregon is 49th in high school graduation rate nationally.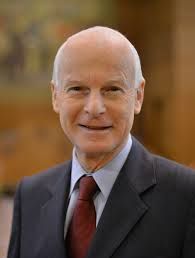 Dennis Richardson, a 12-year state representative and unsuccessful gubernatorial candidate, participated remotely; attendees could question his disembodied head on a tablet carried around from table to table. He said he was drawn to seeking the secretary of state position because of the opportunity to supervise the auditors of state programs. It would also be an opportunity to enforce disclosure of government emails and to set up a system to encourage whistleblowing by public employees.
Treasurer
Jeff Gudman is unopposed in the Republican primary and will face state Rep. Tobias Read (D-Beaverton) in November. "I have elected service, business service, volunteer service, all of which prepares me to be the treasurer," he said. "Also, my Democratic opponent is not qualified to be treasurer. His profession, listed in the Oregon Blue Book, is 'footwear developer.'" Read was a special assistant to the U.S. Secretary of the Treasury before he went to work for Nike.
Gudman, a former Lake Oswego city councilor, investor, and treasurer to nonprofits and businesses, said his own expertise fitted him well for overseeing the state's investments, which he'd do as part of the Oregon Investment Council. He'd also be on the State Land Board: "I can be an advocate for greater timber harvesting on state lands." He criticized the procedure by which the state plans to sell the Elliott State Forest, in which the price will be determined by an independent appraisal and then bids will be selected based on — well, nobody really knows what it'll be based on. "By doing that, we're shortchanging our kids' education."