The road study concluded that unless pavement and bridge conditions are improved, the state could see a loss of $94 billion in cumulative gross domestic product by 2035, in addition to the loss of 100,000 future jobs as a result of increased transportation costs.
The department estimates two-thirds of state bridges will need rehabilitation within 20 years. As bridges deteriorate, they see a decrease in usage as they need greater weight restrictions. The greater weight restrictions impact transportation as the need for truck detours increases, increasing road congestion through longer commute times or creating a need for more trucks because of the smaller load capacities.
Because of these increased costs, the department fears Oregon firms will be unable to compete with their global competitors, forcing businesses to move elsewhere.
The problem is not new. Previous studies also have shown just how important transportation infrastructure is to the economy.
Of those affected, Intel had to move up its departure times two hours while Sysco Foods opened up a regional distribution center in Spokane because it was more time efficient to serve the region due to congestion elsewhere.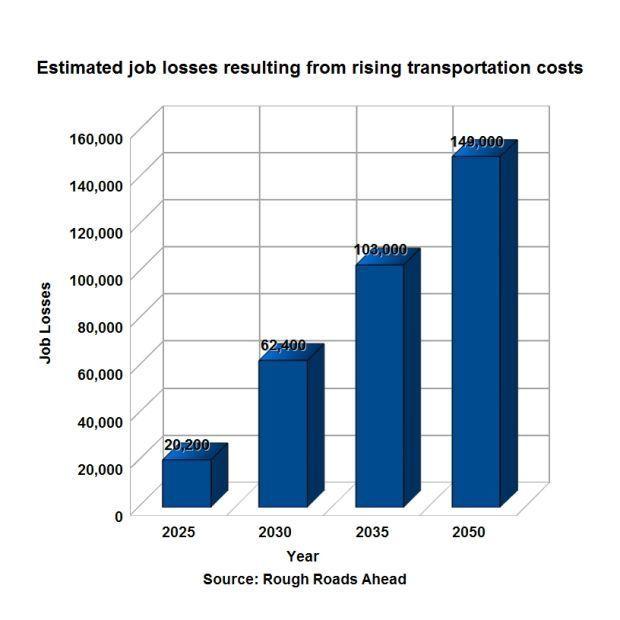 Coastal communities like Coos Bay and North Bend would suffer more significant losses because they face higher costs to move freight to export markets.
"These studies are important for the Oregon economy to remain vital," department spokesman David Thompson said. "Oregon businesses require a strong, dependable transportation system so there's a huge price tag of doing nothing."
Additionally, while Oregonians currently have the lowest annual car ownership costs, poor pavement conditions will have a substantial impact on commuter costs.
Oregonians also pay less in taxes and fees — $157 per year, 85 percent less than the U.S. average of $1,058.
But Oregon's $380 in repair costs exceeds the U.S. average by 7.6 percent and would grow considerably should pavement conditions not be addressed.
Bankrate.com further estimated that Oregon vehicle repair costs could rise to $646 and gasoline from $942 to $1,055 as a penalty for driving on rough versus smooth pavement.
Validating those projections, the National Cooperative Highway Research Program estimated very rough pavement drops fuel efficiency 12 percent, increases tire wear by 5 percent, increases wear and maintenance 70 percent and increases auto operating costs by 22 percent.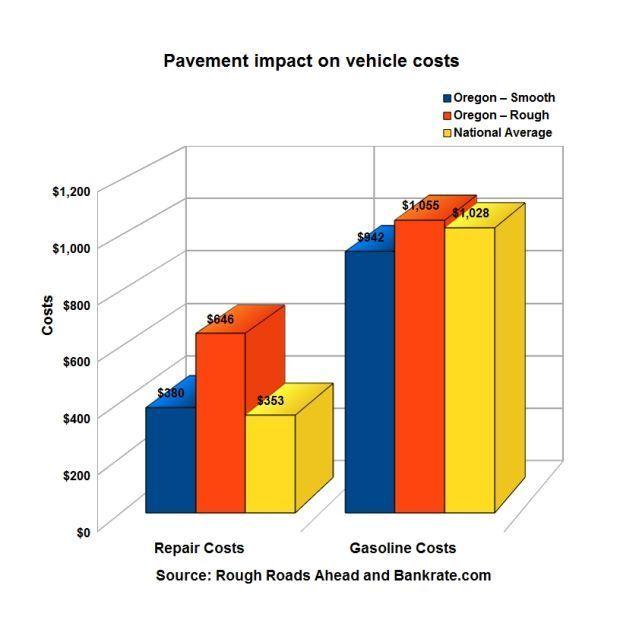 Bridge replacement and retrofitting
With the current rate of deterioration, the department anticipates not having enough resources to cover needs as bridges age.
Compounding the bridge problems are the increasing likelihood of a significant seismic event occurring in the Cascadia Subduction Zone.
As part of its vulnerability study, the department recommended implementing the Seismic Plus Program, a $5.1 billion, five-phase bridge retrofitting and replacement program. The study concluded the project would save $84 billion in lost economic activity.
For Oregon's coast, which would be significantly impacted in terms of economic production and employment, the program estimates to reduce losses from 63 percent to 34 percent in year one alone.
While employment losses would still be large at 52 percent in year one for the area stretching from Coos Bay to Florence, the number is significantly less than the 78 percent loss in employment if no actions were taken.
For Bay Area residents, the McCullough Bridge is included in Phase 5 of the plan, which estimates the bridge replacement at roughly $307.7 million.
For Oregon in general, the department projected the program would prevent 70,000 job losses by 2035.
"We know sooner or later an earthquake is going to happen," Thompson said. "You pay for it now, and you're not going to like it or you pay a lot more later."
Proactive vs. reactive repairs
Just like with its earthquake program, the department found proactive pavement and highway investing lowers the cost burden versus reactive repair.
Based on the current funding and deterioration scenario, it would cost the state $3.4 billion to $5.2 billion to repair pavement and $5.4 billion to $7.2 billion to repair highways just to return them to current conditions in 20 years if no actions were taken.
They estimated an additional $100 million in funding per year would allow the state to maintain pavement conditions at the current level, while an additional $180 million per year would allow the state to maintain bridge conditions over the next 20 years.
Over the same time period, the department estimated the program would cost $15 per month for the typical two-car family.
"I know people are going to think it's ODOT asking for money, but it's not," Thompson said. "This is an investment in the state."