PORT ORFORD — The damage done by last Saturday's storm that hammered the Port of Port Orford could have far-reaching implications.
Brett Webb, a port commissioner and a commercial crab fisherman, knew if boats started getting tossed off of the dock they could be looking at a long-term closure.
He said Oregon's Infrastructure Finance Authority values the Port Orford Fishing Industry at just over $12 million annually for the state. So the stakes are high in this recovery effort, and not just for the local fishermen and their families.
While things could be worse, the fallout from the storm still isn't pretty.
As it is, the breakwater, or rock jetty, needs about $10 million in repairs. Emergency dredging, if needed, would run another $500,000. Without the repairs, the Dungeness commercial crab fishing season is going to be dicey, at best.
"We have declared an emergency ourselves, at the Port of Port Orford, through resolution. Curry County has done likewise," Webb said, as clean-up efforts continued Thursday. "Both of those resolutions are on the governor's desk at this time. We're just going to tally up the numbers and be ready if anybody comes to help."
Hugh Link, executive director of the Oregon Dungeness Crab Commission, said there is concern for Port Orford around the state as the commercial crab season approaches.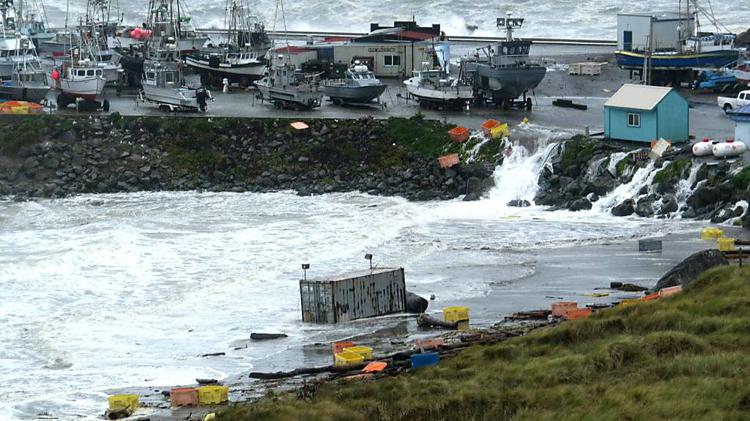 "It's not just the Port Orford boats that fish out of there," he said by phone Friday. "If that is where the crab are, others will go out of there, too."
But, he said, while there is concern, there is also confidence.
"I have been assured, by at least one of the fish processors, that they intend to have something in place to buy down there during crab season," he said. "It is a pretty resilient group down there. But, we're obviously concerned. In two weeks we start pre-season testing."
Almost a full week removed from the carnage, fishermen around the dock were still shaking their heads at what became the storm of this century, at least so far.
Port Orford knows what it's like to get hit by Pacific Coast storms, but this one was different. They were predicting gusts of up to 60 mph, but Webb said they ended up seeing 100-mph sustained winds. Huge waves, estimated to be topping 40 feet, were sending large boulders from the breakwater wall scurrying across the cement dory dock.
"Like children's toys. Like marbles," Webb said.
In short, he said, they hadn't seen anything like it since the cement dock was built in 2000.
Ryan Sandler, with the National Weather Service, said on Monday that the sustained winds didn't quite make it to 100 mph, but the force would have still been pretty strong.
He said the Cape Blanco maximum sustained wind the morning of Oct. 25 was 81 mph, with gusts to 94 mph.
For comparison, he continued, the Dec. 3, 2007 storm ("Great Coastal Gale") brought wind gusts of 113 mph to Cape Blanco and 84 mph at the Port of Port Orford along with 40 foot seas.
The Great Columbus Day Storm winds were so brutal that they actually damaged the Cape Blanco anemometer which measured gusts to 146 mph, although, Sandler said, it was later estimated that wind gusts were higher (up to 179 mph).
For the Port of Port Orford, whatever the wind total speed clocked in at, the destruction was undeniable and leaves them scrambling as winter closes in.
Other damages besides the breakwater included a fuel system on the dock and the main crane that is used to lower fishing vessels from the dolly dock into the waters below. The port office is still closed, and Griff's on the Dock, a seafood restaurant that employs 13, also remains shuttered.
Still, in some ways, Webb noted that they were fortunate.
"There were no environmental issues," he said. "Our commitment to the environment remains strong."
As Link noted, they are a resilient bunch in Port Orford. Webb said some fishermen have already been back out to go back to work.
Those that haven't gone back out have been hard at work cleaning debris off the beach. Jimbo Jennings, president of the Port Orford Reorganized Fishermen Association, led the group's clean-up effort that logged about 200 volunteer work hours.
"We're going to roll up our sleeves and say our prayers," Webb said. "And we're going to continue to fish. That's just what we do."