COOS BAY — Coos Bay is the location for an independent film, "The Watchman's Canoe."
Filming began last week, and will continue through the end of July. Director, writer, and producer Barri Chase lived in Coos Bay for part of her childhood, and came back after graduating with her master's in film and media from Arizona State University to take care of her dying mother. It was then that she had the inspiration for the movie.
"I wrote the film as she was passing away," Chase said. "I had gone into the basement and saw the totem pole we brought here with us from the reservation near Seattle. I uncovered it and the whole film came to me. I wrote it in two and a half weeks."
"The Watchman's Canoe" is loosely based on Chase's life when she grew up on a reservation north of Seattle. She has Apache, Cherokee, and Choctaw Indian ancestry, but is blonde and blue-eyed. Chase wrote about a young girl, Jet, who is a fair-skinned Native American who struggled to fit in with her peers on the reservation and is "bullied massively by a group of boys."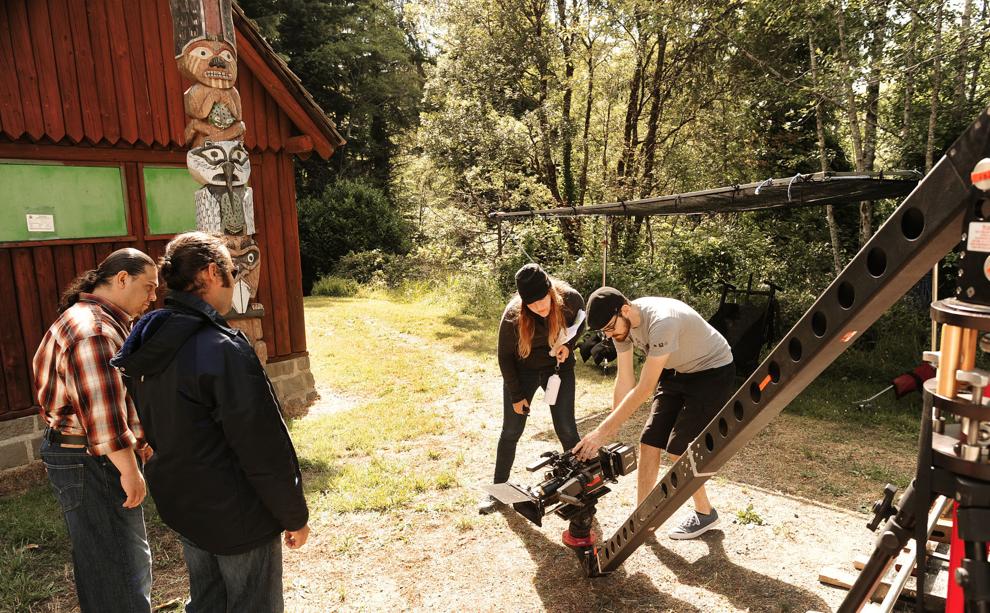 "It was when I first learned about bullying," Chase said, "and when I also started connecting to the earth and animals and trees. The neighbor next door, Uncle Ralph, steered me, guided me, and told me stories and taught me traditions like weaving and carving."
The story examines different levels of forgiveness and commitments to perseverance. Chase hopes people can see from this movie the ramifications of bullying and the joy of celebrating everyone's differences.
"Everyone is so different, even on the reservation," Chase said. "None of the kids look the same. I hope this opens conversations, and as communities how we can come together, how elders, or parents, can see this more quickly and stop it in its tracks so it doesn't lead to shootings like in Roseburg."
Two actors from the movie "Windtalkers" are also in the film. Roger Willie plays Uncle Ralph, who is the guide and voice of reason in the movie. According to Chase, Willie had just had a conversation with his daughter that he later read in the script. It was then that he said he had to do the movie.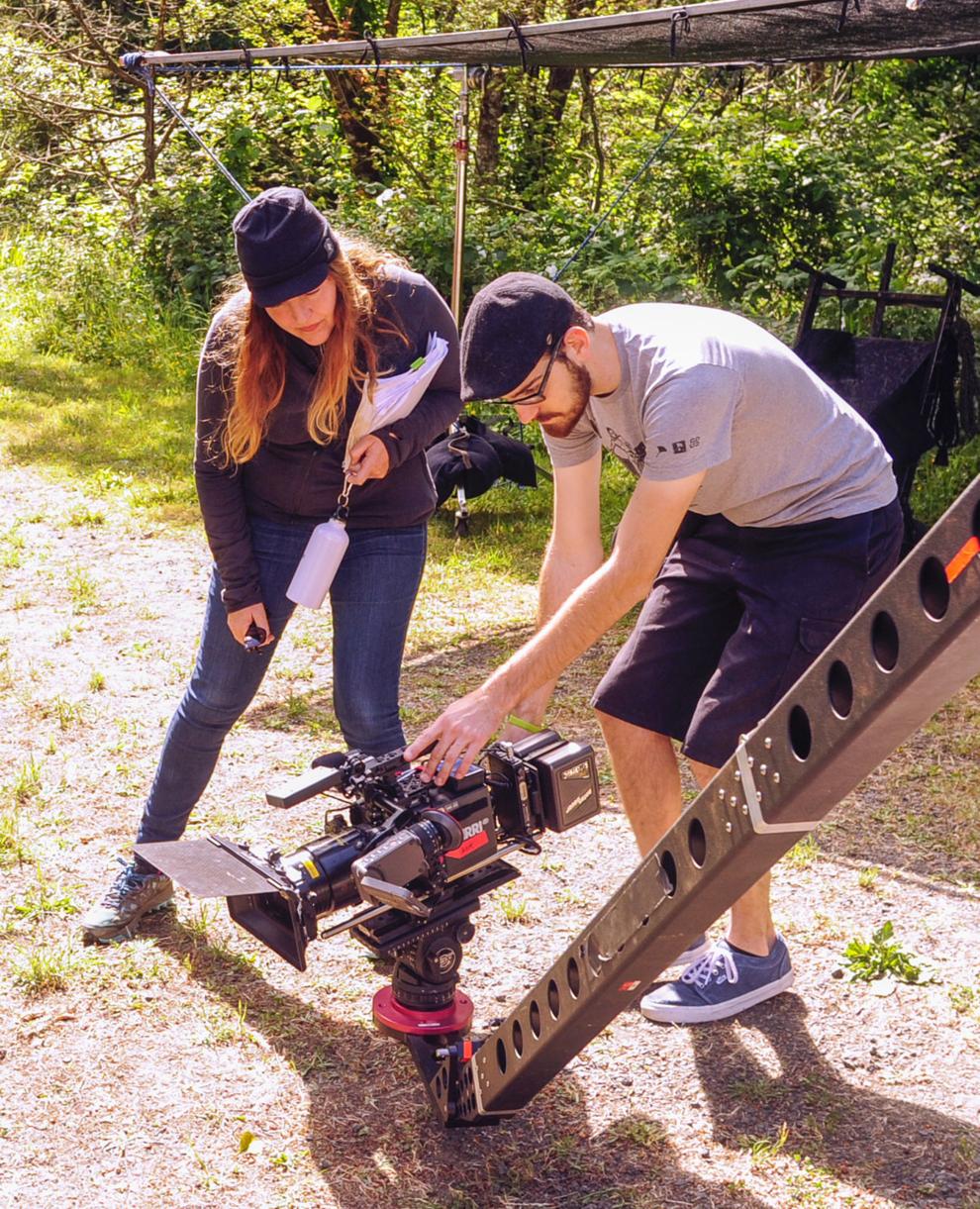 Adam Beach is playing Nick, and though he is not one of the main characters, he is the pivotal character towards the end of the film. Beach is also playing in the new movie "Suicide Squad" coming out this summer.
All other actors are being played by locals, including 10-year-old Kiri Goodson, who plays main character Jet. This is her first film, but she has performed in local theater and is taking "Broadway for Kids" in Seattle.
"This is a great opportunity," Goodson said of filming The Watchman's Canoe. "This is fun, and I just am a lot like the character and so I do what I would do."
The entire film is supported and funded by the Coos County community. Chase said the film had 100 shares for people to sponsor them, which are $5,000 each, and 90 have been sold. Of those, 17 were sold to local teachers attracted to the anti-bullying message.
Associate producer Nick Edwards said the locals have every reason to want to support a movie in the area because of the film tax credit bill, or Senate Bill 1507. Every dollar invested in a film here comes back in $9 to the community.
Some of the scenes are being filmed at Sunset Beach's tide pools, the south slough, Laverne Park, a private property called Horse Country, the north jetty, and the Boy Scout cabin at Mingus Park. Many of the scenic shots in the movie are of Bandon.
"The hardest thing was selecting a location because there were so many beautiful ones on the southern Oregon coast," Chase said. "During scouting, I had to piece together the reservation in my mind and piece together the ecosystems in different areas. A lot of it too was on the light. I would walk into the location, and though I had been there a million times, I would just know."
Chase recounted one of the first scenes filmed for the movie at Sunset Bay's Cougar Point, south of the beach overlooking a cliff. She said there are no railings, and it was "very scary."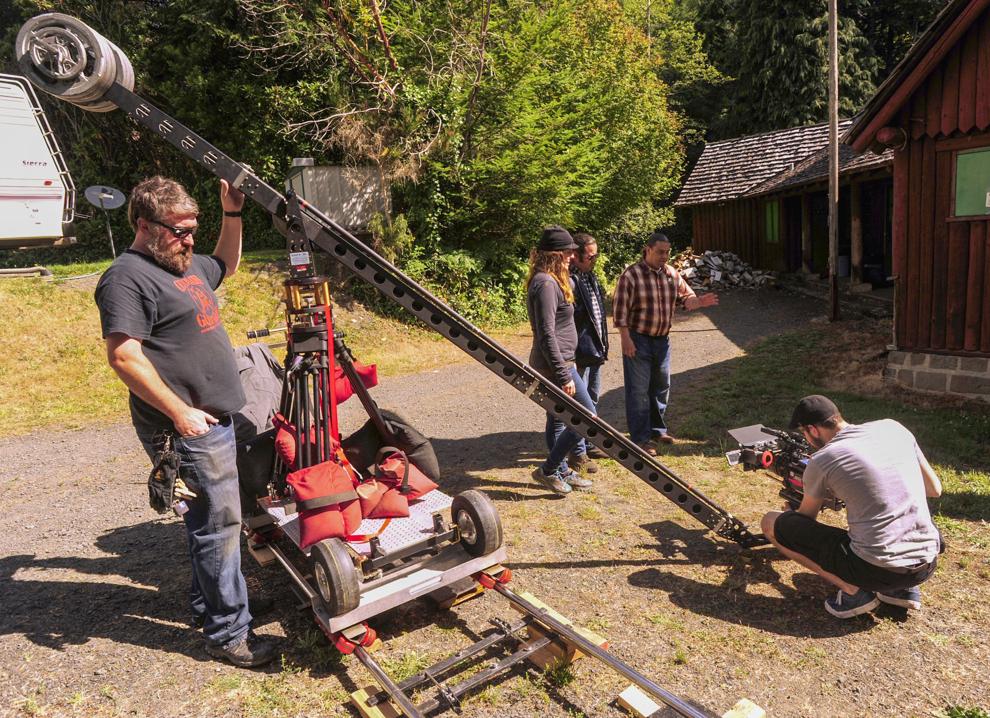 "We have a crew that puts safety in place, so in a situation like that we had spotters, grips, swing grips; everyone steps in and protects," Chase said.
Edwards recalled an open water scene that made him feel like he was in Alabama because of the heat, and everyone was drenched on set.
"We spent six hours doing that," he said. "It was an intense thing to go through, but they just went right through it. [Chase] is putting Coos Bay on the map."
Other local actors include Ryan Scott and Nick Hennick, who play reservation police officers.
"The concept of the movie is amazing and seeing everyone come together as one, it's cool," Hennick said. "I'm happy to be a part of this."
As for why it is called "The Watchman's Canoe," Chase said it will be revealed at the end of the film. However, she did say that there was historically a tribal person, usually in the tribes up north, called "the watchman."
"My Uncle Ralph told me these stories and when this movie came to me, when I touched the totem pole, it came to me as 'The Watchman's Canoe,'" Chase said.
Those who sponsored the movie are invited to the Nov. 5 private preview. The rest who wish to see the film will need to wait until it comes out in theater.
"There is unbelievable talent here," Chase said. "I'm blown out of the water. I feel like this film is going to make a lot of careers for the actors, and I'm very overwhelmed from the support from the community. It's been touching. I hope more people will want to come here and film."