COOS BAY — In a surprising decision, the Federal Energy Regulatory Commission has denied Jordan Cove Energy Project's permit to operate a liquefied natural gas terminal.
Issued Friday, the 25-page ruling cited the project's adverse impact on landowners with little evidence to support the need for a pipeline.
The Pacific Connector Pipeline would have impacted just over 157 miles of privately owned lands, consisting of approximately 630 landowners.
Landowners cited negative economic impacts such as land devaluation, loss of tax revenue, and economic harm to business operations.
Finding not enough evidence of a public benefit, FERC denied the application to construct a pipeline and without such, Jordan Cove would not be able to operate an LNG terminal to liquefy and export liquefied natural gas.
For opponents of the project like Citizens Against LNG, Friday's decision marked an important victory against eminent domain.
"CALNG is pleased that FERC recognized that private landowners should not lose their land for the benefit of a private company," Citizens Against LNG President Katy Eymann said. "Landowners were threatened with loss and this decision ensures that for the time being, they won't face that threat."
Friday's news came as a relief for Deb Evans, one of the property owners in Klamath County that crossed over those lines.
"The people who live and own lands and farms and forest land along the path of their planned Pacific Connector Pipeline are extremely relieved," Evans said. "The idea we would let a private corporation take our land and threaten our families so they could sell U.S. natural gas into the Asian market is still unbelievable to me. We're thankful FERC did the right thing in denying the project but it's disappointing our lives have been on hold for years and that we had to wait for the LNG market to completely crash before it was obvious this project was senseless."
Despite stating in its application the intention to keep FERC apprised of its plan to conduct an open season and agreements for the pipeline's capacity, that was not the case.
In its decision, FERC stated that despite a number of data requests, Pacific Connector was unable to present any contracts to serve as evidence of project demand and it's last communication said negotiations were "active and going."
"FERC made its decision based on there being no contracts for delivery of the gas or contracts to deliver the gas to Asia," Eymann said. "Public interest is based on if there is a market need and Jordan Cove and Veresen did not show that."
Ron Sadler, another of the project's more vocal opponents, said FERC could not just ignore the impact.
"Going back 12 years now, it's been obvious FERC has been trying to evade the requirements of the National Environmental Policy Act," Sadler said. "When they published their EIS, in great deal it was evident their EIS was legally insufficient. In my opinion, now what has finally happened is they are aware of their shortcomings and decided to back off the project."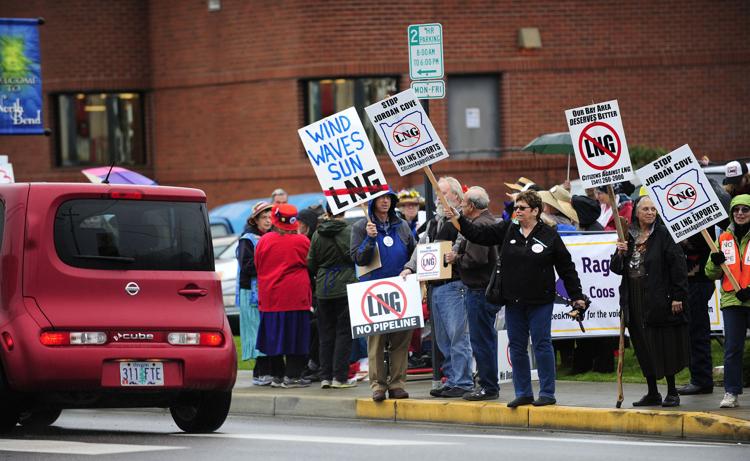 While Friday's news was a setback, Veresen Inc. released a statement saying it would work towards addressing FERC's concerns.
"Clearly, we are extremely surprised and disappointed by the FERC decision," said Don Althoff, President and CEO of Veresen. "The FERC appears to be concerned that we have not yet demonstrated sufficient commercial support for the projects. We will continue to advance negotiations with customers to address this concern."
As one of the leaders in the Boost Southwest Oregon group that's advocated for this project, Mark Wall said he his group was, understandably, disappointed. But he was not about to declare defeat.
"This is just a bump in the road," Wall said Friday afternoon. "The project's not dead. This is not a deal killer."
Rep. Peter DeFazio, who was in Coos Bay Friday to hold a Small Ports Round Table, declined to comment, stating he wanted time to review the ruling.