NORTH BEND — For 31 years, North Bend School District's vocal music director has done his best to invest in the community. Now that he has won the Oregon Music Educator of the Year award by the Oregon Music Education Association, he feels that the community has turned around to say "thank you."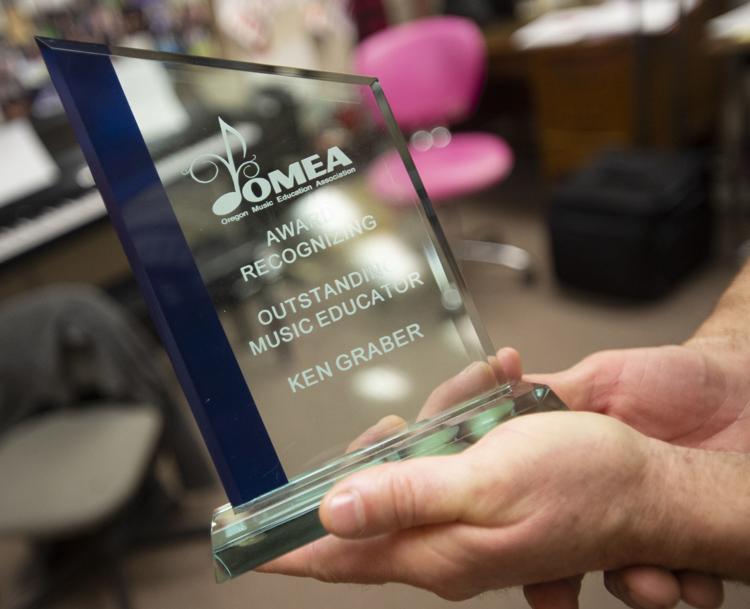 "And that is amazing," Ken Graber said, then looked around his office for a guitar that he has students sign in case they get famous. Since winning Oregon Music Educator of the Year, students from as far back as his teaching days in Reedsport have reached out to congratulate him. One has since gone on to perform on Broadway in the cast of "Hamilton." That student not only signed the guitar, but congratulated him as well.
"There are students who I didn't think I'd ever hear from again," he said. "It's been exciting."
Graber found out about the award earlier this month, but had a suspicion back in December when he was strongly encouraged to attend the banquet where the winners would be announced.
"There are four or five awards they always give out, so I knew I was up for something," he laughed and credited NBHS band director Amber Yester for being the "moving force" behind his nomination. "Getting this award was humbling."
However, music education wasn't always the direction Graber was headed. Back when he attended college in Kansas, he majored in engineering as a way to pursue his love of math and science. At the same time, he sang in the choir and went on tours across the state.
"We'd have a potluck dinner after and the feeling of sharing a meal with people who appreciated music was really valuable," he remembered. "People were coming together for a positive experience."
Choir teacher Ken Graber works Tuesday with students Tuesday at North Bend High School. Graber was named Outstanding Music Educator recently b…
His family is also rooted in music and he grew up with a father and uncle who worked as choir directors.
"So when I finally said to my parents that I switched to a music major, I expected them to ask what I was doing," he said. "Instead they said, 'Finally, you figured it out.'"
Much of his inspiration for teaching came from his dad who also worked with the Education Service District and was known for utilizing the family unity model.
"This was where schools changed how people thought of families and foster parenting," Graber explained. "This was realizing that these people needed resources to be the best they could be … You see, every child wants to succeed. There isn't a child who doesn't. It's our job not to say they're doing it wrong, but for us to give them the skills and tools to become who they want to become. We have to think on a higher level and help them figure out how to become that. That's a huge driving force for why I wanted to teach."
After college in 1989, Graber arrived on the southern Oregon coast after his then-girlfriend got a job in the area. He followed and started teaching in the Reedsport School District, married his girlfriend the next year and stayed in that district for seven years. From there, he went on to teach for 16 years in the Coos Bay School District. He has now been with the North Bend School District for eight years.
Choir teacher Ken Graber works Tuesday with students Tuesday at North Bend High School. Graber was named Outstanding Music Educator recently b…
When asked what he thinks set him apart from other music educators in the state, he first credited being in a position with colleagues who took the time to nominate him but that there are "so many other teachers who do exactly what I do."
"I think one thing that has set me apart is that I've never changed what I thought was important," he said. "I think if any of my students from over the years stepped into one of my classrooms now, they would hear the same things they heard when they were there before. Music is a manifestation of caring for one another and I'm extremely proud to be part of this community."
Graber paused, then smiled before saying, "I'm glad I didn't become an engineer. This is one of the most fulfilling experiences. I have no regrets of taking this path."
Ken Graber wins Oregon Music Educator of the Year award