COOS BAY — Madison Elementary is one of the healthiest schools in the state.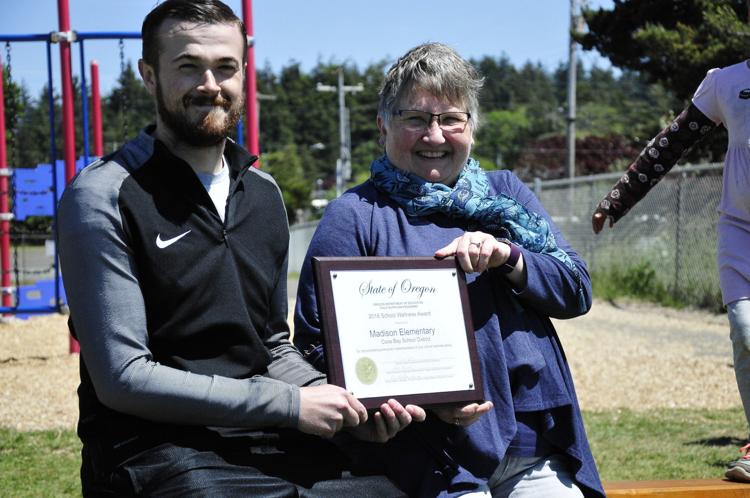 The Oregon Department of Education recently announced the annual School Wellness Award winners and listed Madison for the second year in a row.
"We're leading the way," said Janice Schock, Madison Elementary principal. "I feel that way because there's a lot of effort going into making our kids healthy. The interest is with the whole staff and we are continuing to support kids in making healthy choices."
Madison won the award again for its partnership with the Oregon State University extension office in Coquille and its nutritional focus, as well as the outdoor garden and fulltime physical education teacher.
OSU extension officer, Alison Harris, visits the school once a month to do "tastings."
"She will do classroom lessons in making broccoli or other vegetables, all plant-based, to introduce kids to healthy foods," Schock said.
Elementary students will be given sample cups with prepared food, try it and then vote if they "liked it" or "not yet." There is even a "yuck" option. Schock receives monthly results from the student feedback.
"Over half of the kids who tried it like it," she said. "Only a few have voted 'yuck.'"
If Harris isn't able to visit a classroom, staff members have received food handler licenses in order to make food in the classroom. This way they can teach meal preparation and be introduced to healthy foods regularly.
"We have blenders that have been donated and pots for soup recipes," Schock said. "Every month has a focus, like this month is carrots so one class had carrot and peach smoothie while later in the week they will have carrot cake cookies."
Since implementing the nutritional food program, Schock has seen a change in her students. During lunch, after eating their lunches, students have the option to go back with their trays and fill up on fruits or vegetables.
"They have about 20 minutes for lunch so they're in no hurry to get up," Schock said. "When they know there is more time, they have the chance to get the healthy food. Kids are hungry, so let's feed them the right things."
Schock explained that putting an emphasis on a healthy food program at school because often kids have limited experiences with food, which means bad habits form early.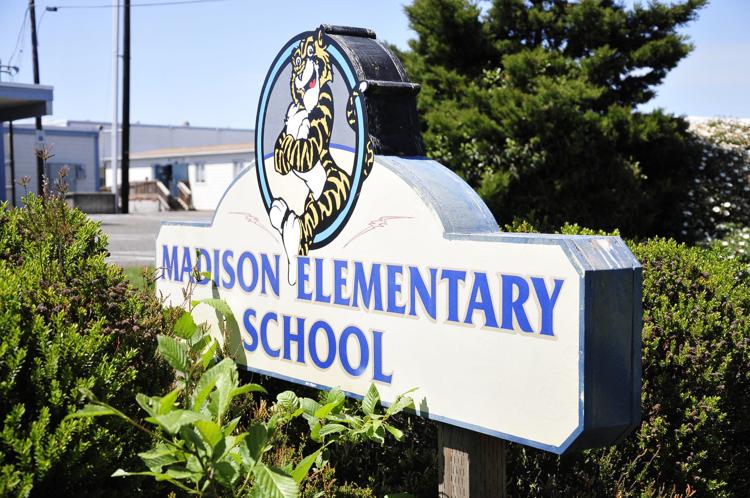 "But if you show them how to make better food, it creates an interest," she said.
The other aspect of the School Wellness Award comes from Schock's priority in funding the PE teacher position. Not every school has a fulltime PE teacher due to funding. At Madison Elementary, she made this possible by shifting funds from the counselor position, which comes at its own cost.
"We need a counselor here too because there's a lot of preventative work we can do for kids," she said. "At the same time, a gym teacher keeps them healthy physically."
She was also able to fund a fulltime PE teacher by receiving grant funds last year.
Because PE teacher Aaron Mason is fulltime, he has implemented a schedule with 30 minutes of exercise a day for students. This means kids are getting 150 minutes a week.
"Our P.E. teacher has noticed an improvement in student abilities as far as their range of physical activity," Schock said.
Mason conducts a Progressive Aerobic Cardiovascular Endurance Run (PACER) Test at the beginning of the year, at midterm, and again before summer break.
"He hasn't done the end-of-year test yet, but when kids make a lap around the playground kids were quitting at the start of the school year," Schock said. "Now it seems they can do two laps."
The School Wellness Award comes with a check for $2,500 which Schock plans on using to expand the playground.
"We are continually looking for ways to enhance our playground experiences so they can actively engage in play," she said. "Having healthy kids is important."