NORTH BEND — For one North Bend High School student, the "American Dream" is over.
At least, that's the fear Schalk Badenhorst has for his grandson, who is being deported back to South Africa in July.
But 18-year-old Jaun Erasmus seems to have accepted his fate, even though he'll be leaving so much behind.
"There is nothing I can do," Erasmus said. "I'm trying to think about what doors are going to open for me now, and all the people I'm going to meet. If I didn't come to America, I wouldn't have gotten into music, seen this part of the world, or experienced what I have with my friends."
Erasmus came to the United States with his grandparents in 2008. Now it appear he'll have to leave them them behind to return to a country he barely remembers.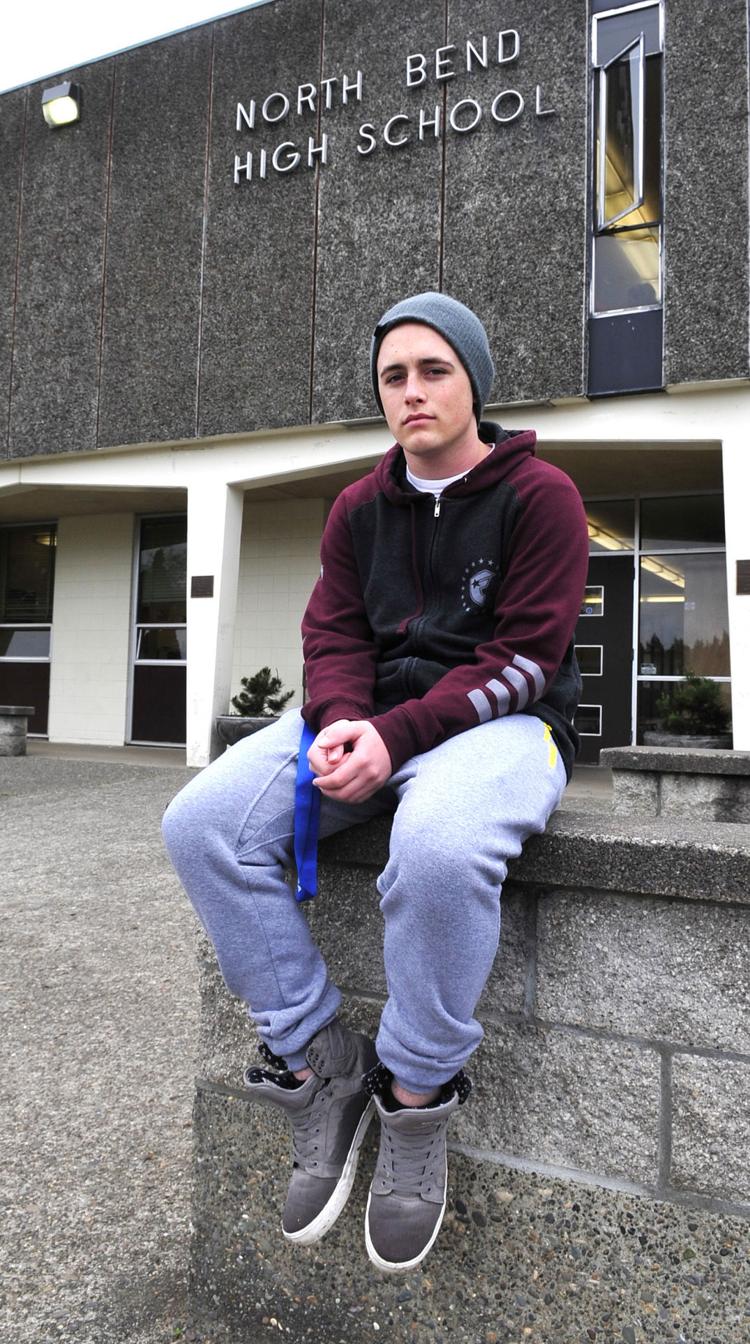 He'll also have to drop out of high school just before his senior year, but he plans to earn his GED from Southwestern Oregon Community College before leaving this summer.
"We tried to keep him here," Badenhorst said. "We should have adopted him. That's why he can't stay. He's Jaun Erasmus, not Jaun Badenhorst, so he has to leave.
"I raised him for 18 years. After he was born, I held him, my wife held him, we loved him and we cleaned him. He is my grandson, my family, and he has to go back to a country he doesn't know. A violent country. I am afraid for him."
Erasmus lived with his grandparents because "he was better off with us," according to his grandmother Tonette Badenhorst.
"When we started making plans to come to the U.S.," she said, "he just assumed he was coming with us. He was 9 years old at the time."
She consulted psychologists to evaluate whether he should accompany them to the United States. When the reports came back saying he was better off in their care, the Badenhorsts made sure to always put him first.
"It has always been about him," Schalk Badenhorst said. "At the end of the day, everything we did was for him. South Africa is a total mess, and we wanted to give him something to stand on, grow on. We wanted him to become a man, get married and have a child. Now we are slapped in the face and told we're done, he needs to be out of the country."
Before the Badenhorsts emigrated to the United States, they asked South African immigration officials what would be needed to take Erasmus with them. They were told to get full custody either by gaining guardianship or through adoption. They decided to pursue the guardianship because the process was shorter, and Tonette Badenhorst was moving to Oregon as a pharmacist for Rite Aid. Leaving Erasmus behind for any amount of time wasn't an option.
In May 2015, the family was called in by the Portland immigration office for an interview. When they arrived, they were told Erasmus needed to be formally adopted in order to stay. This happened after he had already turned 16, which is past the age for adoption.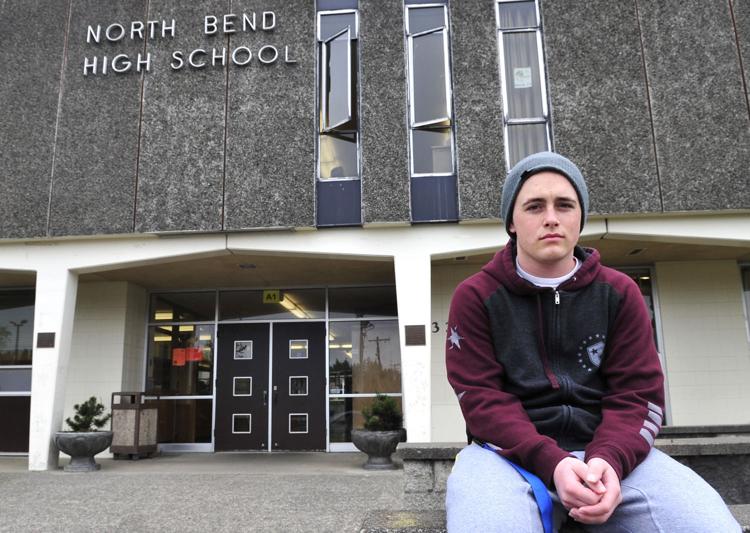 "We were shocked," Tonette Badenhorst said. "It was unexpected. Why hadn't anyone told us sooner? People at immigration said they were looking into it, because they didn't understand why we weren't notified either."
The Badenhorsts searched for a way to keep him here, but each avenue they explored kept leading to dead ends. They discovered the Deferred Action for Childhood Arrivals program, which allows children brought into the country to stay. However, only children brought in before 2007 qualify, and Erasmus arrived in 2008.
"We tried to get him a student visa at North Bend High School," Badenhorst said, "but you have to pay what the state would have paid, which is $10,000."
To get a green card now, which would grant him permission to live and work in the United States, Erasmus has to apply from South Africa. Portland attorney Geoffrey Doolittle, who specializes in deportation cases, explained that the major problem in immigration is that people often don't understand what is going on because it is a very complex system.
"There aren't many ways to come into this country legally," Doolittle said. "Aside from having a special skill or family already living here as citizens, there just aren't many options."
You have free articles remaining.
He said even for people with family inside of the U.S., it could take up to 20 years before a visa or green card request is approved.
"They're going through visa petitions filed in 1994 right now," Doolittle said. "People who want to get to America to have a better life . . . there just is no such thing."
Tonette Badenhorst described the nightmare as an upheaval that is forcing their family to rethink their entire future. She said they had bought a house and had college plans for Erasmus, both of which may now disappear.
"We spent thousands and thousands of dollars driving to Portland and Seattle to do medical exams and try to get visas for him," Schalk Badenhorst said. "We came to America to give Jaun a future, that was our main purpose, and now what?"
He described life in South Africa as dangerous, saying that the safest place is often inside the house, which has bars on the windows and "is like a jail."
"Life is very different here," Tonette Badenhorst said. "He's driving here, has a car, it's safe here. There, you're not safe. Everything's behind bars. He's not used to locking doors and looking over his shoulder. There he will have to."
"The American life here is of a higher standard than what most people over in South Africa can afford," Tonette said. "There is more money here, more options. We also thought that since he was more emotionally part of our little family than his mom's, it would be better if he was with us. We are a family."
She said it will be hard for him to return to South Africa and live with his mother. "Everybody has their lives set out, they have things they're doing, and now he has to become part of a household where he has only just visited twice in the last nine years."
She said for him to leave his friends behind here will be more difficult than he might be anticipating. Since he was an only child here, she said, those friends became brothers.
"I don't know if he has really thought that through because he says what must be, must be," she said. "We believe our lives are not in our own hands . . . but it won't be easy."
Schalk Badenhorst said his family arrived here legally, and is upset by the number of illegal immigrants allowed to stay here while "a child who wants to become an American citizen, to be happy, has to leave, and I'm being told no one can help. All the money we've spent, that's done. That's out the front door."
Doolittle said in situations like the one Erasmus faces, the rules don't make common sense.
"There's no special situational hearings," he said, "no good moral character hearings where we can accumulate the facts of their lives to find out if they are good people that can contribute to society. When both sides of the aisle look at the issue, they see that it's sad and unfair to do this to these poor children who were brought here, raised here, and are being thrown out after creating lives here. But the public mantra is, 'They are illegal and that's that.'"
Tonette Badenhorst said she didn't realize how easily one could land in this situation, especially after their hard work to make sure they did everything right.
"We don't even have a speeding ticket," she said. "We tried to be really good citizens and did what we thought was supposed to be done. It shouldn't be like this."
Erasmus said that when he returns to South Africa, he'll take with him the lessons he has learned from teachers and people around Coos County who have told him what he needs to do if he wants to be successful.
"I appreciate those people and their advice," he said. "I will take those words back with me to Africa."
Schalk Badenhorst is still in shock over the complexity of the immigration system, the unfairness, and losing the boy he considers as his son.
"I was in South Africa for my whole life," Badenhorst said. "But then we came to America, saw the beautiful country, the wonderful people. My wife was happy at work. . . But you never know what's going to happen tomorrow. It might be the end of the world."