COOS BAY — Shayla Edge introduced Oregon's governor at a conference on Monday, addressing a crowd of 1,300 about the importance of hands-on learning and getting the community involved in education.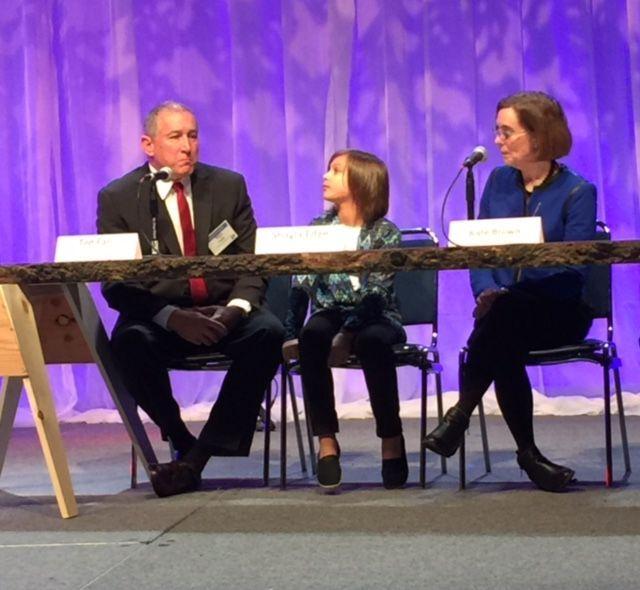 She's 10 years old, by the way.
Edge, a fifth-grader at Sunset School, spoke on the Connecting Education to Careers panel at the 13th annual Oregon Leadership Summit on Monday in Portland. She spoke alongside Oregon Gov. Kate Brown, Twality Middle School math, science and STEM teacher Dylan McCann, Chemeketa Community College instructor Ted Farr, Economic Development for Central Oregon executive director Roger Lee and Arlington High sophomore Hunter Strickland.
Edge walked onto the stage alone and introduced the governor. After a quick fist-bump from Brown, Edge took her seat on the panel.
"I thought I was going to be a lot more nervous than I was," she said.
She told the crowd that there needs to be more hands-on engagement in the classroom, and community and business involvement.
"I hope that they will do what I said," Edge said, "like hands-on learning and them coming and teaching us. I hope that they do that."
Edge is a member of Sunset and Millicoma schools' robotics team, OMG Ort Minimizing Gypsies (ort is another word for food waste), which won first place for robot performance at the Intel Oregon FIRST LEGO League qualifying tournament Dec. 5 at South Umpqua High.
The other team members are Isaiah Stroop, Taylor Waddington, Jack Waddington, Tori Cox and Brodie Blair.
While Edge loves the robotics team, she said it's not enough.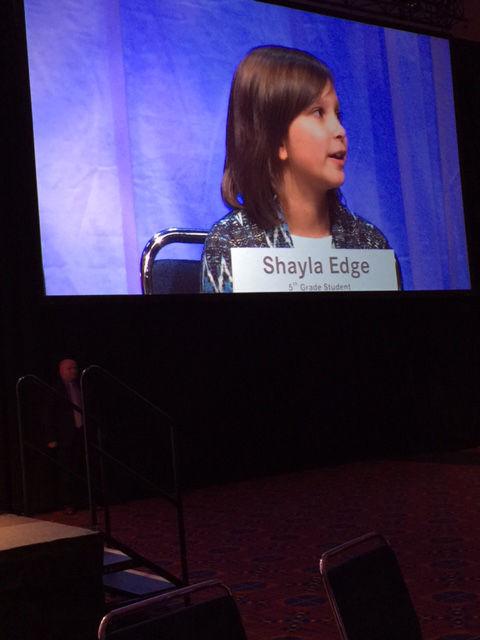 "You got to build robots and you got to use Legos and you got to use computers," she said. "And you got to learn about new stuff that you probably would never learn about otherwise, about robots and computers and coding.
"I definitely think that they should have more things like robotics — not just after-school things but things you can do during school. More computer things and being able to use the stuff for yourself, not just having to look at it on a paper and have a teacher say, 'OK, now what's the answer?'"
She wants to be a veterinarian when she grows up: "Animals love me, and I always have loved them a lot."
"One of the concerns among businessmen is to make sure that ... we're getting high school graduates that graduated, hopefully they are going on to college, and that in addition to the college they are career-ready in either a technical or engineering field, or that they have the ability to function at this new higher level of skills that we have," said K-12 instructional coach and Talented and Gifted Program coordinator Peggy Thornton, who attended Monday's conference. "It really starts with the younger kids."
Thornton said these efforts will answer the question: "When am I going to use this?"
"It's a lot more fun, too," Edge said. 
And making learning fun reduces behavioral problems in the classroom, Thornton said.
"We did one science project once, and nobody got in trouble, except for one person did almost hammer the floor," Edge said. 
"We have such a rich variety of experts in Coos Bay," Thornton said. "For such a small town, we really do have resources. We need to pull all those resources together. I know people would be willing to volunteer if we get them more structured so they know where and how and what to volunteer. We need to get that communication going."