COOS BAY — Volunteers have long been the backbone of fire safety in smaller communities, but what was once an abundant resource is creeping ever so slightly closer to critical numbers.
While the National Fire Protection Association's annual fire experience survey estimated 69 percent of firefighters nationwide are volunteer, smaller communities rely even more heavily on volunteerism, with 95 percent of volunteers concentrated in communities of 25,000 people or less.
The Coos Bay Fire Department, which saw the height of volunteerism in 1966 when the consolidation of the Marshfield and Empire departments produced a total of 65 volunteers, counted only 18 the past year.
The department has managed to maintain a consistent level of employment among career firefighters, hovering around 15 or 16. But compared to communities of similar size, it remains below the staff average of 1.03 full-time employees per 1,000 people within Oregon. That ratio sinks to 0.76 per 1,000 people when including the contract districts of Bunker Hill, Timber Park and Libby.
Adding in the increase in emergency calls from 1,494 to 2,687 between 2000 and 2014, the fire department is handling a substantially larger workload with fewer members.
The answer, as Coos Bay Fire Department Chief Mark Anderson said, is not a simple one.
Anderson attributed volunteer losses to several causes, including the community's aging population, economic problems, stricter standards, an overall decline in volunteerism and government restrictions on compensation.
Besides having to meet the same training standards of career firefighters, Anderson said fire departments have become more a place of business.
"It used to be more of a social club, where people would come down to the station, hang out, have a few drinks and play cards," Anderson said. "Once we took alcohol out of the stations, it became more professional."
Additionally, busier lives leave less time available and lead to a decrease in volunteerism.
The Volunteering and Civic Life in America report, released by the Corporation for National and Community Service, found one in four Americans volunteered, a slight drop from previous years, but the majority did so through informal means.
While youth- and faith-based volunteerism remain strong, volunteerism for public safety has not retained levels from the past.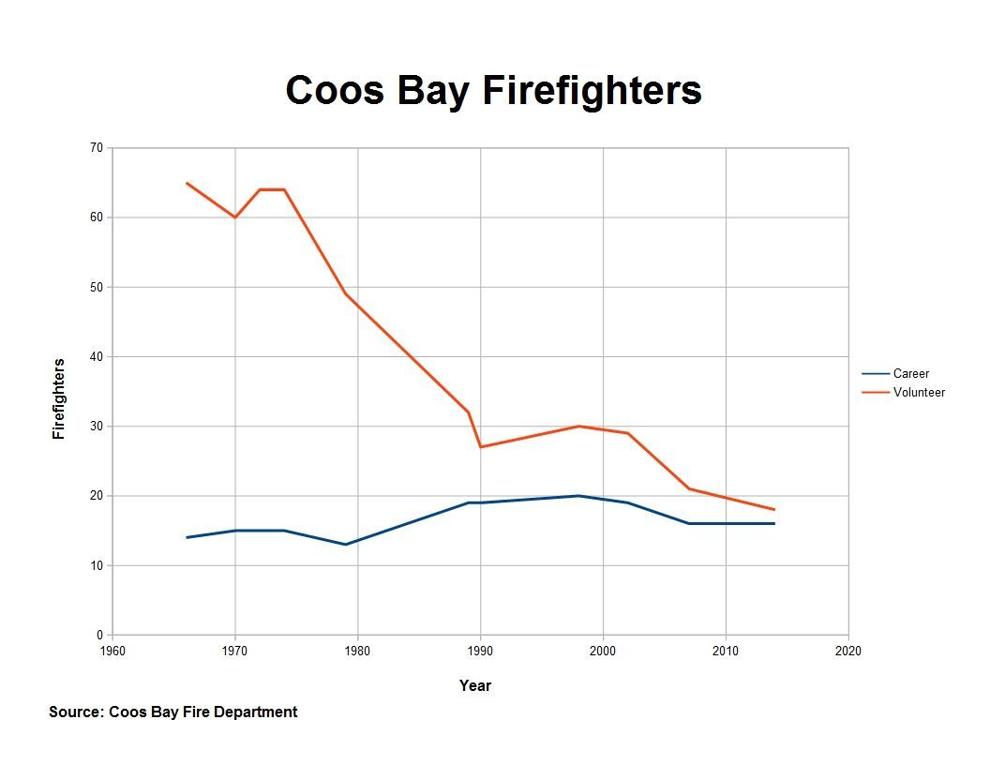 "People seem to believe the fire service should be provided by the government," Anderson said.
In the past 20 years, the number of volunteer firefighters has decreased by an estimated 22,000, but with the population rising, the number per 1,000 people has dropped steadily.
According to National Fire Protection Association annual surveys from 1986 to 2013, volunteer firefighters per 1,000 people protected has dropped from 7.88 to 6.46.
Despite volunteers giving their time and risking their lives, government regulations have also provided barriers to entry when it comes to compensation and reimbursement, not just in the Coos Bay area, but nationwide.
"They used to, but in the past two years, the IRS and BOLI have stiffened their rules," Anderson said. "They no longer get a reimbursement stipend, which used to be about an equivalent of $2 per hour for their time, gas to drive here, clothes that might get damaged or soiled and those kinds of things. Many departments are facing the same issues with not being able to compensate their volunteers."
The Oregon Fire Chiefs Association attributed issues in its 2013 Volunteer 360° Task Force Report to different sets of laws, rules, definitions and policies for volunteers from the IRS, Oregon Bureau of Labor and Industries, Department of Labor and PERS.
Recruitment and retention
The decline in volunteerism has not occurred overnight nor gone unrecognized, with the department now putting a greater onus on recruitment and retention.
While the department has found word of mouth to be the most efficient method for recruitment, Anderson said the department is looking at more creative and unconventional methods.
"We did pass out several applications, but we haven't seen any come back from that," Anderson said. "It was a creative idea. We're trying to think outside the box to try to recruit new volunteers and get people excited or interested because it's getting harder and harder to recruit new volunteers."
Anderson credited Southwestern Oregon Community College and its strong Fire Science program for keeping interested volunteers in the area.
Though the department's two most recent career hires, Ben Rolicheck and Luke Taylor, were students of the program, Anderson said other graduates often remain in the Coos Bay area and express an interest in volunteering.
A numbers game
Despite having 18 volunteers as of last year, the fire department fully understands it needs to set reasonable expectations for service calls.
Anderson said most volunteers juggle some form of full-time employment, ranging from working at Walmart to teaching at school, but not all offer the flexibility to drop everything the moment their pager rings.
"We recognize that most of our volunteers are employed somewhere else," Anderson said. "Because of that, we need to have a much greater number of volunteers so that we're able to get what we need. We don't selectively call so we contact everyone, and if you're available you come in. There are certain things that take you out of availability and so for every 10 volunteers we have, we can expect about a third to respond."
While levels haven't quite reached a dire state, Anderson stressed the need to have more volunteers given the difficulties the fire department has with the availability of volunteers.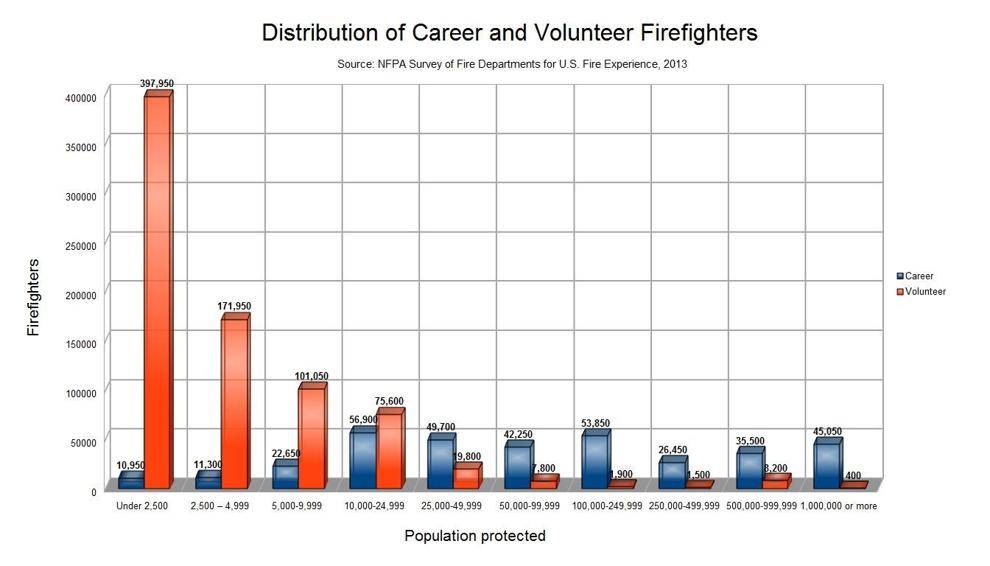 "The more the better, but at some point it does become a numbers game," Anderson said. "If there is a number, I would say it's about 12. We haven't seen numbers quite that low, but we've flirted with that a few times."
But while the department can't control when fires occur or who will be available, Anderson said there are standards and expectations for training to maintain a sense of reliability.
"We don't have standards for emergency response because you never know when the emergency is going to happen and if it's at 3 o'clock in the afternoon, we don't expect them to leave their work," Anderson said. "Where we do have expectations is with training so we schedule it and know ahead of time. If something comes up, we don't expect them to be here 100 percent of the time, but we aim for 70 percent. We don't want them to just be a name on the list, we want them to be trained and active."
Once volunteers have reached Firefighter 1 Certification, which Anderson estimated as taking 80 hours, he said they can expect not to spend more than 15 hours per month volunteering, including the weekly training session, which lasts 2 to 2 ½ hours.
But even with volunteer firefighting not a major time commitment past the initial stages, Anderson stressed the importance of giving back through some means to reinforce community building.
"Volunteering is extremely important, whether it's at the fire department, the library, your local church or with kids' sports," Anderson said. "Volunteering keeps the United States healthy, thinking of others before yourself, being community-minded and thinking of the community as whole instead of what can I get for myself."