COOS BAY — Around 200 people joined more than 800 other U.S. cities in protest of gun violence Saturday by marching from the Coos Bay Boardwalk to City Hall.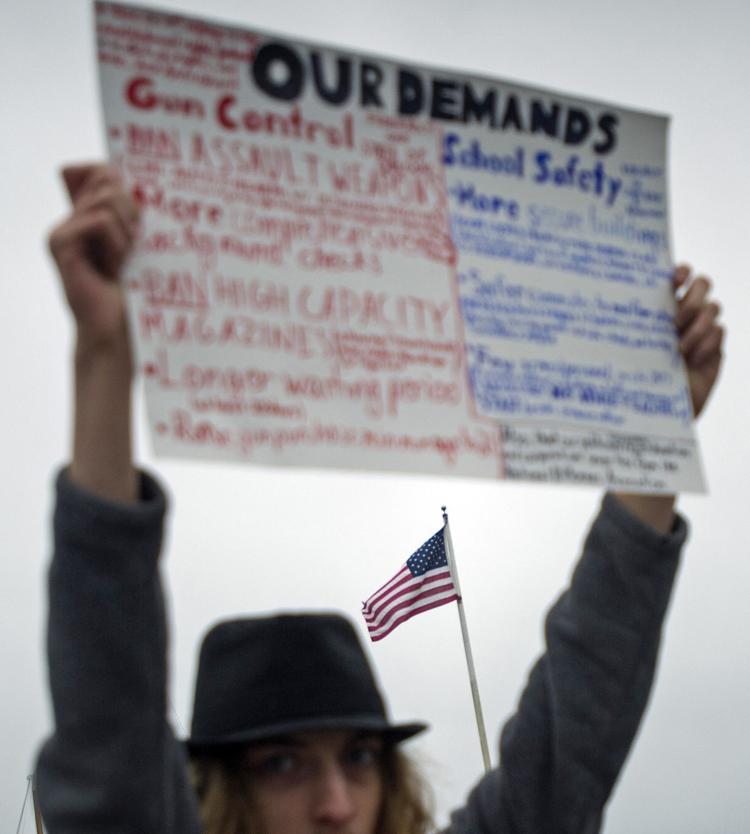 The March for Our Lives was a national event where students, parents, and all others came together to call for any sort of action against school and public shootings that have become increasingly common throughout the U.S.
"It feels like people are not taking this as seriously as it is and it feels like they don't really care about our lives. It's upsetting for me as a student, and I'm hoping that when I turn 18, I'll be able to vote and help make these changes that need to take place," Marshfield High School senior Shawn Zousel said.
Our local march was organized by Marshfield High School students Cameron Langley and Gracie Schlager, with the help of Ronni Jennings. Jennings has played a large role in organizing the women's marches on the Boardwalk the past two years.
"Students shouldn't be afraid to go to school, that's ridiculous. The constant worry and paranoia that a book slamming shut or a bell ringing could mean that there is an active shooter in our school is scary," Schlager said. "No student, including myself, should have to feel that. That's why we're doing this, because nothing is going to change if we don't do anything."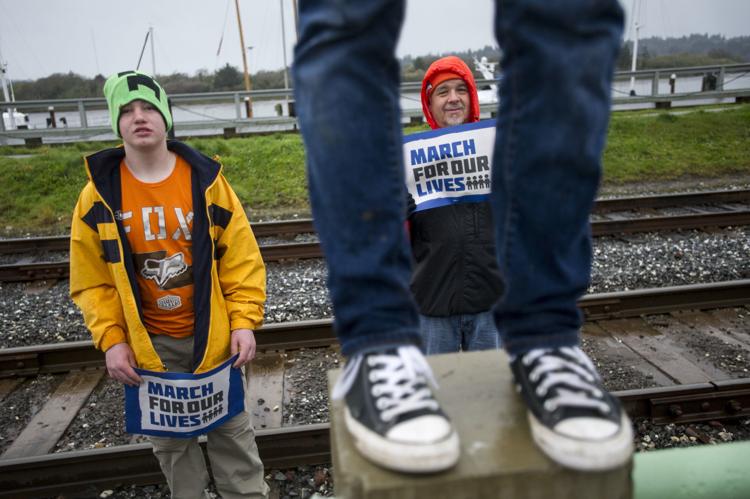 Organizers were worried that the rain would cause a low turnout for the protest, but many braved the light showers to stand up for what they believe in.
"The kids have been inspirational. It's just wonderful to see our community come together and banding together," Jennings said
The student organizers became involved in this national movement after a school shooting in Parkland, Florida, Feb. 14, left 17 high school students and faculty dead, and many injured. According to Jennings, Cameron Langley had a box of signs which read, "March for Our Lives," donated by an online organization involved in the movement.
"I'm part of a generation of students that grew up with mass shootings happening in the schools, and we're scared for our lives," Langley said. "I'm passionate because I want not only stricter gun control laws, but I want school safety to be taken into account. Marshfield is not secure."
Charleston resident Newt Nemeth stood along the route of the march offering donuts to the protesters as they walked by.
"I think this is a really good showing of support here, Losing our kids to gun violence is a very bad thing, and I don't think that Congress has been proactive in funding mental health programs," Nemeth said.
The protest was peaceful. There were no apparent counter protesters, and very few motorists who were unhappy with protesters.