COOS COUNTY — Around 50 fungi finders made their way to the Elliott State Forest over the weekend for the seventh annual Mushroom Hike hosted by Coast Range Forest Watch.
"We started these mushroom walks in the Elliott to try and get more people to come to the Elliott," said Maria Farinacci with Coast Range Forest Watch. "We know a lot of people like to go to the woods and look for mushrooms, so we figured it would be a great way to get people into the Elliott. The Elliott is pretty hard to navigate and we know how to get in and around it."  
Anders Hansen talks fungi during a mushroom walk in the Elliott State Forest hosted by Coast Range Forest Watch. About 50 people participated …
Folks met up for the hike at 10 a.m. at the Allegany Country Market & Deli, and from there formed a carpool caravan up to the trail head in the Elliott.
"This is probably our second biggest hike, we had one that was a bit bigger. We were a little overwhelmed on that hike, so we started recruiting more people to help out with the identification aspect of it," Farinacci said.  
A handful of local mycologists gave a talk before the hike, discussing things like the biology of mushrooms, where mushrooms like to grow and what sorts of mushrooms can be found in the Elliott.
You have free articles remaining.
The hike that followed saw the mushroom specialists with Coast Range Forest Watch scattered throughout the group of hikers, offering information on the various fungi people would come across on their way to the Silver Creek Heritage Grove.
"Out here you're going to find a lot of lobster mushrooms, you'll find red belted conk mushrooms, there are chanterelles. There is a lot of biodiversity out here," Farinacci said.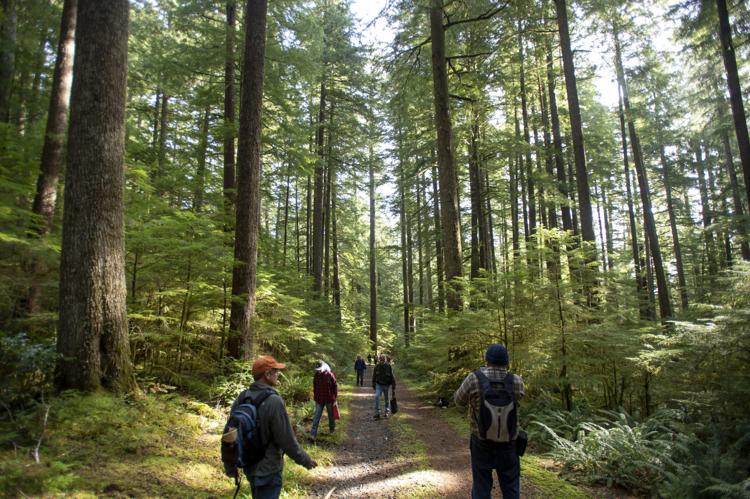 Coast Range Forest Watch is a local nonprofit organization concerned with the health and safety of local forests and watersheds.
"All of us with Coast Range Forest Watch are kind of amateur naturalists interested in biodiversity," Farinacci said.