BANDON — Many prefer the experience of going out and cutting down their own Christmas tree. The same tradition has developed in Bandon, except it's at Thanksgiving — and it involves turkeys.
This is the fifth year Coastal Hills Pastured Poultry has sold its free-range turkeys, but the birds have beefed up over the past two years as they've developed a taste — as has the entire South Coast, it seems — for 7 Devils Brewing Co.
Coastal Hills owner Diana Swenson noticed last year that her hefty turkeys were lacking something. Their legs were starting to break down, meaning they needed more protein in their diet.
"They only get so many bugs out in the field," she said.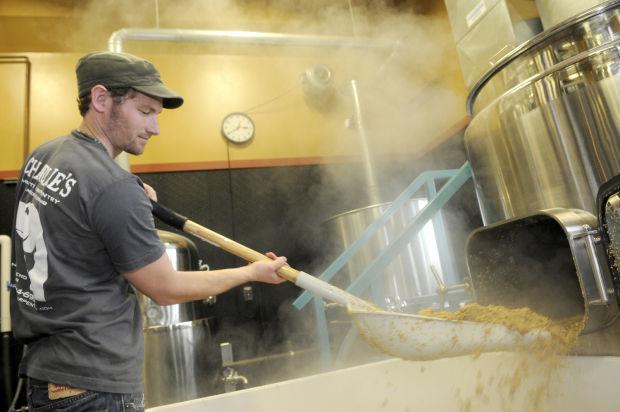 She turned to a commercial grower for advice. He suggested feeding them a brewery's spent grains — and that's where 7 Devils comes in.
Last year, Swenson sat down with Carmen Matthews and Annie Pollard, who were on the verge of opening 7 Devils in downtown Coos Bay.
"Since the very beginning, we were talking about doing exactly that, it was just finding the right person," Matthews said. "And we're trying to create a full circle, so we use her cattle (which also eat 7 Devils spent grain-infused feed) in our beef dishes."
The beer and turkey connoisseurs hashed out what they would need: a forklift, a trailer, totes. Every week, Swenson drives up to 7 Devils and Matthews grabs his snow shovel to fill her totes with spent grain — about 1,500 pounds every week.
Spent grain is one of the byproducts of the brewing process. After grinding the raw barley, the brewer puts it in the mash tun with water. The liquid is drained off and the protein- and fiber-rich mash is everything that's left over after the sugar has been extracted. Farmers then take that spent grain to feed turkeys, cattle and chickens.
Most breweries have this kind of partnership with farmers, Matthews said. A few larger operations, like Alaska Brewing Company, dry their spent grains to be reused as a fuel source for heating.
"Everyone was up in arms," Matthews said, as it would have cost brewers more to get rid of their spent grain and farmers would have had to spend thousands of dollars more a month on feed. "It's about $750 to $1,000 a week that we give her (Swenson) in spent grain."
Swenson sold more than 100 turkeys on Sunday alone. There was a line on the farm the entire afternoon as people waited, coolers in hand, to grab a turkey, giblets and cranberries. She had 150 turkeys this fall: "more than I've ever had." And they ranged in size from 10 to 20 pounds.
Swenson offers white and bronze turkeys, but she said it's hard to tell the difference in taste unless you taste test them side by side.
"Commercial turkeys get really big and fat, but mine are a little more muscly," she said. "They're also broad-breasted but they're a little bit stronger."
Those muscles come from roaming wherever they want on the fields. They eat grass, bugs and the spent grain-infused feed, so they have the strength to fly to higher areas to roost.
Swenson's broad-breasted turkeys cost $4.25 per pound, which is expensive compared to the average store-bought bird, "but mine are richer in flavor."