Sharp hooks can be achieved, if you remember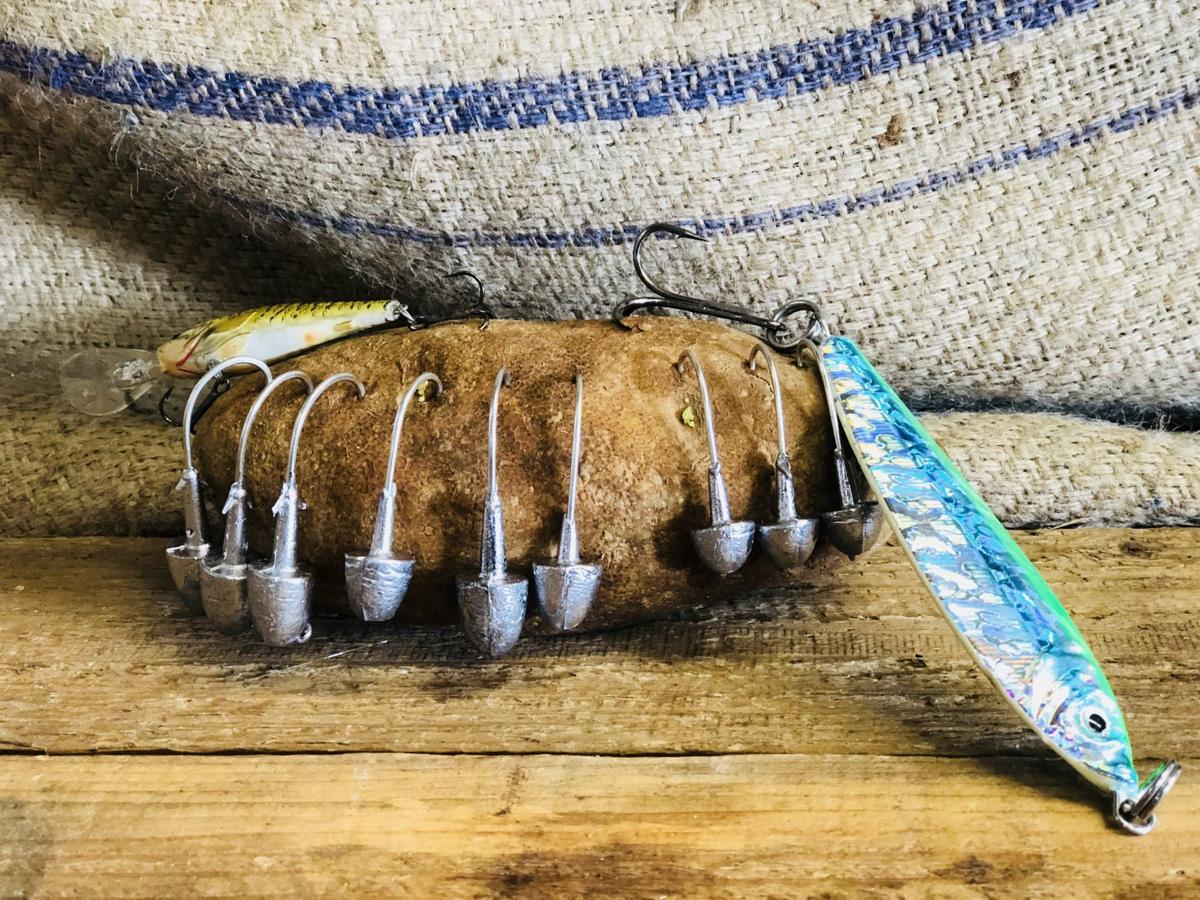 The bite has been hot in the ocean, in the bay, and all around. We are still seeing monster lings and a great grade of rockfish but slower overall on the crabbing. Surfperch remains hot if you are out on the right day and inland bass fishermen are starting to get antsy as their season fast approaches.
Last Wednesday, early in the morning, on one of the only days I have even remotely had the opportunity to sleep-in in recent memory my phone rang and on the other end was the Basin Tackle pro-staff pleading for help. It turns out that as they were launching their drift boat at Sunset Bay they turned off the truck, turned up the radio, and kept the lights on or something like that. I'm no mechanic but I know that means a dead battery in the near future and that's exactly what they got.
After an hour of messing with bad booster cables, a self-inflicted stab wound, and a drive back to town for better booster cables Keifer's truck was finally running! At this point I was already late for work and decided I may as well be really late and catch some fish while I'm at it; I know the owner of Basin Tackle really well and was pretty certain I wouldn't get in too much trouble. We mounted up and with Keifer at the helm Trenton, Daylen and I headed out into the deep blue, well, on the edge of it anyway. We fished the rocks for about an hour and were rewarded with lingcod, cabezon (had to throw them back), greenling, and black rockfish galore. We had a blast and everyone caught a lot of fish in a very short period of time.
I didn't have much gear with me and some of the jigs I was using were old and starting to get dull so I was definitely missing some hook ups. That's one of those basic preparation things I often overlook, making sure my hooks are sharp or new. Sharpening your hooks is as easy as using a hook file while you're tying your gear but there's an even better way to sharpen them and keep them sharp. Many of you are familiar with the new trend of "chemically sharpened" hooks. This is a process whereby hooks are rough formed in the factory before being immersed in a chemical that breaks down and removes microscopic particles of the hooks material thereby leaving a finer and sharper point. Sure this system works great in the manufacturing plant but what about the average Joe fisherman? It turns out that we have easy and ready access to this exact same technology and the hook manufactures certainly don't want you to know about it.
The chemical used for some of the sharpening process is phosphoric acid and while you can certainly purchase jugs of this chemical and risk chemical burns and who knows what other certain doom this stuff comes in a ready-made hook sharpening device that you may already have in your home. It turns out that this very same phosphoric acid is contained in potatoes and there is really no need at all to not have sharp hooks. Apparently the darker fleshed potatoes have higher amounts of acid and will work faster but any potato will work if your hooks are left in long enough. Typically it will take two to three days to get a razor sharp hook if it starts off not too dull, if your hooks are really bad it may take a week to get the desired results. Make sure the point and barb are all the way past the skin of the potato and into the flesh where the acid concentration is highest and sit back while all the work is done for you. While this isn't a cure all and you'll have to still use a file if you have dull hooks while you're out fishing this method will keep 'em sharp if you remember to put 'em in your potato ahead of time. Sharp hooks and good fishing y'all! I hope to see you out there.
Rob Gensorek is the owner of Basin Tackle www.basintackle.com in the Charleston Marina and can be reached by phone at 541-888-FISH, by Facebook at Basin Tackle Charleston, or email at basin_tackle@yahoo.com. Robs fishing reports can be heard daily at 6:20 a.m. and 4:20 p.m. on KRSB Best Country 103 out of Roseburg and his Basin Tackle Outdoor Show can be heard Wednesdays at 3 p.m. on kwro.com. In addition to all this he sometimes actually gets out and catches a fish or two but would never stick his hooks in a potato because that's just silly.