Quality of lingcod best we have ever seen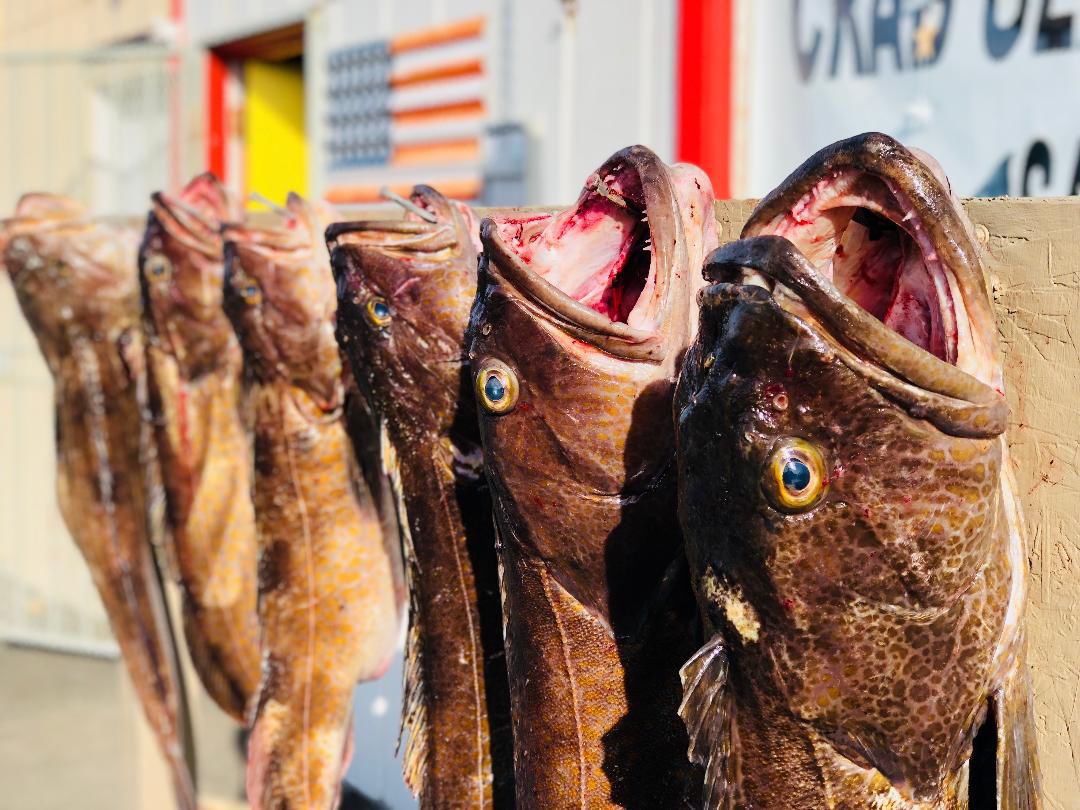 The rains are starting to fall and that should mean an increase in steelhead catchin' as opposed to just fishing. Perch on the beach remain hot overall, just watch for those sneaker waves! Crabbing on the docks has slowed but you can still catch a meal or more and the bay and ocean are still hot hot hot for Dungeness. Rockfish in the ocean is amazing when we can get out and the quality and quantity of lingcod in particular is possibly the best we have ever seen.
I was going to tell y'all about my duck hunting escapades with Hunter M. yesterday but one of my editors is threatening me with physical violence as I write this because I'm up on my deadline so this week I'm going to "repurpose a gently used article" on lingcod. Considering how hot that fishery has been the timing actually works out quite well. As a side note the yelling isn't that bad really, it's the flogging that we tireless writers have to endure that really keeps us down.
Our locally caught and much enjoyed lingcod is actually neither a ling nor a cod but it looks somewhat like both and that's how it got its name. Lingcod reach maturity from 2 to 8 years and regardless of age are all considered mature by 24 inches in length. This is why the retention limit for these fish is 22 inches minimum; it gives the young ones a chance to grow up.
Female lingcod can live to 20 years, the males 14 years and something they both do is get big. I can't find specific size records for Oregon but the California state record is 56 pounds, Washington is 61 pounds and Alaska is 81 pounds 6 ounces. Two years ago we had a customer bring in a 52 pounder and at about 30 percent meat recovery that's a lot of good eating. We tried telling the customer that it was illegal to retain a fish that large and that we would have to confiscate it "for the state." What we didn't tell them is that we meant "the state of our appetites" here at Basin Tackle. Side note, never ever believe anything you hear in tackle shops.
Lingcod spawn and "nest" in shallower water from around December to early spring with the females laying anywhere from 6,000 to 500,000 eggs. Shortly after laying her eggs, in the "nest" that the male prepares ahead of time, the female heads back to deeper water and away from the possibility of having to cook and clean for half a million babies. The male stays near the nest and aggressively protects it until the young hatch. These spawning times when the lingcod are extra aggressive are utilized to an angler's advantage to help them catch more and bigger fish.
In 1999 Lingcod were considered overfished but with proper management the population was declared recovered in 2009 and now supports a robust sport and commercial fishery.
Lingcod will feed on most anything and everything including other lingcod, rockfish, herring, and invertebrates. One of the most common food items found in a lingcods' belly and that I contend is its favorite food is octopus. If you're out fishing and your ling coughs up an octopus, which will happen more often than you may think, don't let that sucker go to waste. Grab that cephalopod and stick it on your jig and drop it right back down!
I can almost guarantee another ling will be in your immediate future. Plastics also are another great way to catch these sport fish and there are almost as many favorite colors as there are anglers but I would say that blue and white swim-baits are the most popular with my customers followed by 6 inch white twin tails. The lingcod in the accompanying picture were caught last week out of Charleston and those are only a few of the hundreds we saw.
Rob Gensorek is the owner of Basin Tackle www.basintackle.com in the Charleston Marina and can be reached by phone at 541-888-FISH, by Facebook at Basin Tackle Charleston, or email at basin_tackle@yahoo.com. Robs fishing reports can be heard daily at 6:20 a.m. and 4:20 p.m. on KRSB Best Country 103 out of Roseburg and his Basin Tackle Outdoor Show can be heard Wednesdays at 3 p.m. and Saturdays at 6 a.m. at kwro.com. In addition to all this he sometimes actually gets out and catches a fish or two.