Fun-guy harvests a bucket of local fungi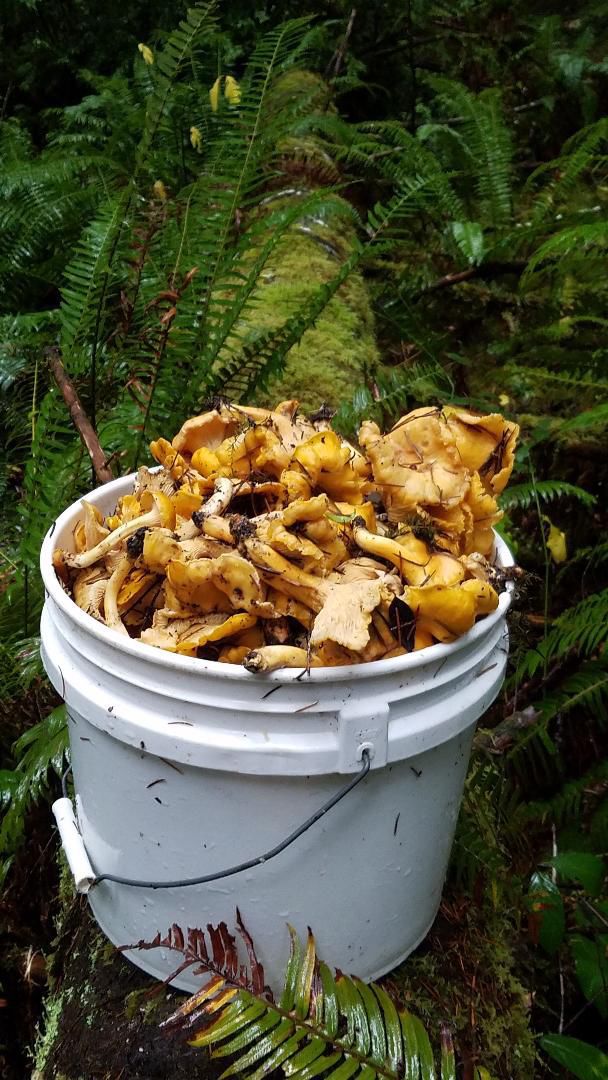 The crabbing is open in Charleston and is hot, the surf perch fishing is great, the duck hunting is world class, and rockfish opens back up in a month! Add to all of this that the mushroom picking has never been better and I'm a pretty happy camper right now.
One brief moment of seriousness however is, that the regulations for next year's rock fishing are currently being adopted by the ODFW and one of the proposals is to reduce the daily bag limit of seven rockfish per day to four per day from April 1 through September 30, when most people are out having fun and putting up their fish for the coming winter. I propose that we keep the limit as it is, and monitor it throughout the year, and only then adjust if necessary. History has shown that once something is taken away rarely is it given back, be it lands, property, or our precious resources.
One thought I've had recently is that we as hunters and anglers derive a lot of pleasure from sharing our bounty with others. Whether it be an elk turned into steaks and sausage or a bag of rockfish fillets, we as sportsmen and women seem to gravitate towards sharing.
My fear with this reduction in our daily take is that this will go away to some degree. The elderly, the infirm and those that don't fish are often treated to the oceans bounty by successful anglers and I can't help but think that with these reduced numbers we will only have enough to feed our immediate families and not many outside that group. I have said from the beginning that, I feel many of these reductions and outright closures are not just an economic disaster but a societal one as well. Fishing is part of our culture and who we are. Sharing food is a common trait all over this earth and it is a bond that brings us together. If you would like your voice to be heard on this matter, and I encourage you to, please attend the ODFW meeting at their headquarters in Salem at 8 a.m. Friday, Dec. 8, 2017, at the Oregon Department of Fish and Wildlife Commission Room, 4034 Fairview Industrial Dr. SE, Salem, OR 97302.
If you cannot attend, to ensure your comments are considered, send them as soon as possible to the commission at odfw.commission@coho2.dfw.state.or.us. I implore that all of you to get involved in any way you can.
Now that the serious business is done let's talk chanterelle mushrooms.
As I stated earlier I don't think the mushroom season has ever been better and I have been harvesting buckets of 'em! One of my favorite ways to prepare them is the simple sauté method; cook down your mushrooms and drain off the juice it creates, there will be a lot as mushrooms are comprised of about ninety two percent water. By comparison we are comprised of about sixty percent water, soda is ninety percent water, and a glass of water is…um…well I guess a hundred percent water.
After draining off the water once or twice, I will add a little olive oil, and continue to sauté. Once it appears the mushrooms have stopped producing water I will add whatever spice I feel like, this can range from simple salt and pepper to my favorite Cajun spice. It is also at this time I may add minced onion, shallots, or jalapenos and a pat of nature's miracle flavor, butter. This concoction can be eaten as a stand-alone dish, mixed in with pasta or of course slapped down on a fresh grilled medium rare steak. By the way rare or medium rare are the only ways to eat a steak, like ever. If you at any point in your life have uttered the words "well done" when asked how you would like your steak prepared we can't be friends, don't even try because I will eventually find out your dirty little secret.
Chanterelles are not just native to the West Coast, but can be found on the East Coast and in parts of Europe as well. Our local varieties are the largest and most prolific of all. Some will argue that the tiny little excuse for a chanterelle found in Europe, or on the east coast, have a bolder flavor. These folks are mostly just jealous and showing their shameful "fungus envy."
In the mushroom world I will take a bucket of awesome mushrooms over a handful of possibly slightly better tasting mushrooms any day. Locally we have white, gold or yellow, and to a much lesser degree black chanterelles, and they are all tasty. Chanterelles reproduce through the release of spores as many other fungi do (as a side note it has come to my attention that people have not been calling me a "fun guy" as I thought but "fungi" due to my probably now permanent bait shop odor) as well as through Mycelial fragmentation. The latter reproductive method is when the tiny hairs that live underground and comprise most of the mushrooms "body" separate and become their own organism, eventually budding into a cap above the surface for us to pick and eat. I'm not going to cover the how, why, and identification of this species of mushroom because frankly I don't want that sort of responsibility and possible liability, but there are a ton of great resources both in print and on-line.
I encourage you to look further into this fun feastable fungus for a Friday fish fry. That was bad, sorry. Whether you are fighting fish or finding fungus I hope to see you out there!
Rob Gensorek is the owner of Basin Tackle www.basintackle.com in the Charleston Marina and can be reached by phone at (541) 888-FISH, by Facebook at Basin Tackle Charleston, or e-mail at basin_tackle@yahoo.com. Robs fishing reports can be heard daily at 6:20 a.m. and 4:20 p.m. on KRSB Best Country 103 out of Roseburg and his Basin Tackle Outdoor Show can be heard Wednesdays at 3 p.m. and Saturdays at 6 a.m. at kwro.com. In addition to all this he sometimes actually gets out and catches a fish or two.