Metal parts are used in all kinds of high-performance and safety-critical applications in transportation, mining, construction and power-generation equipment such as turbine engines. Most are made using one of a small number of classical manufacturing processes that haven't changed much in decades.
Machining cuts away raw material to get a desired shape; casting involves pouring molten metal into a mold; and forming or forging deforms and squeezes metal into new shapes. Casting and forging to shape usually needs custom molds or dies that can take considerable time and expense to design and manufacture, but once running are very productive; parts are inexpensive with highly reproducible properties. This is why nuts and bolts can be cheap and reliable.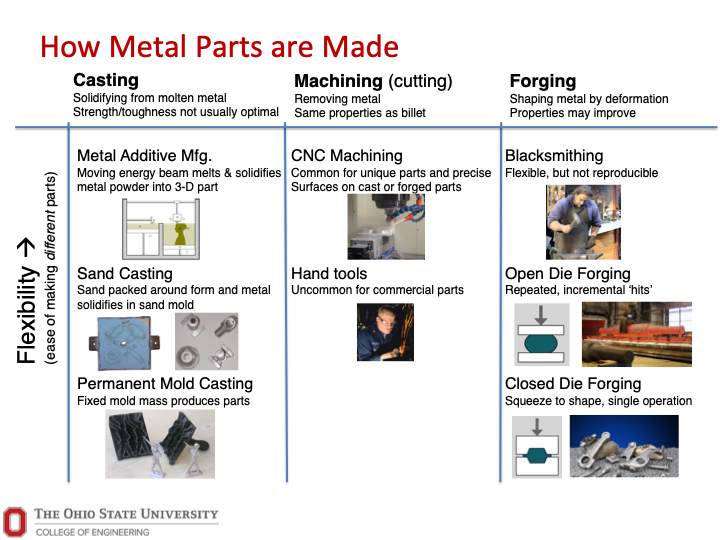 Starting shortly after World War II, digital manufacturing ushered in more agile production, first with computer numeric control machining that cuts components of all kinds of shapes from metal blocks. Producing a different component was as simple as launching a new computer program. One common downside of computer numeric control machining is a low "fly-to-buy" ratio, where a 1,000-pound titanium block might be carved away to produce a 100-pound aerospace component. This is expensive and environmentally wasteful, but no new investment is needed and lead times are short.
Right now, there is also deserved enthusiasm about making such parts by 3D printing, also referred to as additive manufacturing. This process also makes parts from a computer file on demand by building a part one layer at a time. Shapes that are impossible to make by machining can be printed, allowing new shapes that, for instance, have internal passages for cooling or communication.
While these techniques have their advantages, they also have drawbacks. They often don't produce the highest levels of strength or toughness and these processes are wasteful.