Names that one recognizes as belonging to families that have been in the area a long time is what led Marie Mast to hold onto a vintage photo album and several loose photos. She and her sister came upon this cache of photos when clearing their mother's home for an estate sale. Mother, Gudrun French, immigrated from Denmark in the late 1940s and chances are she didn't bring a photo album with pictures of folks residing in Oregon and California when she came. 
"They moved over to this country when my sister was about a year and a half old. Sonia was born in 48 so probably in 1949," Mast said.
When they discovered the album they agreed, "It's not our family's pictures," said Mast. She added, "I am not throwing this away, it's too pretty of an album to throw away."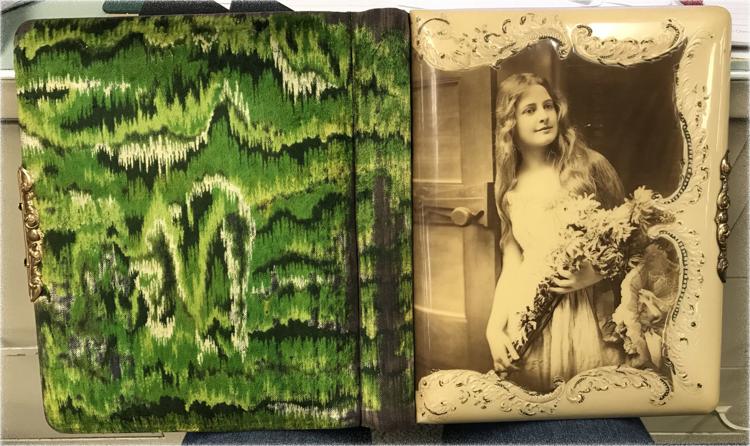 At one point Mast stated, "I wish they were pictures of my family because we didn't even know them when we were growing up, because they lived over there."
Neighbors for many years, Eva McGary and Gudrun French were good friends.
"Eva owned two big old houses on Central, they lived in one and mom lived in the other," said Mast. When Eva was unable to take care of herself, Gudrun stepped in to help her good friend.
Mast surmised that when Eva died, her mom cleaned out her house.
The last names Simpson and Schroeder raised questions ... Related to Louis J? Schroeder - like the Myrtle Point Schoreders? Wilcox? Where do they fit in? 
Mast remembers her parent's neighbors Charlie and Eva McGary. She remembered the elderly couple attending her wedding in 1969 and that they were childless. What Mast believes is that these photos may have belonged to Charlie and Eva, is perhaps some of their relatives and that her mother had kept this album safe all these years.
There are many historical documents and information available online if you have time to look. In general, the more information you have the better, like dates for specific events.
Sadly, very few of the photos have dates. Several photos were identified as being from studios in Portland, Woodville, Medford and Grants Pass. Really not that far when you think about it. The train could have carried these Victorian or Edwardian era passengers. My quick research showed American Rails short line trains operated as early as 1861 around Portland, and the Oregon California train operated not long after, according to the Pacific Northwest Railway History. Oregon Encyclopedia states that North Bend was connected by rail to the Willamette Valley in 1916.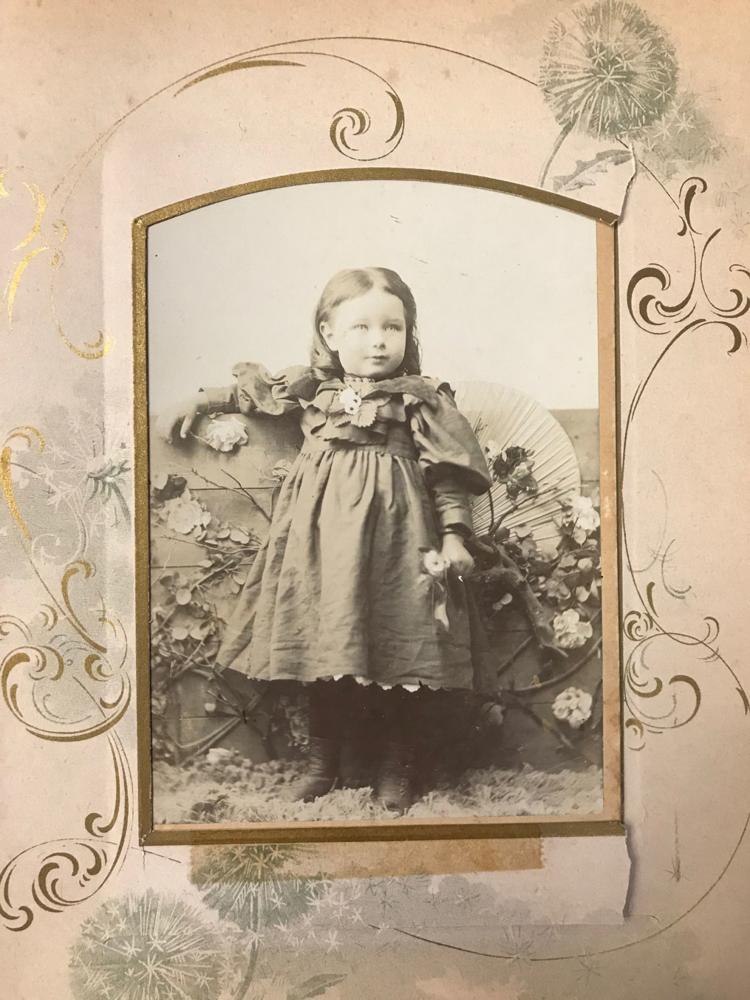 Inside this exquisite vintage photo album on the first page is a photo labeled "Daughter Clarice 4 years old." Could this be a clue? Was this Charlie and Eva's daughter? Nope, further along I found a photo of "Clarice 6 years old daughter of G.W. and Angie E Wilcox."
Who were G.W. and Angie E. Wilcox?
More than one set of photos referred to twin sisters Idis and Ida; sister Idis married Charles Schroeder. A clue online at genealogy.state.or.us.
"429422, Schroeder, C G & Wilcox, Idis, 02/16/1908, Marriage, Multnomah, Health." Marriage used to require blood testing in many states.
Putting together clues I found a photo showing Ziba E Simpson, sister Frankie's husband. That photo was taken in Chico, Calif. I was able to connect the boy, Lester Simpson, as their son.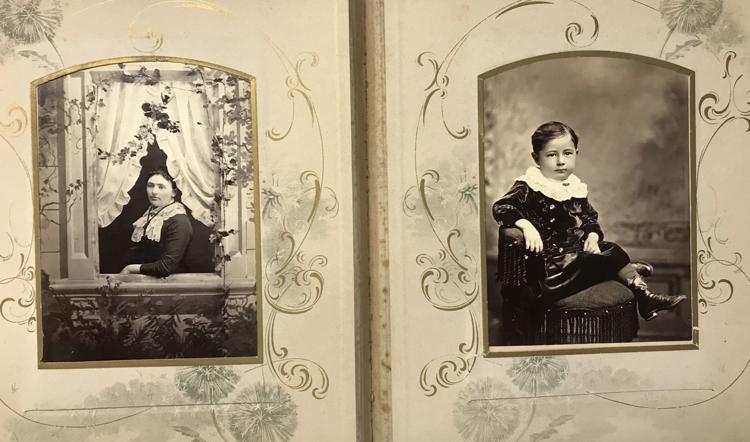 One photo is labeled, "My cousin Lucy my only living cousin Daughter of Wright Wilcox."
Was Eva's maiden name Wilcox?
Another clue, a fabric covered folding memorial piece, with a photo, for a Mrs. C. E. Wilcox. "She died Feb. 26, 1892 at 55 years 10 months and 11 days." Not sure if the standard at the time was something so elaborate with textured fabric. I found what appeared to be the original photo used in the memorial labeled "my dear mother."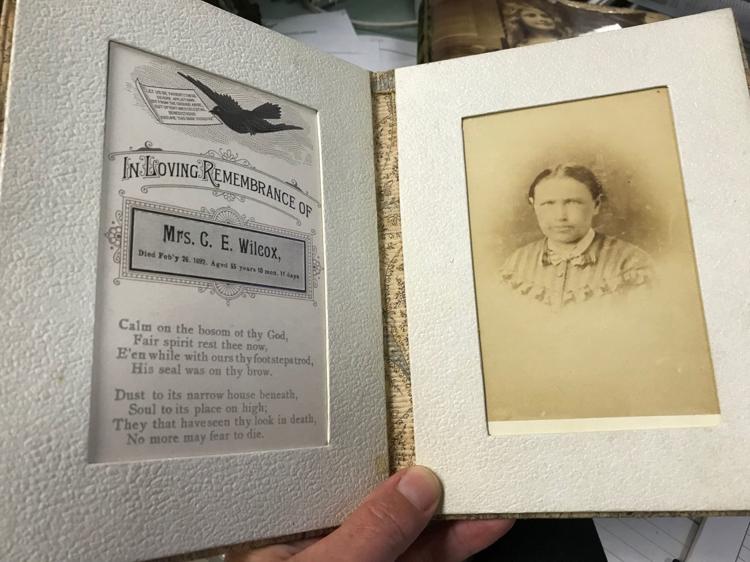 In another photo there's "father G.W. Wilcox," and there was an "Aunt Mary Wilcox."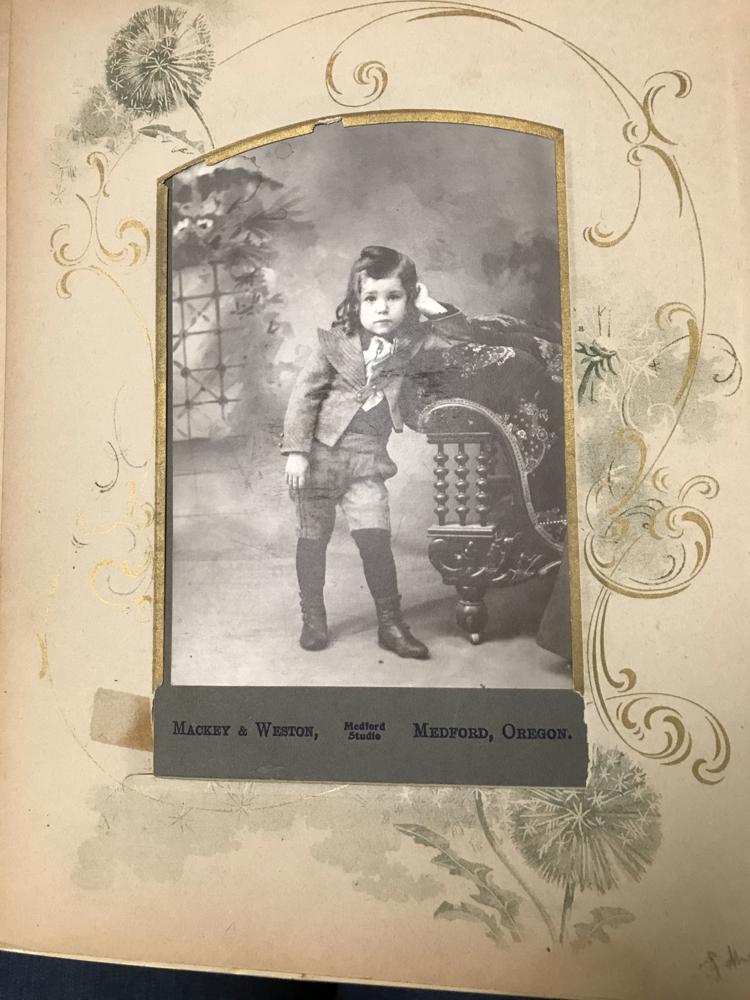 More clues: sister, Frankie Wilcox-Simpson; twin sisters Ida, and Ibis Wilcox-Schroeder; and a half-brother, James Cady; and half-sister, Jennie Cady. 
If you are reading this, take out your family photos and start labeling. Your family historian will love you.