When Uncle Buddy's old sousaphone needed a home, Ruth Barker and her husband, Gary, adopted the large instrument that once belonged to legendary jazz musician Buddy Hayes. "For years he played professionally with big bands such as Harry James and Lawrence Welk," according to Ruth. http://www.welkmusicalfamily.com

Ruth said, "Gary has been playing it since he found it in Buddy's attic. Gary also plays Buddy's tuba used while playing with Lawrence Welk."
This instrument is referred to as a "raincatcher" because it has a bell that points up. Modern sousaphones have a forward facing bell. Unlike its closest cousin the tuba, the sousaphone is worn with part of the 35-pound instrument resting on the musician's neck and shoulder while surrounding their torso.  
Ruth Barker relayed that the sousaphone is named after John Phillip Sousa (1854-1932), who had early sousaphones made to his specifications. The two makers were JW Pepper who built his prototype around 1893 and CT Conn who made the scene in 1898 gaining the most commercial success.
Today the sousaphone is primarily a marching band instrument but "in the day" the sousaphone was a popular jazz band instrument. 
In the spring of 1987 Hayes put his home in Brookings on the market then headed to Oregon's Bay Area. Hayes continued to do what Hayes did best, perform on upright bass or tuba sometimes with a little Vaudeville-style comedy to engage the audience.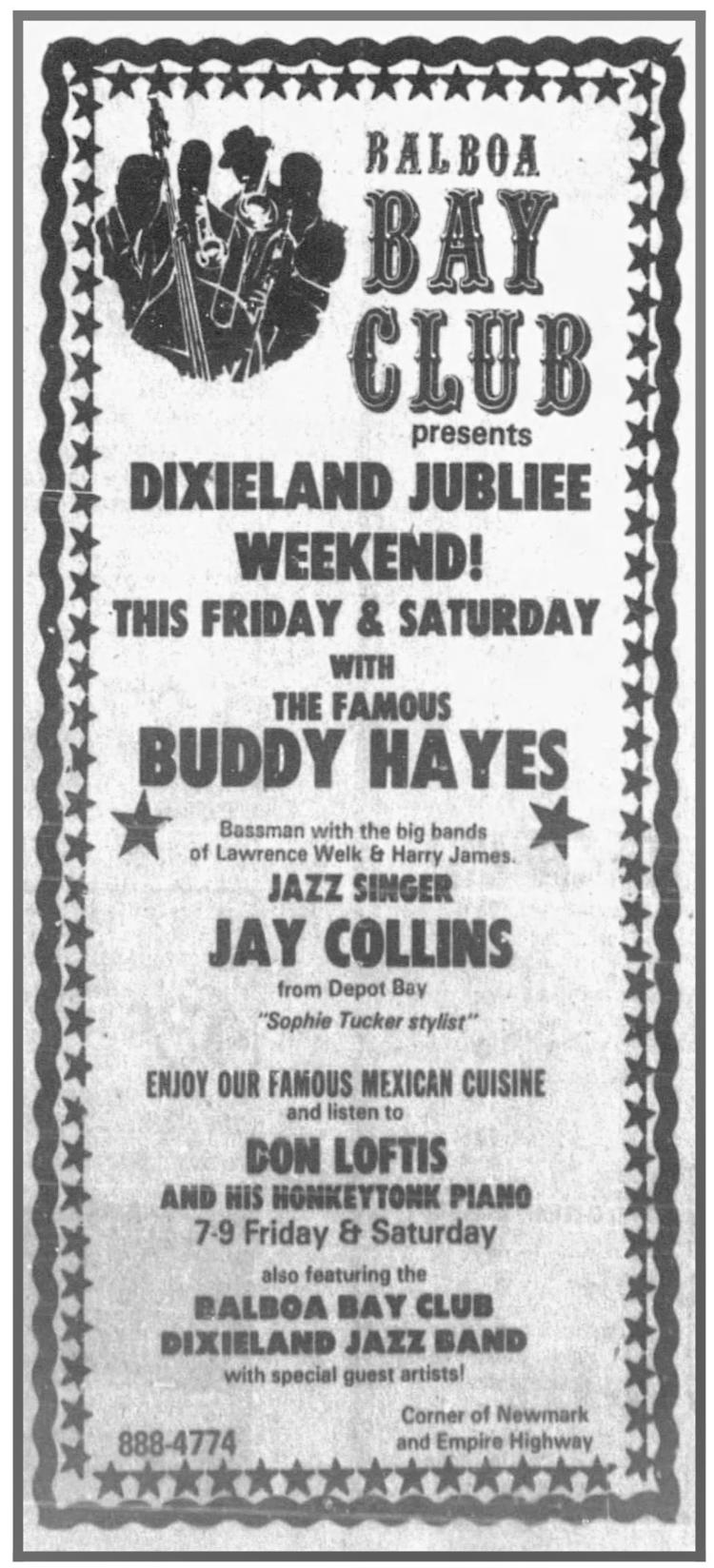 On Sunday June 1, 1989 the Judy Jordon Dixieland Music with Buddy Hayes played at The Bay Club Restaurant, when Prime Rib and Halibut dinner specials were less than $8. 
He headlined Sunday's Jazz-on-the-Water at The Portside Restaurant & Lounge in Charleston late in November 1992.
Musicians were invited to Jam with Buddy Hayes Jammers at The Bay Club in the Game Room in 1993. 
Theodore "Buddy" Harmond Hayes left us April 26, 1997 at 81.
If you would like to see this instrument played by Gary Barker, he will be joining the Charleston Sweetie Pies on May 11 for the Islands of Charleston dedication celebration Funky Fishy Flim Flam Parade. Plan on being at the intersection of Cape Arago Highway and Boat Basin Road at 1 p.m. Or better yet get there early so you can wander over to the Charleston Community Baptist Church  on Boat Basin Road to get your Charleston dance lesson and enjoy a few laughs. You can line up for the parade or visit merchants for Customer Appreciation Day where free passes to the Charleston Marine Life Center will be available for that day.