"BE BOLD! And mighty forces will come to my aid."
These are the words Betty Bangs tells herself as she starts her day.
Most days are busy: She might be working with Liv Drahos at the Rental Sales Gallery of the Coos Art Museum (a job she did by herself years ago when she was only in her 70s). She might be working with Judy Caldwell at Gallery by the Bay at the Unity Center in North Bend (a gallery she started around the same period, before she and her husband Bob moved to the Ashland/Medford area when she was in her 80s.) She and Judy might be meeting with Nadine Archer, the new president of the Bay Area Artists Association, to schedule the line-up of monthly programs for this year, a job they just accepted at the January meeting. Or it might just be a not-necessarily-quiet family day with her son Andy Wolfe, his wife Karen, and assorted dogs and grandchildren, walking on the beach somewhere between Charleston and Empire, where portions of the family hang out in a cluster of dwellings facing the North Spit acquired by Karen's mother Mary Lou before she passed along to the great beyond.
Betty, who will turn 94 on Sept. 7, shows no signs of heading in that direction. Although macular degeneration has put a stop to her painting the intricate lace still-lifes that people remember from her first years in Coos Bay, or the stunning animal portraits she painted on Indian Drum-heads while she was in Medford, the unstoppable nonagenerian says she keeps learning new things and meeting new people all the time, and feels more excited about life than she ever has before. She has learned by heart the words of one of Unity's early founders Charles Fillmore: "I fairly sizzle with zeal and enthusiasm, and spring forth with a mighty faith to do the things that ought to be done by me today."
Not only did Betty Bangs start the Gallery By the Bay, at 2100 Union Ave. in North Bend (one block west of the Liberty Theater), she finds six artists a year to showcase for two months at a time, hosts an opening for each one, shows up at the gallery every Thursday from 10 a.m.-2 p.m., and drives all around Coos County to interview the artists. Then she writes up a big article about them which appears, often as a cover story, for the South Coast Beat, a section of The World newspaper in Coos Bay.
Writing for newspapers is nothing new for Betty. She began as a mother of four in Caldwell, Idaho, when she was Betty Wolfe, married to a WWII naval pilot Hank Wolfe. Since then she has written both stories and advertising copy for papers in Boise, Idaho; San Jose, Calif.; Anchorage, Alaska; Fairbanks, Alaska; British Columbia; and Oahu, Hawaii. She has also hosted a TV show called Pericscope in Boise, and edited the Mobile Home Park Traveler's News when she and Bob Bangs were on the road. And then there are all those cover stories for The World.
Memorizing lines by heart is also nothing new for Betty: She starred as Lola in "Damn Yankees" in Boise, Idaho, wowing audiences with her rendition of "Whatever Lola Wants, Lola Gets" in 1960, and later sang, danced and played the comedienne as Aunt Eller in a Boise production of "Oklahoma." 
Most recently she has been wowing audiences with her impersonation of comedienne Phyllis Diller. But more about that later!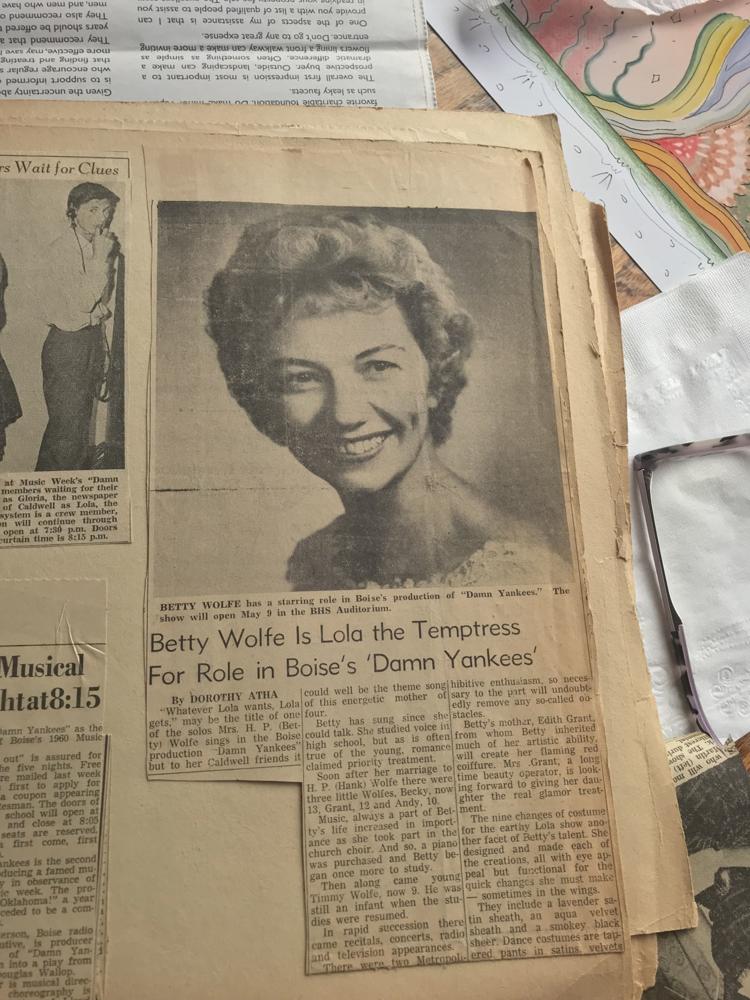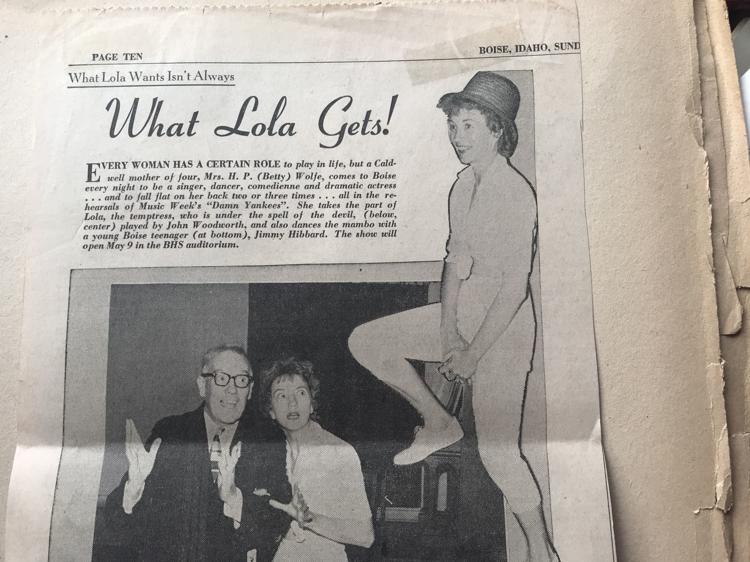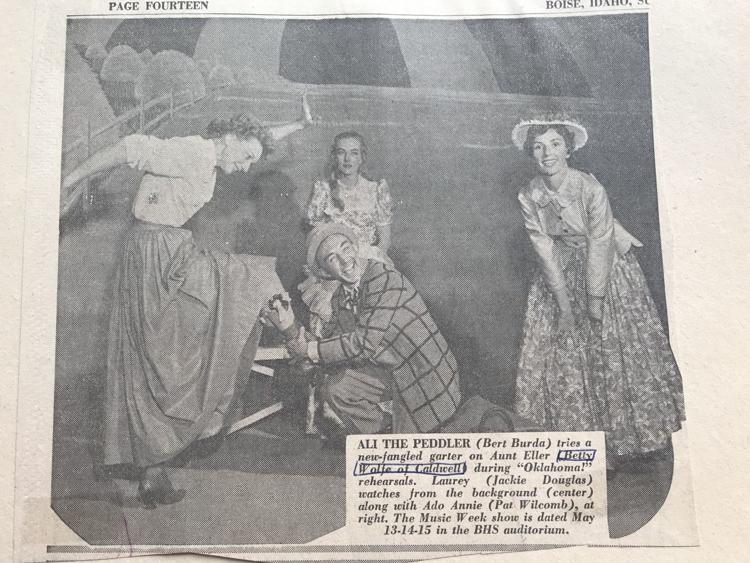 Tall, slender, smart and kind, she began singing as soon as she began to talk, got a piano as a young child, learned operatic songs as well as show tunes, and taught classes in breath control and projection. Her proposed career as an opera singer got sidetracked by romance at the age of 17, and romance got sidetracked when Pearl Harbor was attacked during her senior year in High School in Caldwell.
Hank enlisted in the Navy and Betty, joining forces with "Rosy the Riveter," found herself "doing a man's job" as a telegrapher for the Union Pacific Railroad. The group of young women was stationed in the desolate town of Sage, Wyo.
"Our motto was 'Keep 'em Rolling', and our only entertainment was hopping the train to Kimmer, Wyo., for an afternoon at the very first J.C.Penney's in the country," said Betty. "Did you know that the "C" in J.C. Penney's stands for "cash"?
When the war ended, Hank returned, the men got their jobs back and Betty turned her attention to raising a pack of Wolfes. Her oldest daughter, Becky, was born in 1945, followed by Grant (1946), Andy (1948) and Timothy Charles (1949) now fondly known as Chuck. "Grant" was Betty's maiden name, by the way, and yes, the family's most illustrious ancestor was president Ulysses S. Grant, which may account for Betty's life-long interest in politics and the democratic process.
"My two older sisters were born before women got the vote", says Betty," but when I was born in 1925 women had had the right to vote for five years. I have never missed voting in an election. I encourage all my grandchildren and great-grandchildren to vote today." Asked how many grand-children and great-grandchildren there are, she says "I'm not sure; they keep making more and more. I will have to add them up and let you know." (Note: email arrived the following afternoon: eight grandchildren; 17 great-grandchildren; another one due to arrive in Los Angeles sometime this spring.)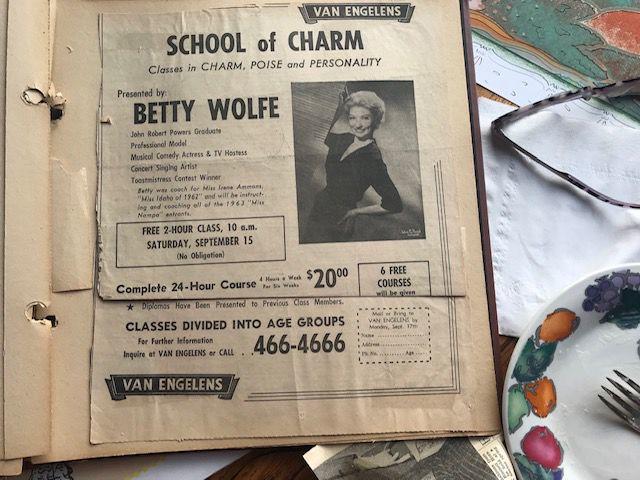 When her first marriage foundered, sometime in the 1960s, Betty headed to California, studied modeling with the John Robert Powers Agency in Los Angeles, then returned to Caldwell and opened a "school of charm" at the Van Engelens Department store in Nampa, Idaho, offering "classes in charm, poise and personality." Anyone who meets Betty even today will recognize immediately that they have met a master in all those subjects. The school was a great success, and she subsequently took the children to California where she worked for John Robert Powers schools in San Jose and Palo Alto before opening her own school in Santa Clara County. She trained a number of young women who went on to compete in Miss America pageants and other beauty contests. The "apparently inexhaustible" Betty Wolfe was a single mother, ran a school, wrote and sold ads for the Los Gatos Times near San Jose, and also found time for music and the arts.
"I always was an artist," says Betty. "I loved to paint; I copied whatever I thought was beautiful. I sewed all my costumes and all my children's clothes and I have always liked decorating houses."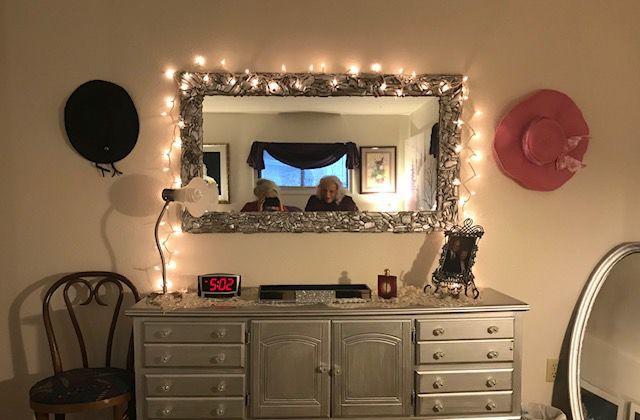 Once the children were grown and on their own, Betty's love of traveling had a chance to blossom. Her first major expedition was to visit a niece who had married a wealthy, politically connected Iranian whose father had been assassinated and whose uncle was in prison. This was an eye-opening introduction to the lifestyles of the super-powerful and wealthy.
"My niece was making decisions about the purchase of a $5,000 toilet, and her mother-in-law, whose name was Cobra, literally changed her outfits 17 times in one day," Betty said.
She came back to California with a taste for more.
While working at the Los Gatos Times, she met a woman from Alaska named Laura Gund, who had worked for the Anchorage Times.
"Laura was so talented and graceful that we had known each other for quite a while before I realized she had two artificial legs," she said.
The two women became fast friends, and Laura wrote a letter to her old boss at the Times recommending Betty.
"I wrote him a letter also, and he called me up after he read it and hired me on the spot, then and there, right over the phone."
Thus began the travel years. Betty worked at the Anchorage Times and later at the Fairbanks Daily News Miner/49er Newspaper. "Those were the most fabulous years of my life." She traveled all over the Northwest, sleeping in a small van she outfitted for the purpose, exploring muddy unpaved roads all over Alaska, Canada, and parts of Washington, dancing, partying, painting and having sometimes scary and sometimes spectacular adventures.
On a 1974 trip with a girlfriend to the World's Fair in Spokane ("Expo 74") thieves broke into their lodgings, stole her purse, took out all her cash and dumped the handbag in the Spokane River.
"It made the news and my mother was very grateful to learn her daughter had not drowned and was still among the living," Betty said.
The intrepid traveler went right on traveling. She met grizzly bears and grizzly men and finally, one day in 1980, she met Bob Bangs.
"I had gone with some girlfriends to a dance for 'Professional Singles' in Fairbanks. Most of the guys were working on the Pipeline. I saw this one fellow who was a marvelous dancer and also very cute. My friends said his name was Bob. I wished I could dance with him, but I didn't have the nerve to ask him. Then came the 'ladies choice' dance of the evening.
"While I was trying to summon the courage, I realized somebody had stepped on the rungs of my chair, and I couldn't move it anywhere. I looked up and there was Bob. 'May I have this dance?' he said. We danced together all night long and then I took him home with me. Three months later we were married."
Bob was "the love of my life," says Betty. He worked security on the pipeline until the job was done. Then they outfitted a fifth-wheeler and spent the next three years driving around the Northwest having more adventures. They also spent time in Oahu, Hawaii, where both of them got their real estate licenses and earned money buying and selling properties. All the while Betty was improving her skills as a painter, first painting landscapes in oils and then acrylics when she developed an allergy to turpentine. Towards the end of the 1990's the couple came to Coos Bay and that was where Betty began to paint with watercolors and to create her extraordinary still lifes with delicate teacups, silver services and exquisite laces.
"I've always been a selling artist," says Betty. "Some people paint just to please themselves, but I have always wanted to paint things other people would want to buy. When we moved to Coos Bay there were so many wonderful artists I wanted to paint something that would be special. Lace at that time was very big."
She took a lace-painting workshop with Arleta Peck down in Monterey, Calif.
"I always had admired the laces and quilts made by the women in my family," she said. "My grandmother used to get ribbons for her quilts where she had lived in Oklahoma and in Texas. I knew those beautiful handicrafts would not last forever. The laces would wear out, the cups would be broken, the silver would tarnish. But they would remain forever beautiful in my still life watercolor paintings."
Betty painted her still lifes slowly and painstakingly, thread by thread by thread.
"People have asked me if I used a mastic resist to paint the lacework, but actually I painted the negative spaces between the threads. The lace itself is the white of the watercolor paper."
The paintings were a huge success. The large ones would sell for thousands of dollars. But matting, glazing and framing large watercolors is a very expensive proposition.
"Bob went to a special school to learn how to do all of that, and while we were here in Coos Bay together he framed all my paintings."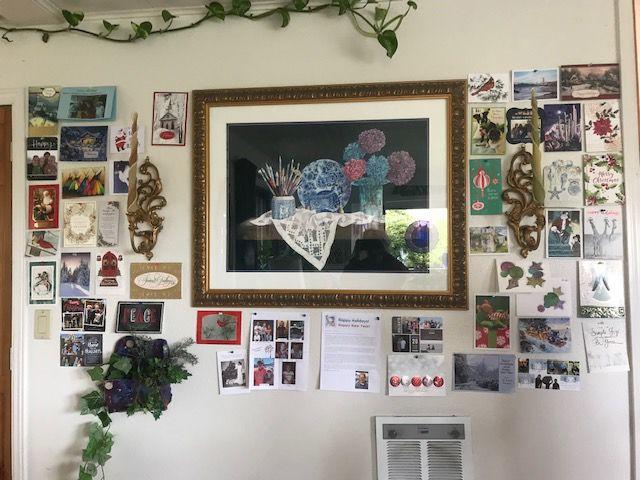 Painting Native American drumheads
It was at this time that Betty got involved with the Coos Art Museum, and started the Gallery by the Bay. And it was through the Unity Center that she met Grey Wolf (Cliff Latta) of Coquille, a world-class Native-American drummer, who taught drum-building to classes all around the country.
"My mother was part Cherokee, but when she was young people tried to hide their Indian ancestry. It was only in my lifetime that we began to be proud of that heritage. When Grey Wolf came into my life it was as though that connection came full circle, and I felt I was tapping into my roots. We formed a large group of drum makers here at the Unity Church before I moved to Phoenix."
The Ashland/Medford years
By the time Bob and Betty Bangs reached their 80's they decided Bob's health would benefit from a dryer climate and they moved again, this time to Phoenix, Ore. in the Medford/Ashland area. Betty invited Grey Wolf to come and teach in Medford, and together they came up with the idea that she would paint the drums. She painted the skins with acrylics: wolves, eagles, buffalo, flowers, circles of drumming women.
"I painted hundreds of drums. People would make a donation to a building fund for the Religious Science Center (now called Centers for Spiritual Living) of Medford, in return for which I would paint their drum. People contributed $5, $50, $100, whatever they could afford. One donor once contributed $1,000."
Altogether, Betty helped raise $5,000 for the effort.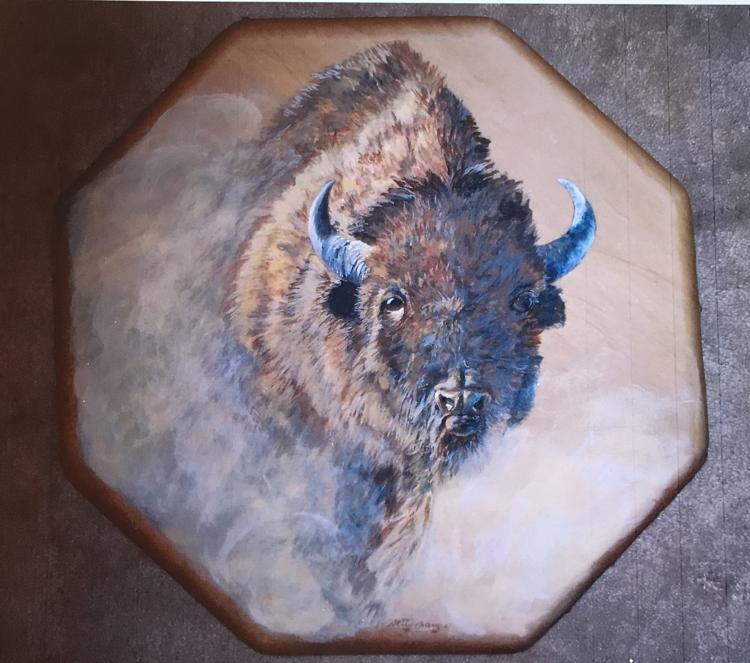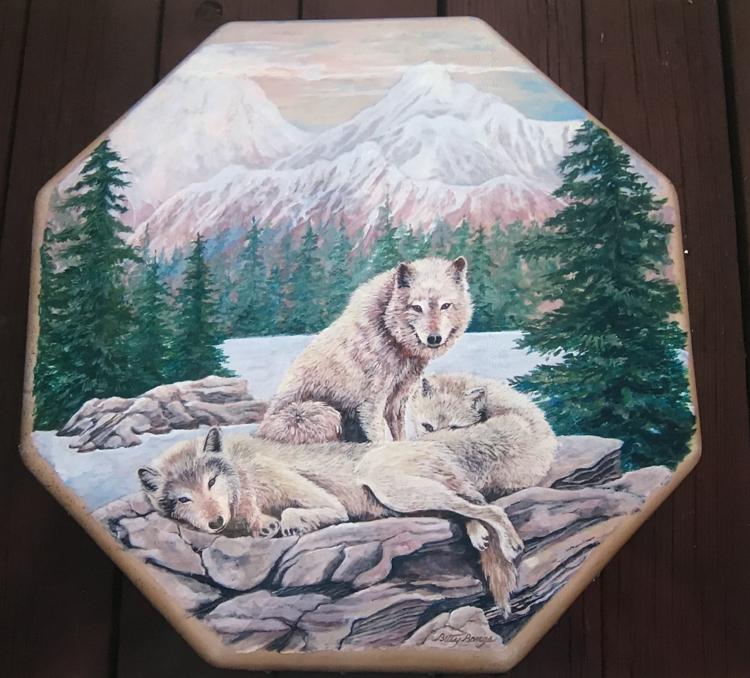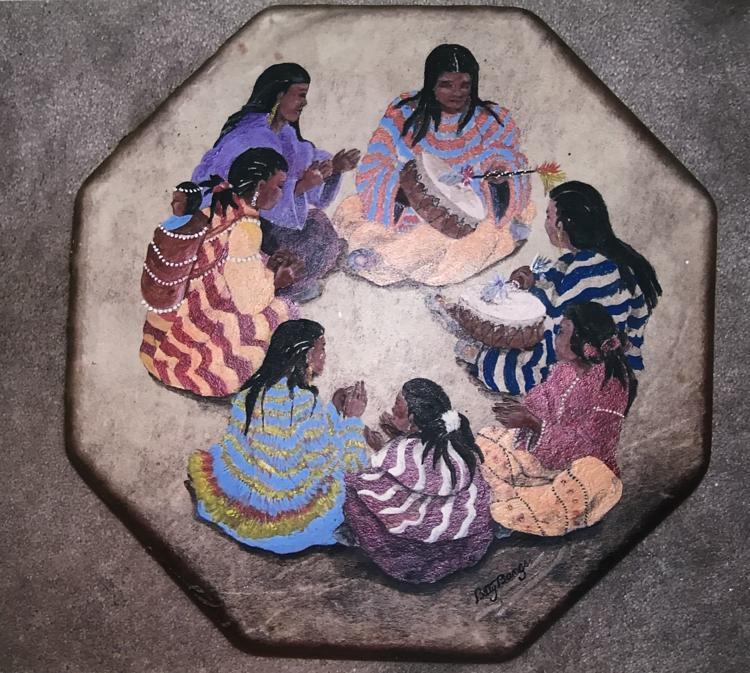 She also got a job creating beautiful baskets for Harry & David, the famous emporium in Medford.
"I loved putting together those baskets. Their merchandise was so fine, and the materials they provided were so excellent."
Her artistic skills were once again put to use, making art at a time in her life when most people have retired to their rockers.
And then it was Bob's time to go.
The Phyllis Diller connection
After Bob died, there was, of course, a period of grieving.
In 2014 Betty decided to return to Coos Bay, this time to live next door to her son Art Wolfe and his wife Karen, who is carrying on a family tradition of making quilts. In her study, where she works on all her many continuing ventures, is a wonderful quilt Karen made commemorating her Northwest Traveling Adventures.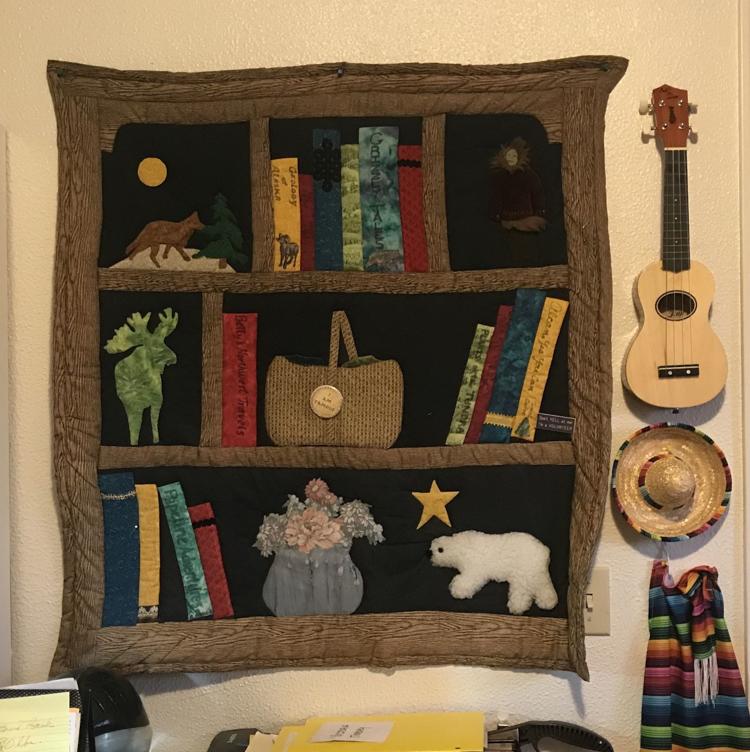 Back in Coos Bay, she reconnected with the Bay Area Artists Association, the Coos Art Museum Rental/Sales Gallery and Unity's Gallery by the Bay.
Toward the end of 2017, the Unity Center was planning their annual "Talent-No-Talent Christmas Celebration." Betty had always gotten a big kick out of Phyllis Diller, who was the very antithesis of a graduate of Betty Wolfe's school of "charm, poise and personality." She researched Phyllis online and found that she had 51,000 jokes posted there, enough to tell in an endless lifetime. Betty teased her hair, added a little streak of red (in commemoration of red-headed Lola in "Damn Yankees?) and presto! She channeled Phyllis Diller and was the sensation of the Talent-No-Talent party! Since then Phyllis has been invited to appear at so many venues that it is hard to fit them all into her busy schedule.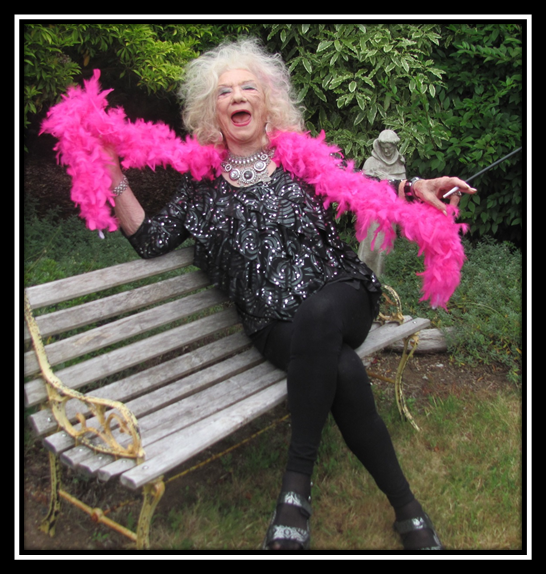 Betty Bangs continues to be excited about all the new artists whose work she will be able to bring to the people of Coos County. Although it does occur to many of us in Coos County that Betty may be the first human ever to surprise all of us by never dying, she has no fear of moving on to whatever might be coming around the bend.
"I've been in so many scary places in my lifetime, at this point nothing frightens me any more," she said. "I'm ready to go whenever my time come, but meanwhile I'm still here. So I say to God–'USE ME!'"
You're Not Old, You've just been Young a very long time!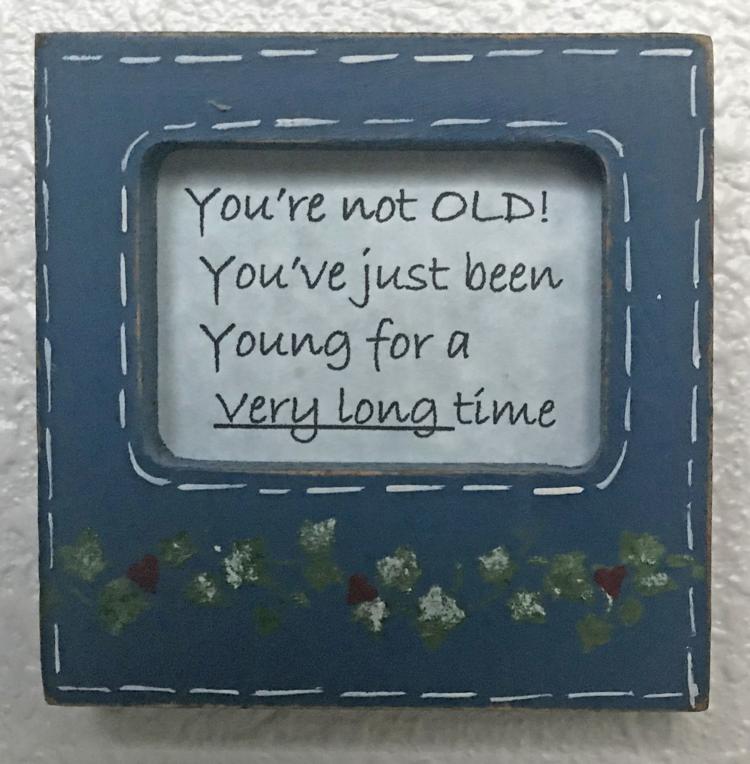 I can't think of a more perfect tribute to Betty Grant Wolfe Bangs.
I'm only a kid of 76 myself, but I want to be like Betty Bangs when I grow up!