COOS BAY — Once my wife Autumn found out that Friends Cafe was being opened by two former longtime Kozy Kitchen employees, she couldn't wait to see the menu.
So when Sports Editor John Gunther and I headed over there for lunch last week, I emailed her the menu while we were at the restaurant.
Her response was: "Yeah!!! Crispy chicken salad."
It was one of our go-to lunches at Kozy since her office was right across the street.
I still can't tell her if it's the same salad because after looking at the Friends Cafe menu I decided to try the patty melt.
I can honestly say, this probably wouldn't have been my first choice, but it fit all my requirements that day. You see, I was only a couple days out from a dental procedure in Eugene and I still couldn't have anything hard — and I assumed correctly that the fries would probably not make my doctor happy (don't they look wonderful, though ... John said they were).
Thus, if you see the photo of my meal, you see the homemade chicken noodle soup in the background as my choice of side. One of the few times I won't order fries with a sandwich — despite knowing that the soup or salad is better for me.
John, who had eaten a big burger the night before, decided on the fish and chips.
I like they way they have their burgers on the menu. You can order just a burger, which comes with a 5-ounce hand pressed Angus patty with all the normal toppings for $4.95. Then it's build-a-burger from there. If you want cheese, add 50 cents. Want a second patty or bacon, add $1.50. Want fries, a salad, soup or slaw to make it a meal, add $1.50.
So if you wanted a bacon cheeseburger with fries, you're looking at $8.45.
They also offer other toppings like Ortega chiles, jalapenos, mushrooms or avocado.
There are several things I look forward to trying on this menu. When you get there, take a look at the Southfork Melt and the Cross Road Chicken Sandwich. Or if you're in the mood for some steak, they offer it in their Eastside Steak Sandwich, a steak wrap and a New York Steak salad.
John liked the long thin fillets of cod breaded with Panko on his fish and chips.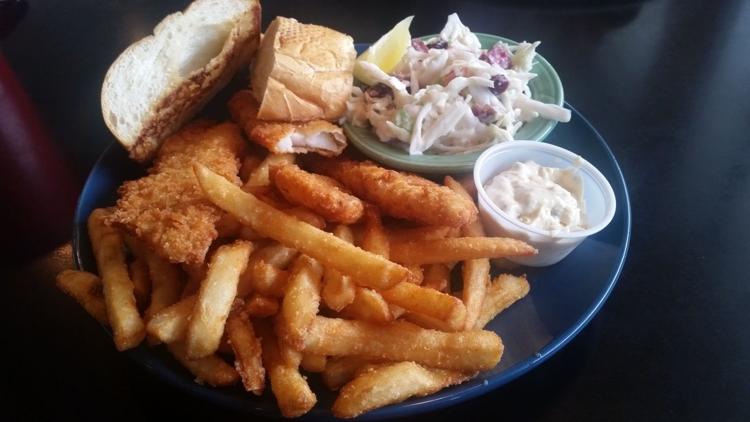 He said the Panko worked well, noting that of the places he's tried the fish and chips, that this was the first one to use the Panko breading.
"It was very good. The cole slaw was creamier than most, also very good. And the full plate with the garlic bread and soooooo many fries."
The fish and chips came was $8.95. My patty melt was $7.25 and add in a couple beverages and our total was $20.10.
I made my doctor happy by ordering something with soft grilled rye bread and the soup. The patty melt was done well with the grilled onions and Swiss cheese. The soup was fine, but I really wanted to try those fries.
I think the owners Loretta Young and Debra Robertson have something good going here. The prices are fair, the portions are good and the food is also very good. If they are lucky they'll get to work together for another 10 years.