COQUILLE — I did it to myself twice in one week.
After getting the spicy aroz con camerones at Molcajete on Monday, I ordered the Kung Pao Deluxe while visiting Chinese Kitchen in Coquille on Thursday.
Now, I know what the little peppers next to menu items means, but, I did it anyway.
Chinese Kitchen in Coquille is located at 156 N Adams St. just a few doors up from the Sawdust Theater.
I was looking at the Lunch Menu for the specials. At Chinese Kitchen they have three types of lunch specials: The special combinations (21 items for $8.50) that come with choice of hot and sour or egg flower soup, fried rice and crab puffs; another list of 10 items that you can choose any two for $6.50, or any three for $8.
Among the combination choices were Kung Pao chicken and Kung Pao beef, but lately I've been enjoying the meals at Chinese restaurants that have come with multiple protein options in the same dish.
So I flipped over to the seafood portion of the menu and found the Kung Pao Deluxe ($13) that comes with chicken, beef and shrimp. The menu says these are served with diced vegetables stir fried in a spicy pepper sauce.
The little pepper on the menu and the word "spicy" in the description. Two warnings did not deter me and I'm glad.
While the meal was plenty spicy, it did not come anywhere close to the sauce in Monday's aroz con camerones. That one made my head sweat. The Kung Pao Deluxe was spicy without being over the top.
The Kung Pao Deluxe also was huge. There was a whole pile of vegetables, which included zucchini, celery, onions and green peppers to go along with the chicken, beef and shrimp. This dish was big enough that I took half of it home, along with the bowl of rice that came with it.
Sports editor John Gunther and I had to do our weekly Cuisine visit a little early for this week since he has been covering the Four-Ball Championship at Bandon Dunes that started Saturday and continues until Wednesday.
The coconut chicken at Chinese Kitchen in Coquille comes with fried rice and crab puffs.
John found an item on the lunch combination page that caught his interest: Coconut chicken. He asked the server about it, and she grabbed her phone and showed him a picture of the dish. 
That was enough for John, he ordered it.
"It's something I don't remember seeing on other menus," he said.
Still not sure what he was getting into, the dish turned out to be a version of mar far chicken with a coconut sauce.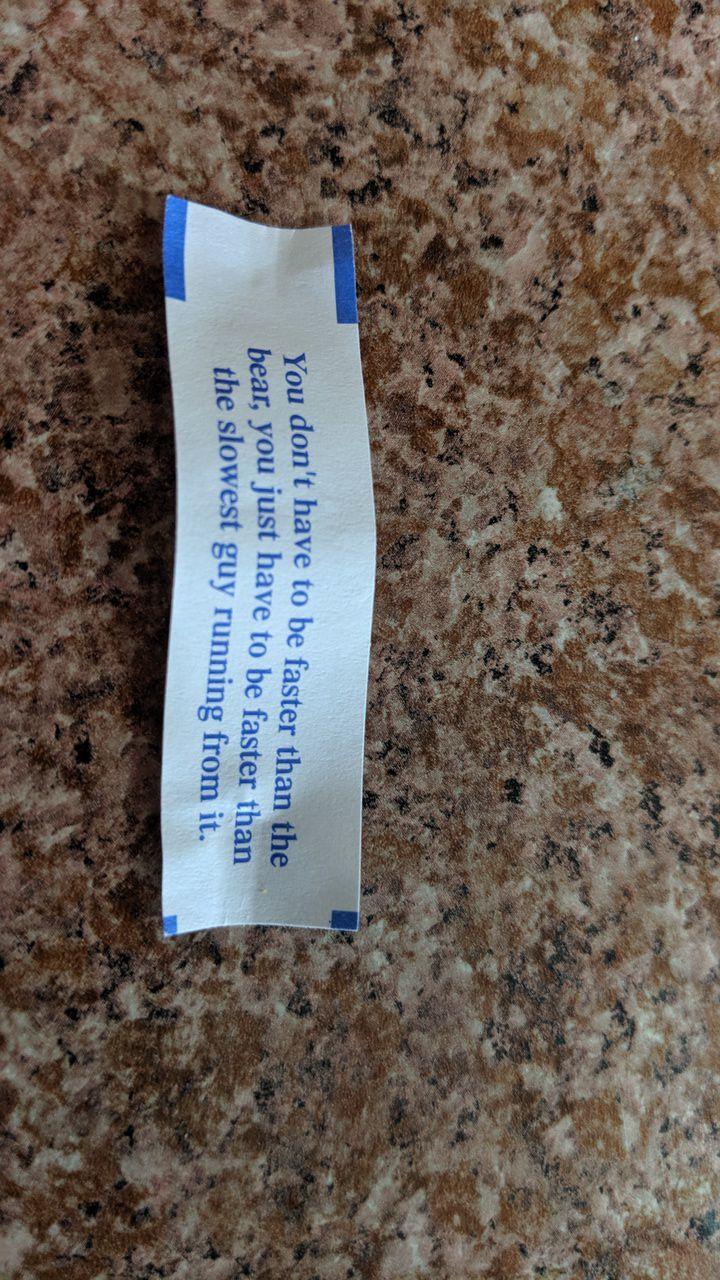 "It was not as sweet as I expected, but a nice taste," he said. "It was different, but good."
And of course, as he pointed out as we started eating, "Look at all those veggies (on my dish), but you don't have crab puffs."