Nine years ago, Chef Chris Foltz, was a sous chef at The Mill-Casino Hotel. Along with his normal duties, they put him in charge of making ice sculpture centerpieces for buffets and company banquets.
Trick was, Foltz didn't have any experience cutting on ice.
Matter of fact, there wasn't even anyone in the area that could teach him. He had to go to Washington, D.C. for a 3-day seminar to learn how to carve.
A lot has changed in the past decade.
Foltz, executive chef at Oregon Coast Culinary Institute, has recently returned from the Gelato World Championships in Rimini, Italy, where he won the ice carving title — which was one of several competitive disciplines included in the championships.
Besides his victory in the ice carving competition, Foltz also finished fourth in his culinary event — hot foods. Team USA finished seventh out of 14 international teams, just off the podium. The top five teams take home trophies.
Not bad for Foltz's international culinary competition debut.
"The competition was really intense," Foltz said, sitting in an now-empty dining hall at OCCI where Sunday night they had the Valentine's Dinner. "It was a great experience.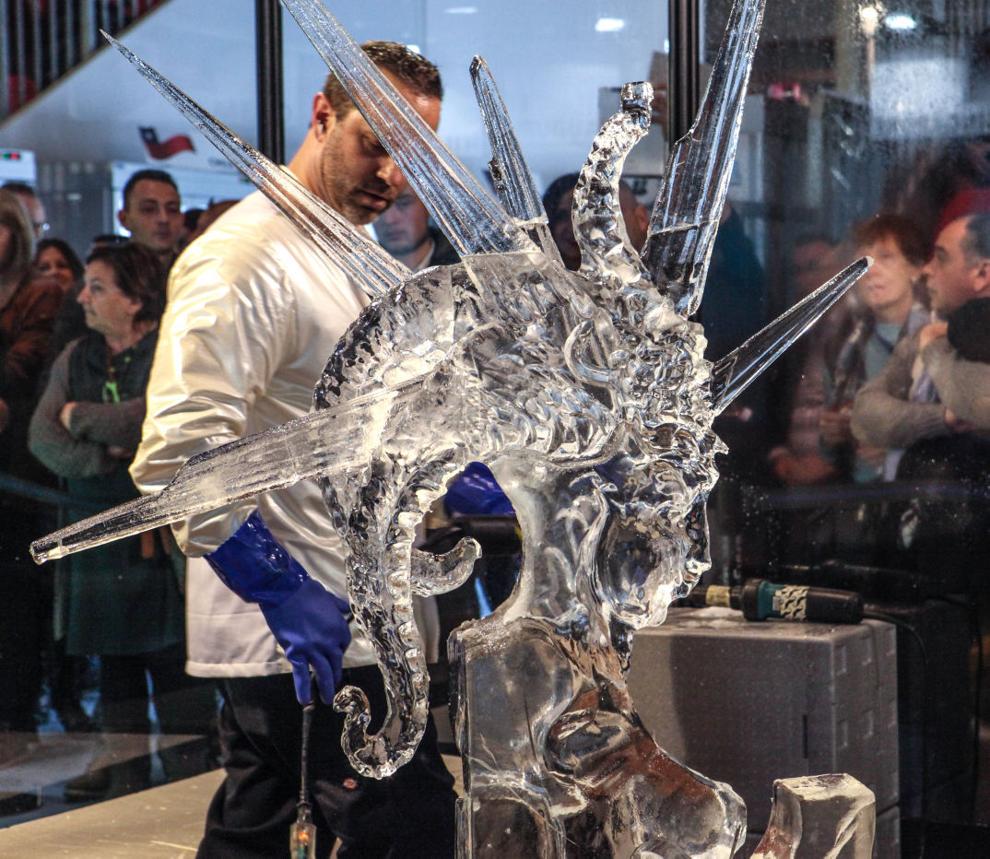 "It was awesome to go back to the team with this win. It was great to be able to do this for the U.S. team."
Foltz's list of international carving titles now numbers in the 30s, including two Masters ice carving titles and four world championships in wood carving.
If you can create it with a chainsaw, Foltz has probably won a title with it.
His latest title gave him a chance to reflect on his career.
They were very humble beginnings.
"I remember my first (wood carving) competition in Reedsport," Foltz said. "I had two used, rebuilt chainsaws with two extra chains and one angle grinder."
Now he has a 28-foot trailer that he takes to competitions that is the envy of most carvers.
"It is unbelievable what it has turned into."
He still remembers that first course he took.
"I spent three days with Mike Vosburg," Foltz said. "He taught me the tools. Gave me a basic understanding of the tools and how to fix them.
"Those same basic skills are what I'm still using today."
And passing on to others.
It's a concept that wasn't available just a few short years ago.
Culinary students who want to learn how to do ice carvings don't even have to leave the cozy confines of OCCI to learn from a master carver.
As a matter of fact, Foltz always has a couple of students learning how to carve, and he takes them to competitions all over North America.
When he competes in Ice Alaska, the World Ice Art Championships in Fairbanks, Alaska, every year, he always takes two students with him as part of his team.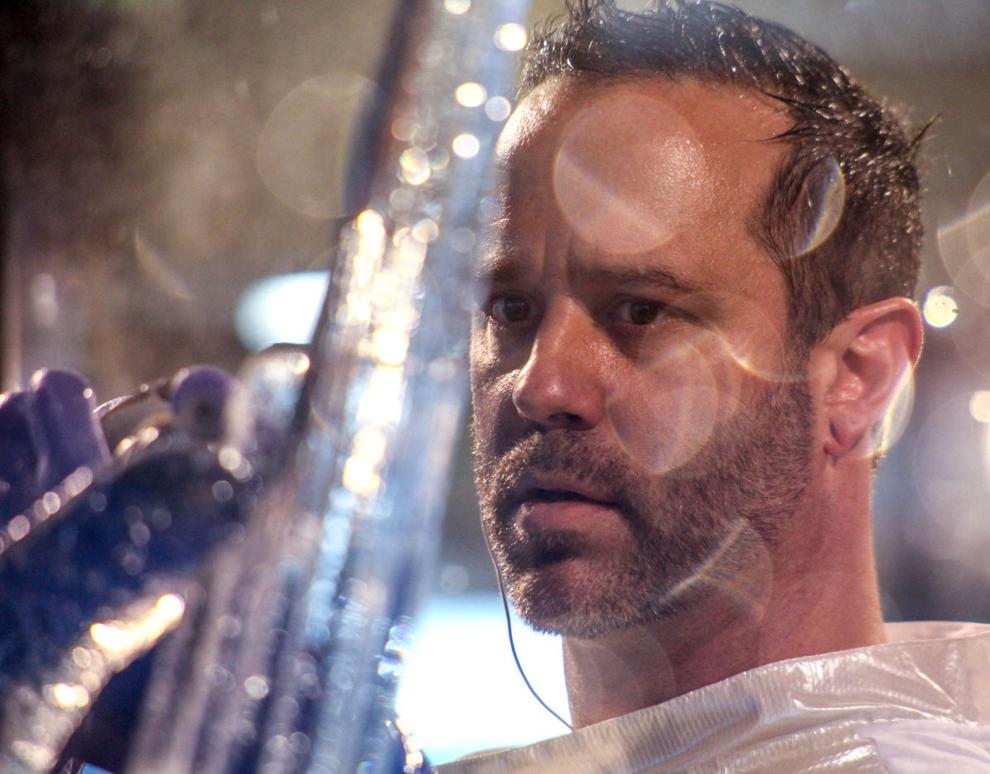 One of his current ice carving students is OCCI student chef Austin Greenleaf, who competed in the 2015 American Culinary Classic in Orlando last fall.
Foltz, who was in Italy for a month for the Gelato World Championships, made a small pit stop on his way home to see Greenleaf compete in British Columbia.
"We entered him in his first competition," Foltz said. "I hooked him up with a guy I taught up there a few years ago."
Obviously the pairing went well.
"It was three blocks (of ice), six hours. They won."
Being invited to be on Team USA might just be the cherry on top of Foltz's career — so far.
"I didn't know what to expect in the European culinary arena," Foltz said. "I was taking skills from a U.S.-Canadian ice carving circuit and now going into a culinary forum.
"For the first time in eight years, I want into an ice carving competition and didn't know anyone else."
"The manager for next time for 2018 has asked me to come back."
And in all likelihood, after Foltz's success, the other teams may put more focus on their ice carving.
While training for the competition with OCCI chefs Shawn Hanlin and Randy Torres, Torres made a prediction, Foltz said, "Randy told me 'You're going to change the way they look at things.'"
"This was the first time you have a master world class ice carving skill set in these competitions."
Foltz is one of the pioneers in this crossover between the ice carving and culinary worlds.
"There have been three of us, Victor Dagatan, Dean Murray, and myself who are are full-time chefs, who have been pushing the creative limits in ice carving and finishing in the top three in world ice carving competitions."
And to think, a decade ago, this career path wasn't even a blip on the radar for Foltz.
"All this because of culinary school."