BANDON — Before last Thursday, every time that sports editor John Gunther and I have gone for pizza, we've ordered one with a traditional sauce.
So, it came as a fairly big surprise when he ordered the Garlic Club at Bandon Pizza.
Looking down the porch at Bandon Pizza, you can order or pick up your pizza at the first doorway, while the dining area is further down the walkway.
This is a restaurant we tried to visit last month, but found out that they were closed on Mondays in the way we usually do — the lights are out when we drive up.
Our return visit was enjoyable.
Back to John's selection. After scanning the menu, I didn't see anything that said "anchovies," so I told John that I was good with whatever he ordered. 
He asked our hosts what were the most popular pizzas. The Garlic Club came up among their responses. 
Among the nine selections with traditional sauce, is the Papa Jim's, which is loaded with six types of meat (Canadian bacon, salami, linguica, pepperoni, sausage and beef).
They also have eight specialty pizzas, two made with barbecue sauce, four with the creamy garlic sauce, one with a cilantro sauce (Taco pizza) and one with a creamy pesto sauce.
The Garlic Club comes with chicken, Canadian bacon, real bacon, onion, tomato and cheese on the creamy garlic sauce.
If our page designers created this page the way I think they did, you can see John and I made short work of this medium pizza (8 slices).
For those of you who don't live in Bandon, this is one of those places that is hidden off the beaten path. To get there from the direction of Coos Bay, take U.S. 101 south, turn left on 10th Ave. SE and take it back a few blocks to Baltimore Ave. SE and the restaurant is on the right side.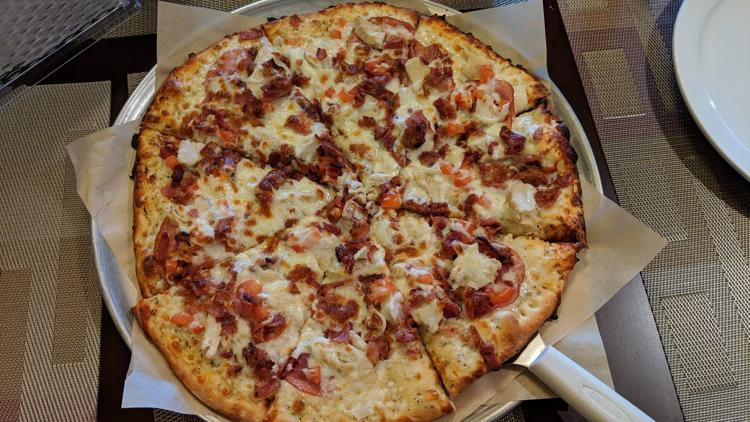 The dining area is small, with several tables downstairs and one upstairs, but one of our hosts said that this summer they are expanding the dining area to a suite next door. That should at least double the current space for tables.
They also have a few tables outside for when the weather is better than it was on Thursday.
Despite the different sauce, John found the pizza to be quite good. Nice and cheesy with plenty of toppings.
We invited Bandon Western World editor Amy Moss Strong to join us, but she was far too busy to stop in. When we told her what we were ordering, she texted us that she hoped we had "strong minty gum."
A slice of the Garlic Club pizza at Bandon Pizza. The restaurant is located at 1045 Baltimore Ave SE. It's on the southeast corner of Baltimor…
I didn't think the sauce was too garlicky, but I also didn't have a date after having the pizza so I may not be the best judge of that.
Either way, it was tasty, and there were plenty of toppings to go around.
The menu also includes five different types of calzone, breadsticks, Buffalo wings, mac & cheese wedges, mozzarella sticks and jalapeno poppers. 
We think it was worth the trip to find it.
Bandon Pizza is open Tuesday through Thursday from noon to 8 p.m., Friday and Saturday from noon to 9 p.m. They have delivery after 3 p.m. and also have a $5 lunch special for a two-topping, 7-inch person pizza and a drink.