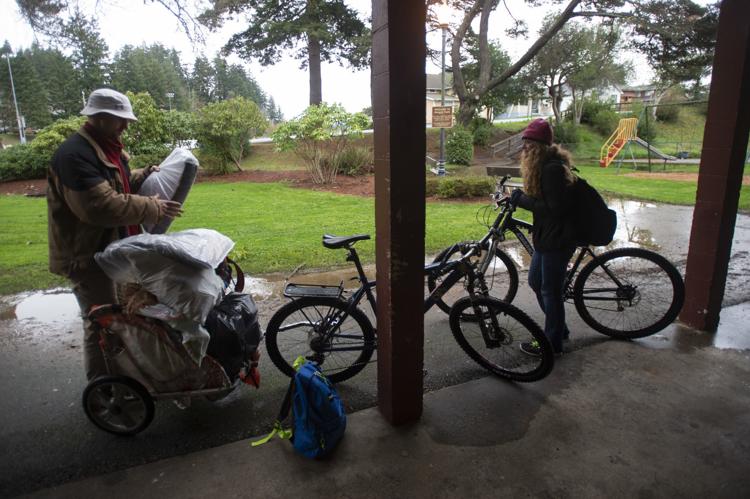 COOS COUNTY — For the third year in a row, the U.S. Coast Guard has helped with the Point in Time Count on the southern Oregon coast. The count is an annual nationwide effort that takes a snapshot of the homeless population at the end of January.
In Coos County, it is led by Oregon Coast Community Action with the help of other local nonprofits including the Nancy Devereux Center and Alternative Youth Activities. Volunteers from around the community aid in the count at various locations and some even march into the woods to visit the camps.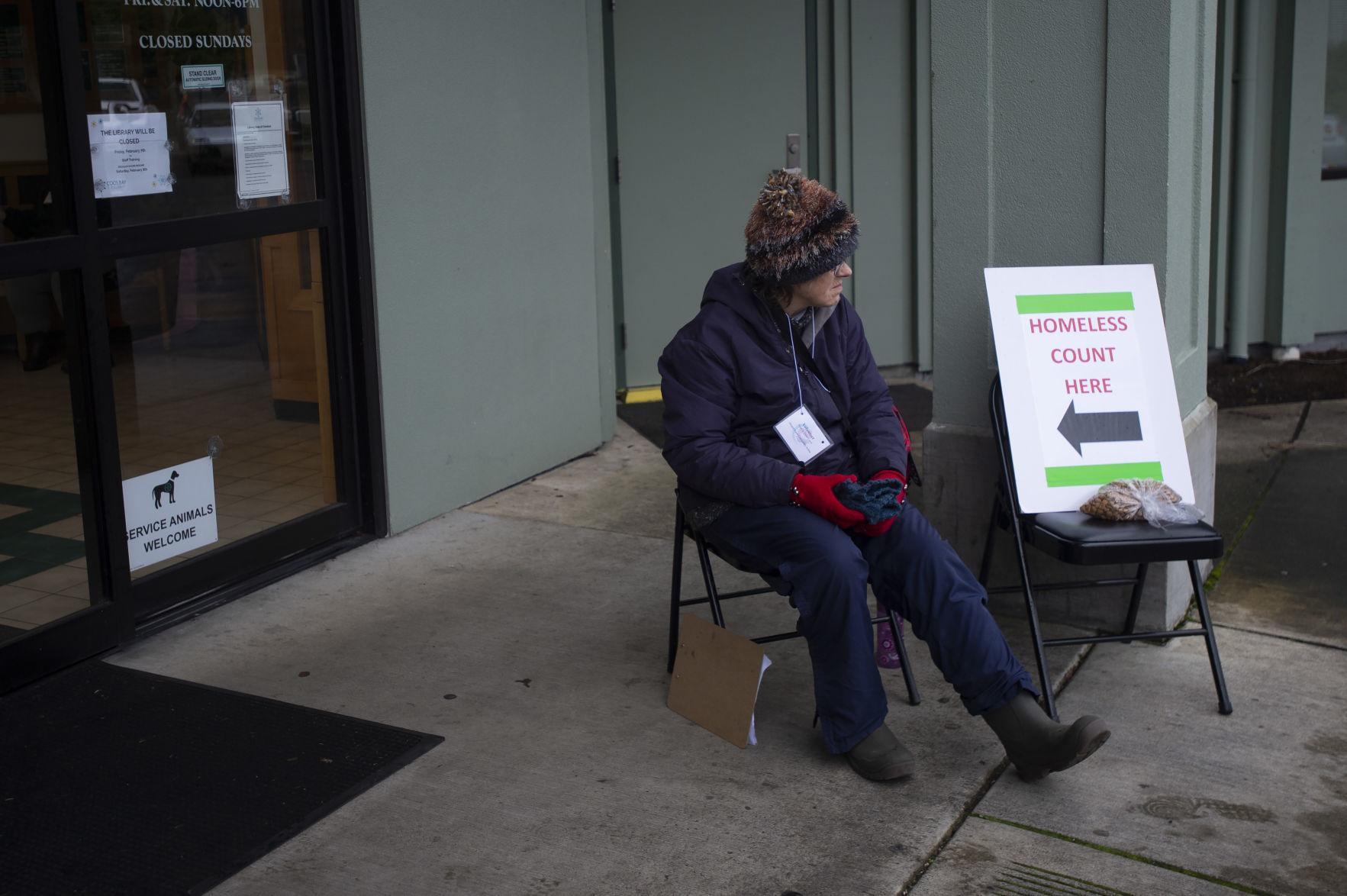 But for 27 volunteers from Coast Guard Station Coos Bay on Wednesday, Jan. 29, they manned counting stations at the Charleston Food Pantry and Charleston Welcome Center. Some of the Coast Guard volunteers also helped with the Charleston brush count.
"We had a few members doing a brush count in the woods looking for people camping, but they didn't make contact with anyone," said First Class Petty Officer Daniel Bartholomew. "They did leave supplies at the camps."
Their stories
During the count, Bartholomew said he was impacted by the stories people shared on how they became homeless.
"Something that moved us most was finding out how many homeless veterans there are, that there's people like us who served their country but for one reason or another ended up homeless," he said. "Others are college educated, some are affected by the fires in California, and some who ended up with medical conditions like a stroke and just can't work. Every story catches you by surprise."
For Bartholomew, volunteering during the PIT count meant fostering a greater relationship with the community as well as changing people's perceptions.
"A lot of people see (homeless individuals) on the streets without understanding how they got there," he said. "When they tell their story, we can see how easy it is to become homeless. Some people are out there working jobs but don't have money for a first and last security deposit. I've had people tell us 'Why are you handing stuff out when they don't want to live in houses?' But that's not our experience at all. These people want to work and don't want to live outside."
New app
Alternative Youth Activities Executive Director Scott Cooper helped coordinate the brush counts on Wednesday, splitting volunteers up to cover a wide range of locations where camps are known to be set up. However, Cooper and his volunteers walked through the dense Oregon brush in heavy rains. Because of the bad weather, the brush count didn't encounter many homeless.
Cooper and his group split up to cover Lakeside, Charleston and Empire Lakes areas at 8 a.m. on Wednesday. Two hours later, they coordinated again to cover Eastside and up Elrod Avenue in Coos Bay.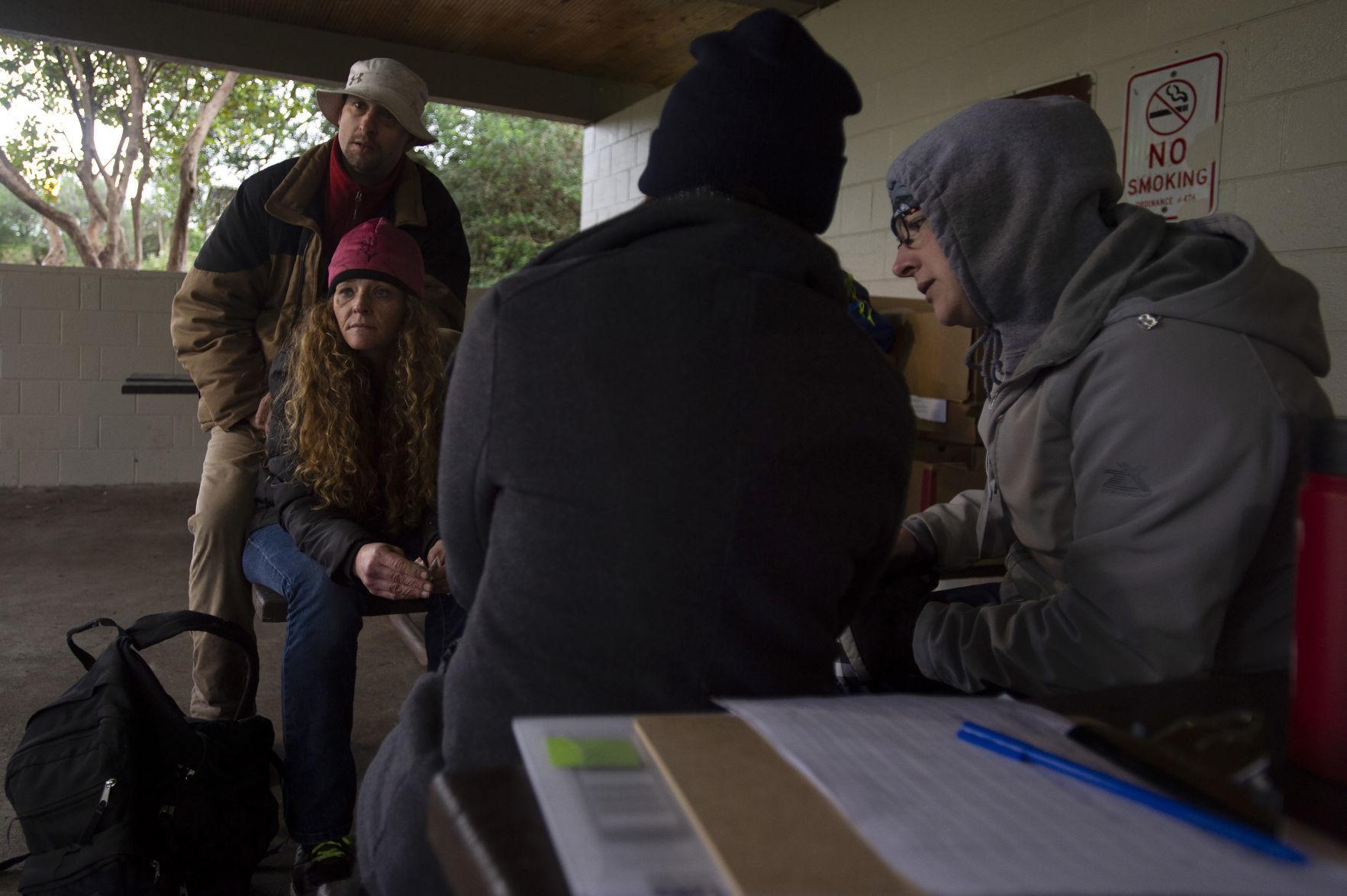 The biggest change in this year's count was the addition of an app. This meant taking information through a digital format instead of having to deal with sheets of paper. For Cooper on the brush counts, this made things easier.
"There were tears that day," Cooper said. "I saw more tears from the volunteers than the homeless. When the volunteers hear stories, they get an 'aha' moment and then it becomes real."
Word of mouth
Tara Johnson, executive director at the Nancy Devereux Center, oversaw one of the counting locations at her nonprofit on Newmark Avenue. Though Cooper didn't encounter many homeless folks during his efforts on Wednesday, Johnson said she saw a 20-percent increase.
"We were super busy," she said and attributed the amount of people checking in at her location to word of mouth surrounding the event. "We worked really hard to communicate with our clients on the importance of being counted, to tell their friends."
Not only that, but ORCCA provided handouts with the locations where people would be counted.
"There was just a big push to let people know about this," Johnson said.
Though most individuals didn't have any issues being counted, Johnson said there were some who didn't want to participate.
"But for the most part, everyone understands the value of having their story shared," she said. "It's their chance to say 'This is why I'm homeless.' They don't really go into what happened, but can say if it was because of domestic violence. So most clients appreciate having the chance to share their information."
Margaret Bartholomew, director of program development and integration at ORCCA, said that overall the four-day count went well though weather is expected to have reduced the numbers.
"The new app went well too," she said. "About 90 percent of our surveys were done digitally and it was nice because we were able to look at the data real-time and do data quality checks with specific volunteers if they were missing questions. We could follow up with them .... Overall, this count looks like we're a bit lower than in the past but I contribute that to the weather."