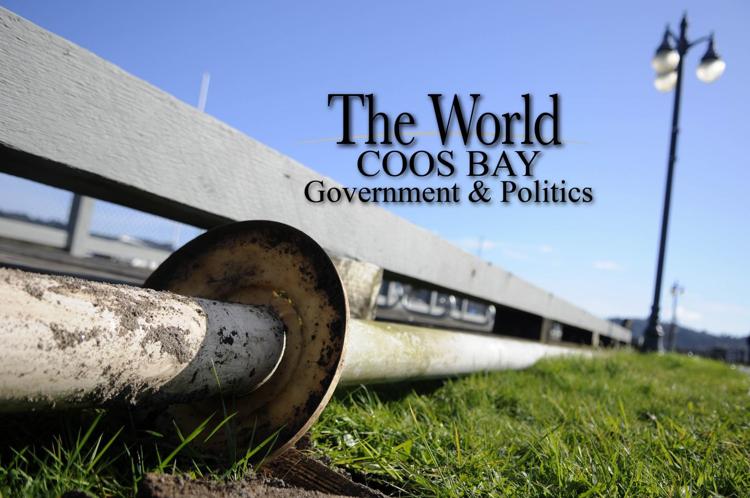 COQUILLE — Coos County Board of Commissioners voted to approve a new ordinance, amending the Coos County code to revise the North Bay Urban Renewal Plan.
The North Bay Urban Renewal Plan was set to expire in 2018 and needed to be updated to extend the life of the Urban Renewal Agency. Amending the code was necessary to collect tax revenues and fund projects beyond 2018 in accordance with Oregon Revised Statutes.
The first change to the Urban Renewal District was reinstating a sunset period. Instead of being able to extend the life of the agency, it will now sunset in 2038.
Second, the agency removed a levy provision which allowed the agency to fund projects beyond the tax implemented in the district by placing a special levy on all taxpayers in the county.
Finally, any increase in tax increment financing can no longer be approved by just the Urban Renewal Agency but also must be approved by the Board of Commissioners.
A few citizens who do not agree with the North Bay Urban Renewal Agency showed up to the meeting to voice their opinions. Those who spoke feel that there should have been a countywide vote to determine whether or not the North Bay Urban Renewal District be amended and continue its operations.
"This should have triggered a vote ... I'm disgusted by this whole process and I'm disgusted by the attitude here that we don't care because we're not going to ask the people ... . Put it on the ballot if you really want people know, I just don't think you do," Bandon resident Rob Taylor said.
There were those who spoke in support of amending the agency. Among them was Coos Bay City Manager Rodger Craddock, who said that the City of Coos Bay is in support of amending the North Bay District.
The primary function of the Urban Renewal District is to bring in new infrastructure, some are concerned specifically about that area.
"One of the arguments that we've heard is basically that area is unsafe because of the potential of an earthquake. So, we shouldn't encourage any industry to build out there, that is not supported by any of the maps we've gotten from the Oregon Department of Geology and Mineral Industries," Commissioner Melissa Cribbins said.
The North Bay Urban Renewal District works closely with the Port of Coos Bay.
"Our biggest drive for passing this amendment is so that, regardless of Jordan Cove's success, we can still have a tool that we can use to invest in that district to enhance other industries," Director of Port Development Fred Jacqout said.
The North Bay Urban Renewal District draws around $80,000 in tax revenue each year.
Jordan Cove LNG's plan is to develop its facility within the North Bay Urban Renewal District, and many people who support the project are worried that amendments to the Urban Renewal District will make it more difficult for the company to complete its plan. However, Jordan Cove has not applied for any Urban Renewal funding.
"They are not applying for any Urban Renewal funds. They intend to fully fund all of their own infrastructure," Jacquot said.
In 2017, the Coos County Urban Renewal Agency hired a consulting team of Elaine Howard Consulting LLC, BergerABAM, BST Associates, Tiberius Solutions LLC and ECONorthwest to review and update the North Bay Urban Renewal Plan so that they were inline with Oregon Revised Statutes.
There were several meetings over the last year where the public was able to come and voice their concerns about amending the district, and according to commissioners, those concerns were considered when drafting the new ordinance.
Commissioner Bob Main said at the meeting that he is not a fan of urban renewal, but with the specific amendments being made, he was alright with the district continuing.