Thomas H. Kelly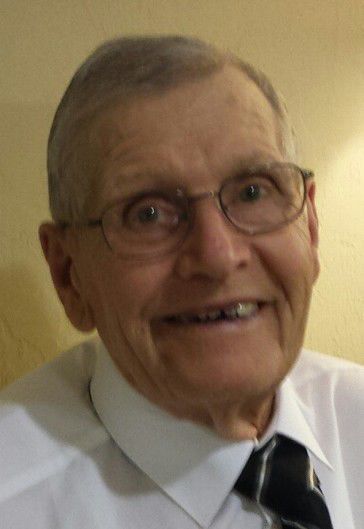 April 2, 1926 - Jan. 30, 2018
 A Mass of Christian burial for Thomas H. Kelly, 91, of Coos Bay, formerly Ellendale, N.D., was held at 10 a.m., Friday, Feb. 9, at St. Helena's Catholic Church in Ellendale, N.D., with Father Jason Asselin celebrant. Visitation will be one hour prior to the service at the church. Burial will be at St. Helena's Catholic Cemetery. Thomas died Tuesday, Jan. 30, 2018 in Eugene.
Thomas Harold Kelly was born April 2, 1926 in LaMoure, N.D., to Thomas and Margaret Kelly. He attended school in the Forbes, N.D., area and upon completion began an apprenticeship in the auto service industry and served primarily as a General Motors automotive technician for 50 years. Thomas married Gladys Weber Sept. 4, 1954, in St. Helena's Church, in Ellendale, N.D., where they made their home until moving in 1960 to Coos Bay, where he lived until his death.
Upon his retirement in 1988, Thomas enjoyed visiting and attending his grandchildren's games and activities. He was devoted to his family and the Roman Catholic faith all his life and was a member of Holy Redeemer Catholic Church in North Bend, until the time of his death. Thomas served as a mentor for many in the auto service industry.
Grateful for having shared Thomas' life are his wife, Gladys Kelly of Coos Bay; daughters, Cynthia and Ken Heupel of Edmond, Okla., and Charlotte and Gordon Porter of Creswell; grandchildren, Josh and Dawn Heupel of Orlando, Fla., Andrea and Dan Boren of Edmond, Okla., John and Amanda Andersson of Eugene, Jacob and Terra Parten of Oklahoma City, Okla., Zachary and Sara Parten of Mobile, Ala., and Caitlin Parten of Indianapolis, Ind; great-grandchildren, Hannah and Jace Heupel, Janna and Hunter Boren, Kaden, Peyton and Obadiah Andersson, Samuel Parten, Kahlan and Arya Parten; many nieces and nephews; and sisters, Bernice Carlson of Lisbon, N.D., Donna Mae Rymer of Sioux Falls, S.D., and Janice Wilson of Yakima, Wash.
His daughter, Juliet Parten; grandson, Aron Andersson; his parents; brother, Lawrence Kelly; sisters, Margaret Fleming and Beatrice Hermansen preceded him in death.
Spitzer-Miller Funeral Home, 1111 South Main Street, Aberdeen, N.D. is in charge of arrangements, www.spitzerfuneralhome.com.
Leave a loving comment on the online obituary.