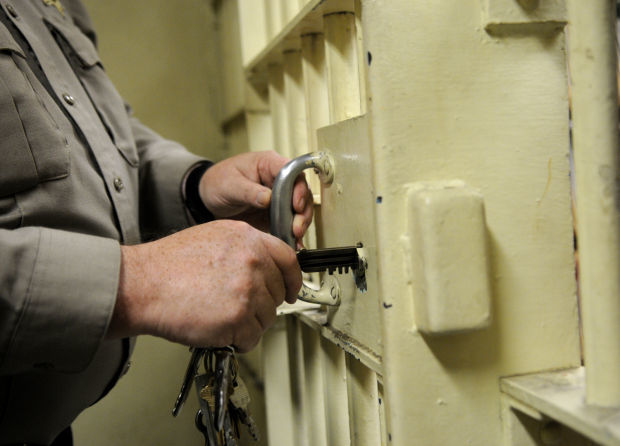 COQUILLE — The Coos County Jail is now housing twice the number of inmates since it opened a second jail pod at midnight Thursday.
Coos County Sheriff Craig Zanni made the announcement Wednesday afternoon that starting midnight March 1, 2018, the Coos County Jail will be opening a second jail pod.
"We're glad to be back to where we should be," Coos County Sheriff Craig Zanni said.
After years of being understaffed, the number of jail beds at the Sheriff's disposal will go from 49 to 98.
The Sheriff's office has suffered several hardships since its budget was cut back in 2007. The office lost 46 staff members as a result of that cut and were unable to pay competitive salaries in the following years.
"Last year we were able to fix our salary base so we're competitive with other agencies when trying to hire people," Zanni said.
Even with the salary increase the Sheriff's Office struggled for a while to find qualified applicants and get them trained.  
"We've finally got enough staff. They're young and inexperienced, but we're excited moving forward," Zanni said.
Getting the jail back up to 98 beds has been Zanni's number one priority since the second pod closed in 2015, but in recent months he's had some extra pressure from the Coos County Board of Commissioners.
Commissioners were put on notice by the state about overspending in the jail regarding parole and probation inmates. Because space was limited, the jail was not always able to provide the amount of beds the state would pay for.
The state pays the sheriff's office for 19 beds a day at a rate of $111 per bed, which is right around $63,000 dollars a month. This is a flat monthly rate the state pays the jail whether they use more than 19 beds or less than 19 beds each day.
"What's been happening is a lot of probation and parole violators have been released early, because they were nonviolent or non-criminal and just status violations. It wasn't helping parole and probation with their program. So it will really help them because if they can give somebody a detainer for violating their parole or probation they won't be getting right back out," Zanni said.
According to Zanni many people, including other local police agencies, have expressed their concerns about people who been have brought in for minor crimes and released because of limited jail space. Zanni is confident that the reopened jail pod will help rectify a loft of those problems.
North Bend Police Chief Robert Kappelman said, "This is great news. It's going to mean less repeat calls to those who chronically commit crimes…Not only has it been difficult to hold people accountable, but it's also made it difficult to protect the community from people who chronically commit crimes."
Since the jail dropped to 49 beds the CCSO began using a matrix to determine which inmates get released when the jail is at maximum capacity. 
"Hopefully some of these people that are taken into custody will be held and we won't see as many repeat offenders. I really appreciate Sheriff Zanni and his staff for working hard and making this happen," Coos Bay Police Chief Gary McCullogh said.