The meeting helped raised awareness and training about the overdose-reversing drug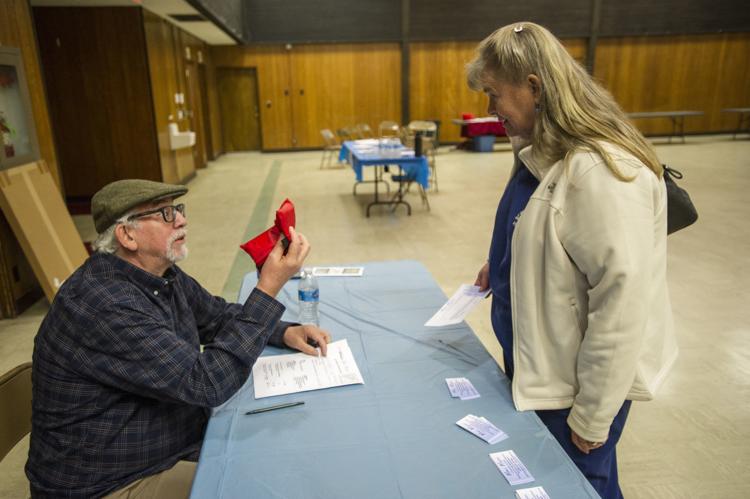 NORTH BEND – For the first time, Max's Mission brought free life-saving naloxone to Coos County.
The Wednesday night meeting on Nov. 14, held at the North Bend Community Center, invited the public to be trained and collect free naloxone inhalers. Coordinating with Max's Mission was Advanced Health, one of the leading local agencies fighting against the opioid epidemic.
"We have one of the highest overdose hospitalization rates in the state, which is why this project ended up here," said Kate Frame, the prescription drug overdose prevention coordinator with Advanced Health. "The Prescription Drug Overdose Prevention Project, along with work done by Advanced Health, has helped bring down prescriptions. We know with fentanyl in the community, we want people to have naloxone because fentanyl poses such a huge risk."
According to Frame, fentanyl can now be found locally in heroin, cocaine and even marijuana.
Max's Mission is to arm the public, from households to businesses and schools, with naloxone. Co-founder and Executive Director Julia Pinsky began the nonprofit with her husband, David, in 2016.
"We started this two years after our son Max died from a heroin overdose in our home in 2013," she told The World before the community meeting began. "We lived in a semi-rural area, 20 minutes from the nearest hospital. I never heard of naloxone then and he'd been using opioids for almost a year."
After he died, three other young men in Ashland, where they lived, died in a six month period. The Pinskys knew most of them.
"It had a huge impact for us," she said.
Following this, she spent much of her time online researching the opioid epidemic. It was how she discovered naloxone, which in places back east allow the general public to carry the overdose-reversing drug.
To make that happen in Oregon, Pinsky called Jackson County's medical director who sent her to a naloxone workgroup where she met mainly pharmacists, doctors and prescribers.
"I kept asking, 'How can I get it? How can families living with opioid users get it?'" she remembered.
She went home and asked her husband what he thought of helping her start a nonprofit.
"We had a GoFundMe and raised enough money to buy some naloxone, we had a lot of community support, and we were off," she said.
Now she and her husband take Max's Mission to communities throughout Oregon to train people on how to use naloxone and hand it out for free. At the Wednesday meeting in North Bend, Max's Mission worked with HIV Alliance, which provided the naloxone for free.
"What meetings like this do is it gets into people's brain that they can have naloxone in their home and they then have it to save someone's life," Pinsky said. "Fentanyl is here, in many drugs from opioids to meth. Many people now need to carry naloxone because there's a shorter window of time if there's fentanyl in something. You have two minutes before an overdose when fentanyl is involved."
To learn more about naloxone and how to use it, visit www.maxsmission.org.  
"All it takes is one dose up one nostril," Pinsky said. "We've given this to police departments, bars, and a taxi cab company. To buy it is $150 retail. By having naloxone in your home, it's like having a fire extinguisher."
According to Frame from Advanced Health, the public can also go to most pharmacies and ask for it without a prescription. Businesses can coordinate with HIV Alliance to do office trainings with staff for free.
"We will follow the surgeon general's idea with saturating the community with naloxone and keep doing community events like this one," Frame said. "We want everyone to have it and know how to use it."
Pharmacies that give out naloxone are as follows: BiMart Coos Bay, BiMart North Bend, BiMart Brookings, Corner Drug Gold Beach, Fred Meyer Coos Bay, Fred Meyer Brookings, Rite Aid North Bend, Rite Aid Bandon, Rite Aid Brookings, Safeway Coos Bay, Safeway North Bend, Semperts Myrtle Point, Walmart Coos Bay, Hometown Drug, Waterfall Pharmacy, Coast Community Pharmacy, and Reedsport Pharmacy.