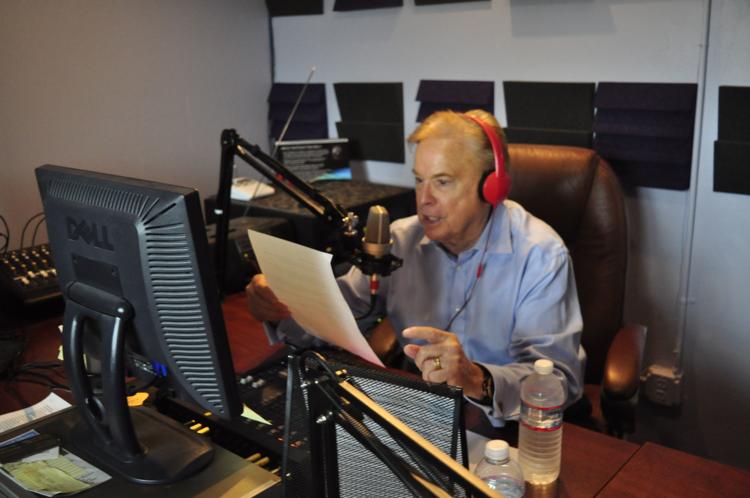 COOS BAY — Radio DJ and personality Roger W. Morgan has made his home in Coos Bay after purchasing his own radio station here six months ago.
So far the station, which Morgan named 105.9 The Legend, has been quite successful. Operating out of the second floor of the Tioga building, the young station for old souls has already earned a number one ranking in the Coos Bay Area Morgan said. 
Morgan has worked all over the U.S in his 60 year career in radio. He began in Salem but moved on to other major cities like Portland, Seattle, Houston, and San Francisco.
"I left Salem and almost immediately moved up to Seattle, Wash. Seattle was a big stop for me, because that was a much larger market and KJR in Seattle was a station that everybody loved. It was maybe the second largest station on the West Coast, outside of Los Angeles. That was a natural move for me. From there I went to Houston, Texas, another very big market, and I kept moving up to bigger markets," Morgan said.
An Oregon native born in Salem, Morgan began his career as a radio DJ back in 1957. However, his entertainment career started several years prior when he worked as a child rodeo star.
"My father was a rodeo announcer, and when I was three I was in rodeos as a trick roper under my real name Jerry Lambert," Morgan said.
Morgan's father Mel Lambert was a very popular rodeo announcer, who according to Morgan has been enshrined in the Cowboy Hall of Fame.
"His career all through his life was announcing rodeos. That's how I got intrigued by being an announcer. I decided that would be a cool thing to do," Morgan said.
When Morgan was 11 he met Gene Autry through his father. Autry wanted Morgan to work alongside actress Gail Davis in the TV show Annie Oakley as the main character Annie's little brother. Morgan's father didn't want him to move to California, so he didn't get that job. However, the young man they decided to hire for the role didn't know how to ride a horse, so Morgan did the horse riding stunt work for him.
In 1969 Morgan got the opportunity to not only meet the Beatles, but also spend the better part of a week with them. This was shortly after rumors began to surface that Paul McCartney was dead.
"I was on the air in Omaha, Neb. at the time. I had talked about the rumor extensively on the air, and they invited me to England to interview Paul," Morgan said.
Morgan eventually decided he wanted to move back to Oregon and settle down.
"During the mid-1970s I started to remember Oregon, and thought that's a pretty good place. If you're going to grow up somewhere that's a good place to grow up. I literally spent that time from the 1970s through about a year ago getting back to Oregon," Morgan said.
A little over a year ago Morgan found a job at Bicoastal Media in Coos Bay to manage the eight radio stations the company owns.
"After about a month we fell in love with Coos Bay," Morgan said.
According to Morgan, Bicoastal wanted to use him to repair relationships with some of its advertising clients. Morgan said that the best way to do that was to improve the quality of the radio station before going back to the clients. Morgan said Bicoastal disagreed and fired him.
"I had been in this business since 1957, and nobody had ever fired me. Really at that point I reflected on my career and thought that I'm older now, and maybe I'm just past the point where I'm a viable candidate for radio. Maybe I should just retire," Morgan said.
As Morgan thought of retirement he received a call about radio station in Coos Bay that was for sale. As quickly as he could, he and his business partner bought the station, and in the past six months has turned it into 105.9 The Legend.
"Here we are six months later and it's really taken the area by storm. The station is doing exceedingly well," Morgan said.
One of the stations major successes is its limited commercials. Morgan makes a point to not have more than three commercials run between sets of music.
The station features other legendary radio personalities Shotgun Tom Kelly and Bob Malik, out of Los Angeles. The two pre-record their Coos Bay shows from their home studios in L.A, and send them in to Morgan to broadcast. Kelly and Malik are good friends with Morgan and decided to provide content for the station for free.