U.S. Coast Guard advises public to be aware of tsunami hazard zones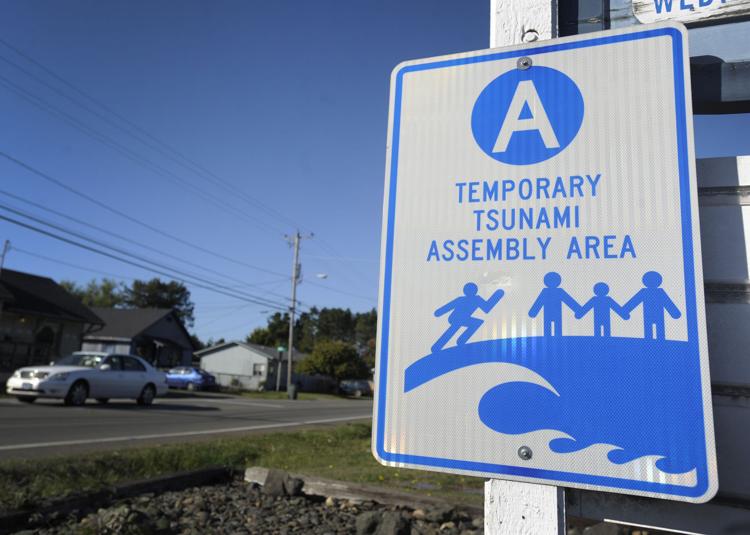 COOS COUNTY — Many Oregonians living on the coast woke to a tsunami watch Tuesday morning.
The watch alert went out after a 7.9 quake shook just off Kodiak Island in Alaska at 12:30 a.m. Many living in the lower parts of the island were evacuated as they waited for a mammoth wave that never came.
The tsunami watch was canceled a few hours later, but left many wondering what to do when it happens again.
"The first step to prepare for a tsunami is to find out where you live, where you work and where you spend a lot of your time in relation to the tsunami hazard zones," said Lt. Alex Drake with the U.S. Coast Guard's Air Station in North Bend. "Just knowing your home or work is in the zone is the first step to assess your risk. The second piece is knowing how to get out of that tsunami zone if you do receive a warning that one is coming."
To find out where the tsunami zones are, tsunami maps are available at the county and city courthouses.
"The National Weather Service publishes information if a tsunami is inbound, and now almost everybody has the capability to get alerts on cell phones," Lt. Drake said. "For any major disasters, we will push alerts on the phone."
However, during a tsunami warning event, the Coast Guard's main concern is the maritime community.
"We will issue radio broadcasts on Channel 16 VHF radio to notify any mariners on the water of what the risks are," Lt. Drake said. "That's the one part of the notification process that the Coast Guard handles."
Of course, the amount of time between an earthquake and arrival of a tsunami depends on where the earthquake originates. In the case of the 7.9 quake in Alaska on Tuesday, one never arrived. However, if one were on its way, a warning message would provide an estimated time of arrival for the first wave to reach Oregon shores.
"If we would feel an earthquake here, the tsunami could be here as soon as 15 minutes," Lt. Drake said.
"There's been a lot of research done on what type of impacts this area would have if we had a significant earthquake," he continued. "People need to be prepared to take care of themselves for potentially an extended period of time. Simple things like food and water could be a challenge. People need to be ready and take care of their families."
In fact, resources may not reach the Coos County area after an earthquake or tsunami for months depending on the damage.
"The bridges in the area are our lifeline to the rest of the world basically," Lt. Drake said. "I'm thinking more of a Cascadia subduction zone earthquake followed by a tsunami, that's the biggest risk because if the bridges are compromised by an earthquake that's going to hinder supplies coming in."
However, last year local emergency offices came together to establish an incident command service team.
As previously reported, the ICS would be essential during a Cascadia earthquake, which would isolate Coos County for up to six months.
To become a SAR volunteer or to join the ICS command team being formed, visit www.co.coos.or.us/Departments/SheriffsOffice/SearchandRescue.aspx to fill out an application.
But the big message Lt. Drake wanted to get out is for people to first be aware of their risks based on where they live, work and play. The other part of that message is to be prepared.
To help encourage the public to be prepared, Gov. Kate Brown announced last year that Oct. 15 is now the Great Oregon ShakeOut Day. Not only that, but the Coast Guard held a simulation in 2016 to help prepare its personnel on the Oregon Coast in case a Cascadia-sized subduction quake hits.