LAKESIDE — Tenmile Grub restaurant in Lakeside is helping support the arts and student activities by selling artwork designed and created by students in the North Bend High School metal work class.
The restaurant's walls are adorned with student-crafted figures, animals, landscape scenes, and other designs cut from metal. According to Jeff Hagar, metal work teacher at NBHS, the students design everything from the ground up, then craft it with the school's machines and laser cutter. The artwork on display is also for sale, with proceeds going to fund the NBHS program.
A finished metal decoration made by a student in the metal shop at North Bend High School.
The whole thing started with students learning to use the CNC Plasma Cutter, as well as the computer design and programming needed to use the machine, in the class. When students run out of pre-planned projects to work on, they are free to come up with their own projects. These projects can then be put up for sale for a low cost.
"Our main objective of doing the metal work and selling the metal work … is to keep our program alive and keep it growing as the kids are learning," Hagar said. "Everything goes back to the students so they can progress, they can learn, they can get better skills. They can learn computer programming developments and they can learn the manual skills of actually cleaning the metal, taking the parts and welding or fixing if any needs repairs. So stuff like that."
The program also enhances other classes. As students learn to use the plasma cutter, they need to understand the measurements and dimensions they plan or risk having too much cut away and not getting what was planned. They also learn a lot about programming and computer design. The class also teaches skills not normally associated with metal work. One of the projects for sale is a large analog wall clock. Hagar said the class purchased the mechanics for the clock and learned to install them as part of the project.
You have free articles remaining.
Register for more free articles
Stay logged in to skip the surveys
Hagar said his students are very excited about the metal shop program. He recalled some students enter the class reluctantly, expecting another sit-down class, but after a few weeks are excited and looking forward to it. He said they get to build a project and have something to take home, which makes it more exciting for the students.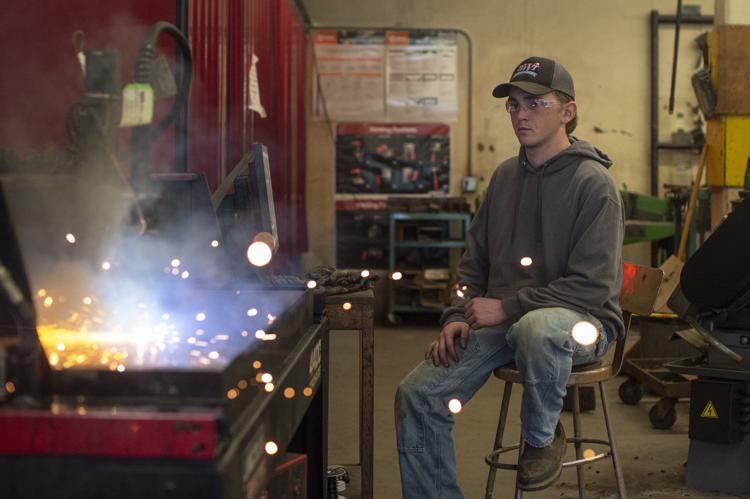 "It gives them something fun to look forward to, rather than just another sit-down class," Hagar said. "It's a lot of fun and kids are enjoying it. It makes a big difference if they're happy to go to school, versus 'ah man, I have to go to school today.'"
Items made by the students are available for sale at Tenmile Grub and Hagar's Facebook page. They are also working on setting up a Facebook page through North Bend High School as well as looking into merchants in Reedsport who want to sell the pieces.
"(It helps) show kids what they are doing, people are enjoying." Hagar said. "(People) love seeing what they make and what they can do."
Tenmile Grub restaurant in Lakeside is helping support the arts and student activities by selling artwork designed and created by students in …