NORTH BEND — Charles Edmunds, artist, known locally as "Charles of Charleston," will be featured at Gallery By The Bay for the months of November and December. A reception in his honor will be held at the gallery 5-7 p.m. Saturday, Nov. 3. Robin O'Neill, guitarist/harpist will provide music throughout the evening. The public is invited to attend this social evening of fine art and great music. Refreshments also will be served at the opening reception, 2100 Union in North Bend.
The artist's exhibit will span four decades of his drawings and sketches from the time he graduated from The Philadelphia Museum School of Art in Philadelphia to present day. Shortly after graduation he traveled across the United States, visiting the national parks of our beautiful country, putting on canvas the landscapes he had experienced while there, and points of interest along the way. Upon reaching the West Coast you might have found him doing caricatures on the streets of San Francisco for 25 cents each. He has elevated his prices since then, however.
At 10 years of age Charles was hailed as a child musical prodigy on his instrument of choice, the oboe, and was invited to appear with the Tacoma Philharmonic Orchestra in Tacoma, Wash., playing "Brahms Variations on a Theme" by Hayden. This was followed by accepting an invitation for a full four-year scholarship to Curtis Institute of Music in Philadelphia, Penn. The music school was ranked with Eastman and Julliard as one of the finest and most respected colleges of music in the Eastern United States at that time.
There came a turning point in his life of music when he graduated from Curtis. After serving in the U.S. Navy during World War II as a corpsman third class, Edmunds enrolled in the Pennsylvania Academy of Fine Arts. It was here he was exposed to the works of the masters and many inspiring artists of the day, creating in him the desire to follow art as his life's work. He received an oil painting award from the Philadelphia Museum School of Art in 1949 and a Life Painting award from the Pennsylvania Academy of Fine Arts in 1968.
Since making his home in Coos Bay, Charles has given unselfishly of his time. When government funds were withdrawn from the schools here, he was one of the first to volunteer teaching art to the students at Sunset Elementary School.
The multi-gifted artist has worn many hats in the offices of Bay Area Artists Association and presently holds the position of treasurer and webmaster (www.bayareaartistsassociation.org). His work has been featured at various venues in Coos Bay including Black Market Gourmet, Southwestern Oregon Community College and The Artist's Loft Gallery, where he is a regular exhibiting member. He paints on a weekly basis with two plein air groups.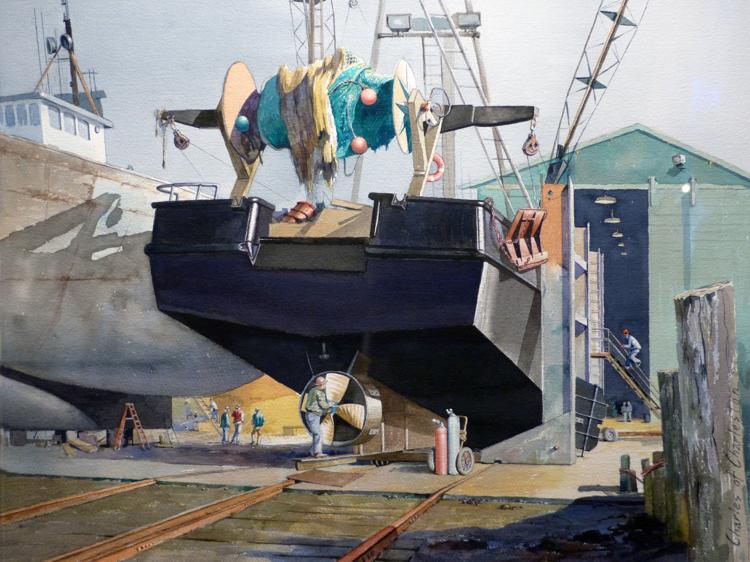 A monetary award from the board of directors from the Coos Art Museum was awarded to him in 2001. He calls that November in 2001 as being his "last hurrah" when he presented his solo exhibition "Images in Paint" in the Atrium Gallery of the museum. Charles is proud to say he has five pieces of his work in the Coos Art Museum's permanent collection, (see accompanying photos). His painting "New Paint, New Wheel" that the Bay Area Artists Association has chosen to adopt as a part of the museum's Adopt An Art Program. (www.coosart.org).
He may be contacted at www.charlesofcharleston@msn.com. An original painting by Edmunds will be raffled off at 6 p.m. during the reception at Gallery By The Bay, winner must be present to win.